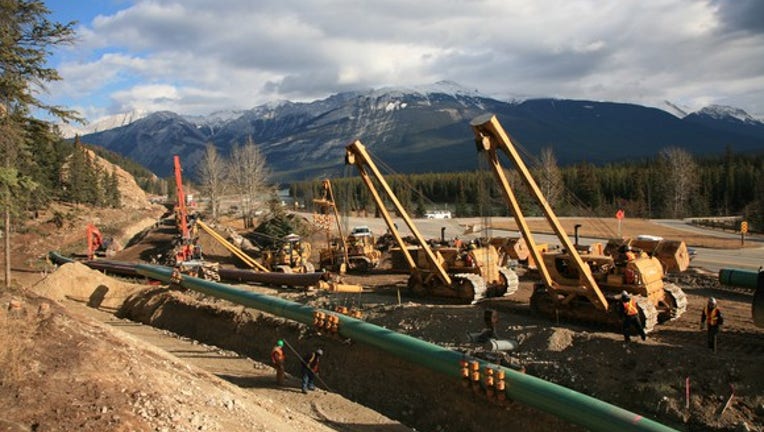 Image source: Kinder Morgan, Inc.
While Kinder Morgan (NYSE: KMI) is a diversified energy infrastructure company with five operating segments, at its core, it is a natural gas pipeline company. That is clear by taking a closer look at the financial results of its business segments this year. Not only did this segment supply an outsized portion of 2016's earnings, but it did not underperform expectations to the same degree as some of its other segments. That size and stabilitymade it the standout performer this year.
Pulling more than its fair share
As the chart below shows, Kinder Morgan's natural gas pipeline segment is by far the largest earnings producer in the company:
In millions of dollars.Data source: Kinder Morgan. Chart by author.
Overall, the segment has contributed 55% of the company's total. While segment earnings are only up 1% to $3.045 billion after adjusting for certain items -- including the recent sale of its stake in an extensive natural gas pipeline system to Southern Company (NYSE: SO) during the past quarter -- that is an accomplishment given the volatility in the energy market this year. In fact, the segment has successfully battled against several headwinds, including lower volumes in its midstream group due to weaker commodity prices and a long delay in receiving the necessary permit to expand one of its systems.
Meeting expectations matters
That said, because of those headwinds, Kinder Morgan expects its natural gas pipeline segment's earnings to come in 2% below its 2016 budget guidance of $4.22 billion. However, given that the company's 2016 budget represented a 2% increase from 2015, it implies that 2016 earnings will be roughly flat. it is worth noting, though, that this outlook excluded the impact from the Southern Company transaction, which when factored back into the equation, should push the natural gas pipeline segment's earnings 5% below guidance. Still, given the overall stability of the division and the fact that it supplies more than half of the company's earnings, it has been the company's best performer this year.
Image source: Getty Images.
The other reasons the natural gas segment ranks ahead of Kinder Morgan's other segments is due to their deeper underperformance compared to the company's budget. For example, the company initially expected that the products pipeline segment would produce $1.232 billion in earnings, which represented a 12% increase from last year. However, earnings are only up 5% thus far, and the company expects the segment to end the year 5% below budget. Driving results below expectations are lower volumes on three oil pipelines, lower rates and throughputs on two other systems, and the loss of income from the Parkway system, which it sold earlier this year to its partner,Valero (NYSE: VLO).
Likewise, the company expected robust earnings growth in its terminals segment, which it budgeted for a 13% year-over-year increase to $1.195 billion. While the segment has actually performed fairly well this year, with earnings up 9%, it is on pace to end the year well below expectations. Last quarter, the company warned that earnings in theterminal segment would come in 5% below budget, which was slightly more than the 4% miss it saw in the prior quarter. Driving this decline is the impact of coal customer bankruptcies and lower throughputs in some of its liquids terminals. Those issues turned what was expected to be a banner year into a bit of a disappointment.
Investor takeaway
Kinder Morgan's natural gas pipeline segment does most of the company's heavy lifting by supplying more than half of its earnings each year. Furthermore, those earnings are very stable thanks to the long-term, fee-based contracts underpinning those pipelines, which enhance the segment's predictability. That size and stability were just what Kinder Morgan needed this year, given that two others missed the mark while the carbon dioxide segment was under pressure all year due to weaker oil prices.
10 stocks we like better than Kinder Morgan When investing geniuses David and Tom Gardner have a stock tip, it can pay to listen. After all, the newsletter they have run for over a decade, Motley Fool Stock Advisor, has tripled the market.*
David and Tom just revealed what they believe are the 10 best stocks for investors to buy right now... and Kinder Morgan wasn't one of them! That's right -- they think these 10 stocks are even better buys.
Click here to learn about these picks!
*Stock Advisor returns as of Nov. 7, 2016
Matt DiLallo owns shares of Kinder Morgan and has the following options: short January 2018 $30 puts on Kinder Morgan and long January 2018 $30 calls on Kinder Morgan. The Motley Fool owns shares of and recommends Kinder Morgan. Try any of our Foolish newsletter services free for 30 days. We Fools may not all hold the same opinions, but we all believe that considering a diverse range of insights makes us better investors. The Motley Fool has a disclosure policy.