Kinder Morgan Inc. Earnings Are Virtually Unshaken by the Commodity Price Slump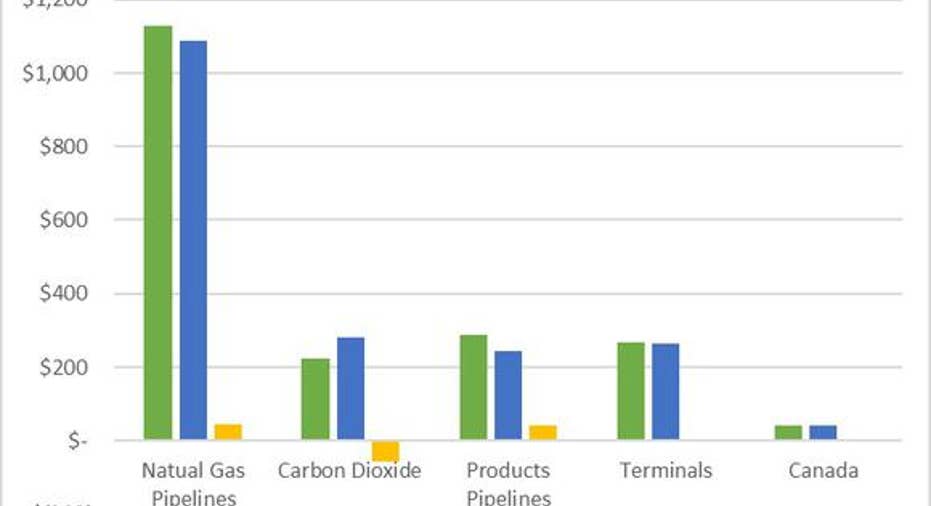 While its stock price has endured a lot of volatility over the past year, Kinder Morgan's cash flow has remained remarkably steady despite slumping commodity prices. That stability amid the storm was clearly evident in the company's first-quarter results, which were released after the market closed on Wednesday.
Drilling down into the numbersKinder Morgan reported distributable cash flow of $1.233 billion for the first quarter of 2016, which was down slightly from the $1.242 billion it produced in last year's first quarter. That decrease was primarily due to the continued weakness of the company's carbon dioxide segment, which has some exposure to oil prices. Other than that, earnings from the rest of its segments were either higher year over year or roughly flat:
Note: In millions of dollars. Data source: Kinder Morgan.
On an absolute basis, Kinder Morgan's natural gas pipelines segment delivered the strongest segment earnings increase at $43 million, which represents a 4% spike over the prior period. Driving this growth were contributions from last year's Hiland acquisition as well as improved performance at Tennessee Gas Pipeline due to projects placed into service.
Meanwhile, the products pipeline segment delivered a very strong quarter, with segment earnings increasing $42 million, or 17% year over year. This segment benefited from higher volumes on the Kinder Morgan Crude and Condensate pipeline, the start-up of the petroleum condensate processing facility along the Houston Ship Channel, and contributions from the Double H pipeline, which also come via the Hiland acquisition.
Growth at the terminals and Canada segments were a bit more muted. In fact, earnings at its Canada segment were down 2%, or by roughly $1 million, due to a weak Canadian dollar, which offset strong demand for capacity on its Trans Mountain pipeline. In the meantime, earnings at the terminals segment increased by 2%, or $5 million, thanks to strong performance at its liquids terminals. That said, its bulk terminals were affected by bankruptcies within the coal sector, which claimed another victim last quarter, resulting in a $27 million hit to that segment's earnings.
Despite these weaknesses the company was still able to generate $954 million in excess cash flow during the quarter. That cash is being used to fund growth investments and strengthen its balance sheet.
Image source: Kinder Morgan.
The outlook for 2016Speaking of growth investments, as a result of the weaker market conditions, Kinder Morgan is pulling back growth capital spending even further in 2016. After initially planning to spend $4.2 billion on growth projects this year, it now only anticipates spending $2.9 billion. That reduction will enable the company to "more quickly strengthen our balance sheet," according to CEO Steve Kean, with the company remaining on target to meet its goal to get its debt-to-EBITDA ratio down to 5.5 times by the end of this year.
Not only is the company chopping investment spending in 2016, but it's cutting its five-year capital project backlog from $18.2 billion down to $14.1 billion. That's after it removed the Palmetto Pipeline project from the backlog due to unfavorable actions in Georgia as well as taking out the market segment of its Northeast Energy Direct project because of insufficient contractual commitments. These were major capital projects that were expected to deliver cash flow growth in future years. However, with increased pushback against pipeline projects, as well as weaker energy market conditions, the company is scrapping these projects for the time being.
Those weak market conditions are expected to continue to have a minor impact on Kinder Morgan's cash flow this year. Given its current outlook, it sees EBITDA now coming in roughly 3% below its $7.5 billion budget while distributable cash flow is expected to be roughly 4% below its $4.7 billion budget. That being said, the company still expects to generate more than enough cash flow to fund its current dividend and its capital budget, all while still generating excess cash flow to reduce leverage and hit its year-end target.
Investor takeawayThanks to a strong foundation of fee-based assets, Kinder Morgan's cash flow is weathering the energy market storm much better than most in the sector. That said, it's not entirely insulated from the downturn, which is evident by the fact that it sees its EBITDA and distributable cash flow coming in a bit below budget. This is something investors need to keep an eye on this year, with any deterioration in energy market conditions potentially putting more downward pressure on the company's earnings.
The article Kinder Morgan Inc. Earnings Are Virtually Unshaken by the Commodity Price Slump originally appeared on Fool.com.
Matt DiLallo owns shares of Kinder Morgan andhas the following options: short Jan. 2018 $30 puts on Kinder Morgan and long Jan. 2018 $30 calls on Kinder Morgan. The Motley Fool owns shares of and recommends Kinder Morgan. The Motley Fool has the following options: short June 2016 $12 puts on Kinder Morgan. Try any of our Foolish newsletter services free for 30 days. We Fools may not all hold the same opinions, but we all believe that considering a diverse range of insights makes us better investors. The Motley Fool has a disclosure policy.
Copyright 1995 - 2016 The Motley Fool, LLC. All rights reserved. The Motley Fool has a disclosure policy.