Kinder Morgan Inc. Can Finally Move Forward on This Critical Pipeline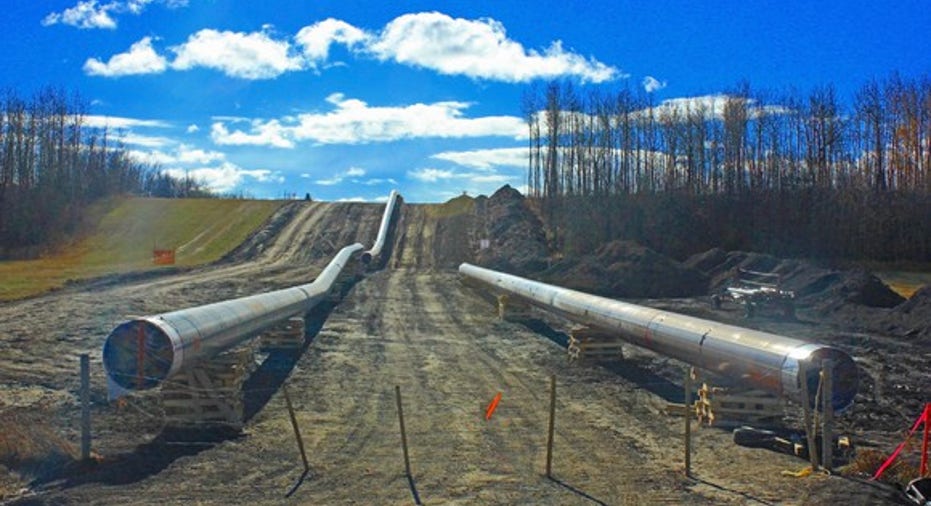 Image source: Getty Images.
When Kinder Morgan (NYSE: KMI) first filed for approval in late 2013 to expand the capacity of its Trans Mountain Pipeline in Canada, it was thought to be an easy project to win approval. That is because the current pipeline has been safely operating since it began operations in 1953. However, the company has since faced serious opposition from both local residents and environmental groups, leading to intense scrutiny of the proposed project. However, after a 29-month review, the pipeline was approved by Canada's National Energy Board in May and this week received final federal approval from the government of Canada. While that is the last major hurdle for the project, it in no way means that the company has overcome its final obstacle.
What this project approval means
For Kinder Morgan, the receipt of final federal approval is the trigger to allow the company to take the necessary next steps on the project. These actions include seeking all the required permits so that it can start construction, which is expected to begin next September. That said, before construction commences the company needs to reevaluate the costs given that it has been several years since it initially proposed the project. Because of that, it is entirely possible that the expansion will cost more than the initial $5.4 billion estimate with the company recently saying it could cost more than $6.8 billion. Finally, Kinder Morgan's board needs to make a final investment decision on the project, which will be an easy decision as long as the added costs do not outweigh the project's economics.
If everything goes according to plan and construction starts late next year, the project could be in service by late 2019. Once that happens, it will provide the company with an immediate income boost given that the project will nearly triple the pipeline's capacity from 300,000 barrels per day to 890,000 bpd. For perspective, the current pipeline supplies about 2% of Kinder Morgan's earnings, so it has the potential to provide a significant bottom-line boost once it reaches full capacity in 2020. Furthermore, those revenues come with minimal volume risk and no commodity price exposure due to the long-term take-or-pay contracts backing the pipeline's capacity.
One other thing that's worth noting about the project is that it represents the largest single project in Kinder Morgan's current growth project backlog. In fact, at the $5.4 billion price tag, this project alone accounts for more than 40% of Kinder Morgan's planned growth spending over the next five years. Needless to say, this is a critical project for Kinder Morgan's future.
Image source: Getty Images.
What obstacles remain
That said, while this approval puts the company on the pathway toward building this critical project, several potential problems could arise. Permitting could be a major issue due to the likelihood of protests from those opposed to the pipeline. In fact, environmental groups have already promised to oppose constructionwith acts of civil disobedience and Vancouver's mayor warned that there are likely to be "protests like you've never seen before."
Protesters have become a major roadblock for pipeline projects in recent years. That has certainly been the case for midstream giant Energy Transfer Partners (NYSE: ETP), which has hit an unexpected hindrance as it works toward completing its Dakota Access Pipeline from North Dakota to Illinois. Those opposed to that pipeline were able to get the U.S. Army Corps of Engineers to delay issuing a key permit as it seeks more time to review the proposed route. As a result, Energy Transfer Partners cannot finish the nearly complete pipeline, which will delay its in-service date far beyond the initial year-end expectation. Instead, Energy Transfer will not be able to finish it until early next year at the earliest, though if protestors got their way, it would remain incomplete.
Kinder Morgan is very likely to face similar protests given that the anti-Energy Transfer protests have gained international attention and have been successful to at least delay the project for several months. Because of that, investors probably should not bank on a late-2019 in-service date for this project and instead should brace for the likelihood that there will be several work stoppages and court battles along the way. That said, Canadian Prime Minister Justin Trudeau made completing this pipeline a key point of his economic plan for the country. He also stated that "there isn't a country in the world that would find billions of barrels of oil and leave it in the ground while there's still a market for it." His support of the project should help move it along.
Investor takeaway
After a long review process, Kinder Morgan can finally take the next steps toward expanding its Trans Mountain Pipeline. These steps, though, will not be easy, and it is expected to face several roadblocks along the way. However, given that this is such an important project for the company and Canada, it will likely get completed, which is great news for long-term investors who will one day reap the financial benefits of all that hard work.
Find out why Kinder Morgan is one of the 10 best stocks to buy now
Motley Fool co-founders Tom and David Gardner have spent more than a decade beating the market. (In fact, the newsletter they run, Motley Fool Stock Advisor, has tripled the market!*)
Tom and David just revealed their ten top stock picks for investors to buy right now. Kinder Morgan is on the list -- but there are nine others you may be overlooking.
Click here to get access to the full list!
*Stock Advisor returns as of November 7, 2016
Matt DiLallo owns shares of Kinder Morgan and has the following options: short January 2018 $30 puts on Kinder Morgan and long January 2018 $30 calls on Kinder Morgan. The Motley Fool owns shares of and recommends Kinder Morgan. Try any of our Foolish newsletter services free for 30 days. We Fools may not all hold the same opinions, but we all believe that considering a diverse range of insights makes us better investors. The Motley Fool has a disclosure policy.