Kinder Morgan Inc Buys Into Higher-End Dividend Growth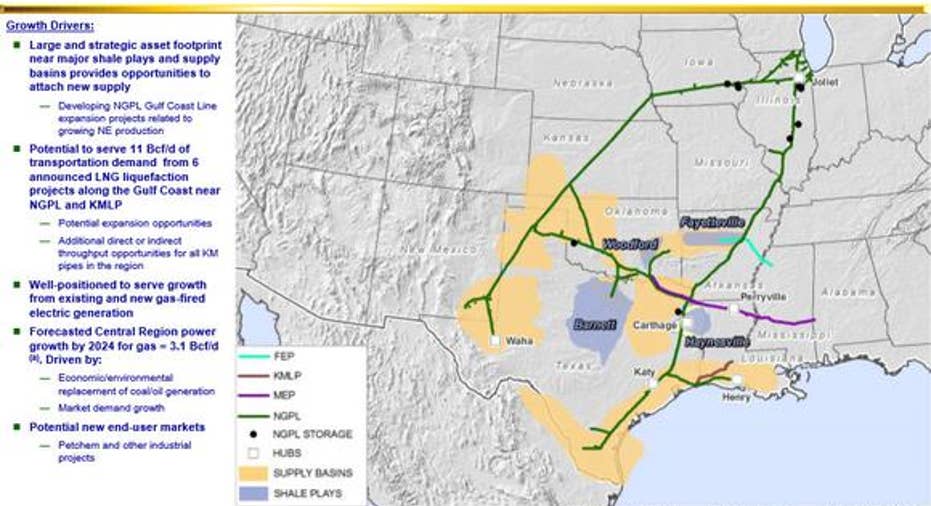 Weak commodity prices are dragging down Kinder Morgan's ability to organically grow its dividend by the robust 10% annual rate it had projected. That was clear after the company toned down its 2016 dividend growth outlook, preferring instead to offer a growth range of 6% to 10%. While investors immediately feared that they'd be stuck with the lower rate, that might not necessarily be the case because the company has one big lever to pull: Acquisitions. It was a lever it pulled earlier this week after joining up with a partner to acquire full control of a key natural gas pipeline company.
Details on the dealIn a joint announcement Monday evening, Kinder Morgan and Brookfield Infrastructure Partners said that the companies had agreed to acquire the 53% interest in Natural Gas Pipeline Company of America, or NGPL, that the pair didn't already own. Under the terms of the deal Kinder Morgan would remain the operator, and pay $136 million to increase its ownership stake from 20% to 50%, while Brookfield Infrastructure Partners would pay $106 million to increase its stake from 27% to 50%. The deal values NGPL at $3.4 billion after including existing debt.
In one sense the arrangement is a bit of a surprise, at least to me, because I actually expected that Brookfield would look to sell its entire stake with Kinder Morgan likely ending up the sole owner of NGLP. That's after Brookfield CEO Sam Pollock said that the company had initiated a strategic review of NGPL as part of its portfolio management process, suggesting that it might look to cash in and reinvest the proceeds elsewhere. However, given the strategic importance of the system, its strong recent performance, and its growth potential, Brookfield clearly saw the benefits of not just holding, but increasing its stake.
Why this deal matters to Kinder Morgan investorsFor Kinder Morgan, there are several benefits to owning a bigger share of NGPL. First of all, it is one of the largest interstate pipeline systems in the country with 9,200 miles of pipeline and 288 billion cubic feet of working gas storage. It's a system that runs through the central US, linking several legacy supply basins to key market centers.
Source: Kinder Morgan Investor Presentation.
What's important to note about this system is the fact that this is primarily a demand-driven pipeline, with it being the largest transporter of natural gas into the Chicago market. It's also an expandable system, with the company pursuing new customer connections to the pipeline system in addition to capacity expansions to meet growing demand, especially from new natural gas power plants. What this means is that cheap natural gas prices fuel growth for this system.
While that growth will be important to the future of the company, what matters most to Kinder Morgan investors in the near-term is the company's current dividend. That's where this deal moves the needle, with the company noting in the press release announcing that it, "expects that the transaction will be immediately accretive to KMI's cash available to pay dividends." In other words, in acquiring a larger stake in NGPL, Kinder Morgan will see a meaningful boost to its cash flow, thus helping push the company one step closer toward the high-end of its dividend growth target for 2016.
Investor takeawayKinder Morgan had hoped to largely grow it dividend organically by building out the robust pipeline of projects in its current backlog. However, the company does have one other lever to pull, which is to buy existing assets that provide a nice near-term boost to cash flow. It's a lever that could be the key to the company's ability grow the dividend by more than just 6% in 2016.
The article Kinder Morgan Inc Buys Into Higher-End Dividend Growth originally appeared on Fool.com.
Matt DiLallo owns shares of Brookfield Infrastructure Partners and Kinder Morgan andhas the following options: short January 2018 $30 puts on Kinder Morgan and long January 2018 $30 calls on Kinder Morgan. The Motley Fool owns shares of and recommends Kinder Morgan. The Motley Fool recommends Brookfield Infrastructure Partners. Try any of our Foolish newsletter services free for 30 days. We Fools may not all hold the same opinions, but we all believe that considering a diverse range of insights makes us better investors. The Motley Fool has a disclosure policy.
Copyright 1995 - 2015 The Motley Fool, LLC. All rights reserved. The Motley Fool has a disclosure policy.