Kimberly-Clark Corp Earnings: Sales Fall as Forex Weighs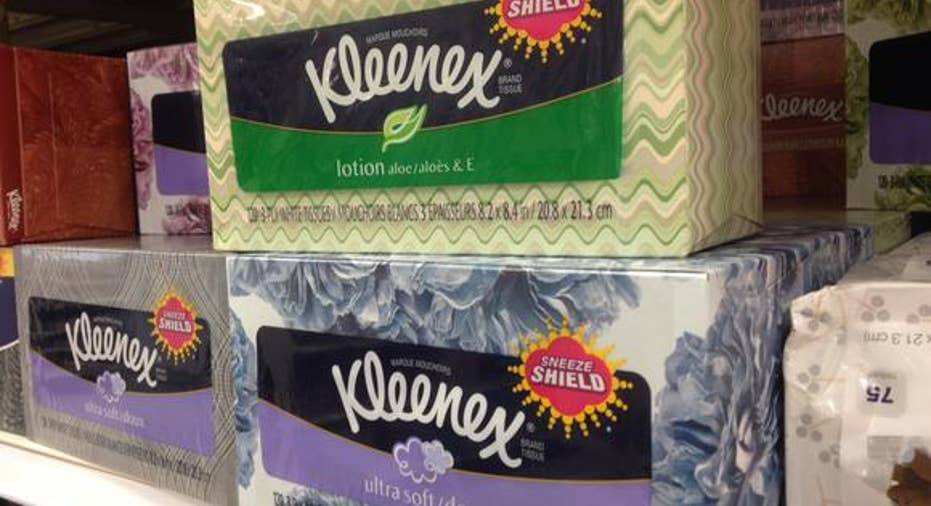 Kimberly-Clarkreported first-quarter results on April 22. The maker of Huggies diapers and Kleenex tissues saw its revenue dented by negative foreign exchange movements, but management remains confident that the consumer-products giant can hit its full-year profit forecast.
Kimberly-Clark results: The raw numbers
| Metric | Q1 2016 | Q1 2015 | Growth (YOY) |
| --- | --- | --- | --- |
| Sales | $4.476 billion | $4.691 billion | (4.6%) |
| Net income | $545 million | $468 million | 16.5% |
| Earnings per share | $1.50 | $1.27 | 18.1% |
Source: Kimberly-Clark Q1 2016 earnings press release.
What happened with Kimberly-Clark this quarter?
Sales fell 5% to $4.5 billion, as a 7% negative impact from foreign exchange fluctuations more than offset organic sales growth of 2%. The sales weakness was across the board, with Kimberly-Clark's personal care, consumer tissue, and K-C Professional business segments reporting revenue declines of 4%, 5%, and 4%, respectively.
Adjusted operating profit -- which excludes restructuring costs, pension settlement charges, and other nonrecurring items -- rose less than 1% to $818 million, as cost savings related to Kimberly-Clark's FORCE (Focused On Reducing Costs Everywhere) program and lower raw material costs boosted results.
Adjusted net income, which benefited from a lower effective tax rate, increased 5.9% to $555 million. And adjusted earnings per share, aided by share buybacks, rose 7.7% to $1.53.
What management had to say"In the first quarter, organic sales grew more than 2 percent and our adjusted operating profit margin improved by 90 basis points," said Chairman and CEOThomas Falk in a press release. "We achieved$110 millionof total cost savings from our FORCE program and 2014 Organization Restructuring and continued to allocate capital in shareholder-friendly ways."
Looking forwardKimberly-Clark reiterated its revenue forecast for 2016, including organic sales growth of 3% to 5%, which is likely to be offset by a 5% to 6% negative impact from foreign exchange. In addition, management still expects the company's full-year adjusted earnings per share to be in the range of $5.95to$6.15.
"We continue to execute our Global Business Plan strategies for long-term success and we are confirming our previous top- and bottom-line outlook for 2016," added Falk. "In summary, we expect to deliver on our commitments again this year."
The article Kimberly-Clark Corp Earnings: Sales Fall as Forex Weighs originally appeared on Fool.com.
Joe Tenebruso has no position in any stocks mentioned. The Motley Fool recommends Kimberly-Clark. Try any of our Foolish newsletter services free for 30 days. We Fools may not all hold the same opinions, but we all believe that considering a diverse range of insights makes us better investors. The Motley Fool has a disclosure policy.
Copyright 1995 - 2016 The Motley Fool, LLC. All rights reserved. The Motley Fool has a disclosure policy.