Key Customer Bankruptcy Sinks Textainer Group Holdings Limited's Q3 Results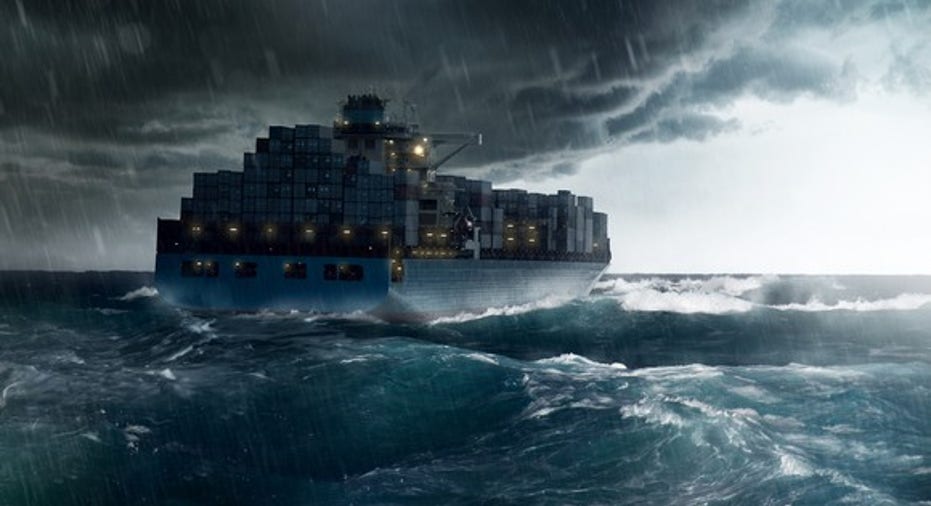 Image source: Getty Images.
The global shipping industry was in turmoil during the third quarter after South Korean shipping giant Hanjin filed for bankruptcy protection. That filing had a significant impact on Textainer Group Holdings' (NYSE: TGH) financial results because it had leased 6.4% of its container fleet to the capsized shipper. Because of that, Textainer recorded a deep loss during the quarter, which forced it to eliminate its quarterly dividend.
Textainer Group Holdings results: The raw numbers
| Metric | Q3 2016 Actuals | Q3 2015 Actuals | Growth (YOY) |
| --- | --- | --- | --- |
| Revenue | $121.2 million | $136.5 million | (11.2%) |
| Adjusted net income | ($52.3 million) | $18.3 million | N/M |
| Adjusted EPS | ($0.92) | $0.32 | N/M |
YOY = year over year. Data source: Textainer Group Holdings Limited.
What happened with Textainer Group Holdings this quarter?
The Hanjin bankruptcy hurt results:
Textainer's lease rental income sank 14.8% to $110.9 million due in part to the Hanjin bankruptcy. If adjusted for that impact, lease rental income would have declined 10.5% due to a decrease in average rental rates and lower utilization, which slipped 1% to 95.4%.
Revenue from management fees plunged 20.6% to $3.1 million due to the currently weak container leasing market. Meanwhile, revenue from container sale proceeds jumped 81.5% to $4.1 million while the net gains on the sale of containers surged 177.6% to $3 million due to improving container pricing.
In addition to the decrease in lease rental revenue, the company noted that the financial impact of the Hanjin bankruptcy during the quarter was $44 million, or $0.78 per share, due to container impairments and a bad debt provision.
Furthermore, it took two additional charges during the quarter. It recorded a $15 million, or $0.26 per share, additional depreciation expense due to the decrease in estimated future residual values and a $16.5 million, or $0.29 per share, container impairment writedown.
What management had to say
As CEO Phillip Brewer said about the results:
The company noted that it had recovered 41% of the 114,000 containers it leased to Hanjin and it is actively negotiating the release of another 26% of those containers. That said, at this time, it only expects to recover 70% to 90% of them. While it does have $80 million of insurance to cover the unrecoverable containers, lost revenue, and other associated costs, it expects its losses to exceed that insurance coverage.
On a more positive note, it pointed out that new container prices rose about $400 from the bottom. Also, Brewer stated that "rental rates on new and depot container lease-outs have increased significantly to levels not seen for several years." One of the drivers is the fact that there's expected to be minimal new container growth in 2017 due to the lowest production level since 2009.
Looking forward
Despite an underlying improvement in market conditions, Brewer expects the costs of recovering its Hanjin containers and other factors to "depress our earnings for at least the next two to three quarters." Because of that, the company has chosen to eliminate its quarterly dividend for now. Brewer also warned that if large quantities of Hanjin containers get unloaded onto the market, it could reverse the recent spike in container prices. In other words, troubling times still could be ahead.
10 stocks we like better than Textainer Group When investing geniuses David and Tom Gardner have a stock tip, it can pay to listen. After all, the newsletter they have run for over a decade, Motley Fool Stock Advisor, has tripled the market.*
David and Tom just revealed what they believe are the ten best stocks for investors to buy right now... and Textainer Group wasn't one of them! That's right -- they think these 10 stocks are even better buys.
Click here to learn about these picks!
*Stock Advisor returns as of November 7, 2016
Matt DiLallo owns shares of Textainer Group. The Motley Fool recommends Textainer Group. Try any of our Foolish newsletter services free for 30 days. We Fools may not all hold the same opinions, but we all believe that considering a diverse range of insights makes us better investors. The Motley Fool has a disclosure policy.