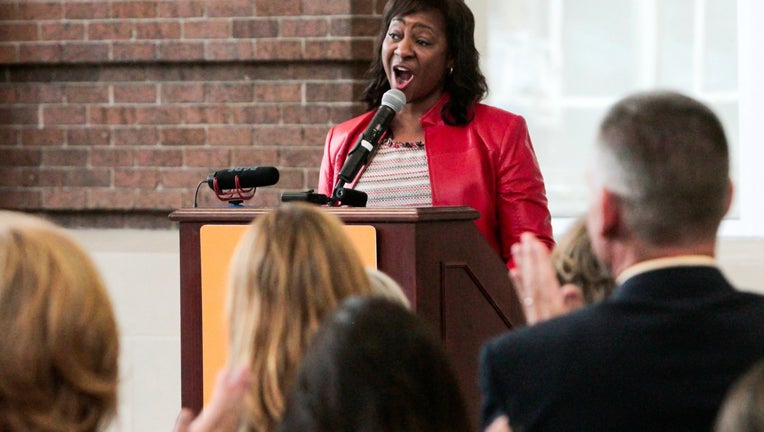 The W.K. Kellogg Foundation announced Friday that it's giving $51 million over five years to the public schools in its southwestern Michigan hometown of Battle Creek, in the hopes of tackling low academic performance that has been linked to longstanding racial inequality and segregation.
The grant, among the largest to a single, public K-12 school system, comes as President Donald Trump is pressing for more federal funding for students to attend public, charter or private schools. Leading the charge on school choice is Education Secretary and area native Betsy DeVos.
Kellogg's grant will be put toward hiring early literacy support staff in Battle Creek public schools, offering a free pre-kindergarten summer program, and creating a plan to improve student behavior that includes alternatives to suspensions. It also will be used to launch academies within the Battle Creek system that are aligned with students' fields of interest, invest in the arts and athletics, and offer recruitment and retention incentives for teachers, among other things.
The gift comes after a year of planning by school officials and the January release of a study by a New York University-affiliated center that highlights decades of racial disparities in a city of about 50,000 people that's roughly 70 percent white, 18 percent black and 7 percent Hispanic or Latino, according to the 2010 U.S. Census.
The Kellogg-funded study found that of the more than one-third of Battle Creek Public Schools students who leave the district, most are white and richer than the black, Latino and poorer white students who remain. The remaining students have the lowest access to opportunities to prepare for college and careers.
Battle Creek schools' Superintendent Kim Carter said she's determined to solve rather than dwell on the problem of racial inequality.
"We're not really unpacking the reasons why at this point," she told The Associated Press. "The focus is developing a system that creates access and opportunity for all of the children that I serve."
Carter said the district took its plan to the Kellogg foundation, which is named after the breakfast cereal maker, because it couldn't afford to implement it on its own.
Trump this week asked Congress to work on extending nationwide school choice programs that he said would benefit millions of students, including low-income African-American and Hispanic children. The Education Department would not say what specific legislation the administration was proposing.
DeVos, who is from the Grand Rapids area, about 50 miles from Battle Creek, said having access to public, charter or private schools or distance learning programs should be every parent's right. Critics say school choice can hurt public schools.
Kellogg Foundation President and CEO La June Montgomery Tabron described school choice as a strategy "of mobility," and that the New York University study shows those who lack resources aren't mobile.
"We had to recreate that quality where they were — and provide that public school system the same ability to compete in that space as any other school," she said. "We didn't choose a migration strategy, we chose a transformational strategy. That's what I believe is possible in Battle Creek ... and in many communities."
Carter said one significant step in Battle Creek's plan will be increasing the number of specialists to work with students individually or in small groups. The added support staff will be working at all levels on boosting academic skills, as well as emotional, social and mental health.
The grant is among the largest of its kind given to a U.S. school district, according to the Chronicle of Philanthropy. Facebook co-founder Mark Zuckerberg and his wife, Priscilla Chan, donated $100 million to the school district in Newark, New Jersey, but most other large gifts were for less than $50 million or were to be distributed over a longer time period.
Kellogg says the foundation has in recent years committed $300 million annually to addressing racial disparities for children of color.
Kellogg Co., founded in 1906, still has its corporate headquarters and principal research and development facilities in Battle Creek along with one of four U.S. cereal-making plants. The foundation, established in 1930, is independent but is the company's largest share owner.
___
Follow Jeff Karoub on Twitter at http://twitter.com/jeffkaroub . His work can be found at https://apnews.com/search/jeff%20karoub .