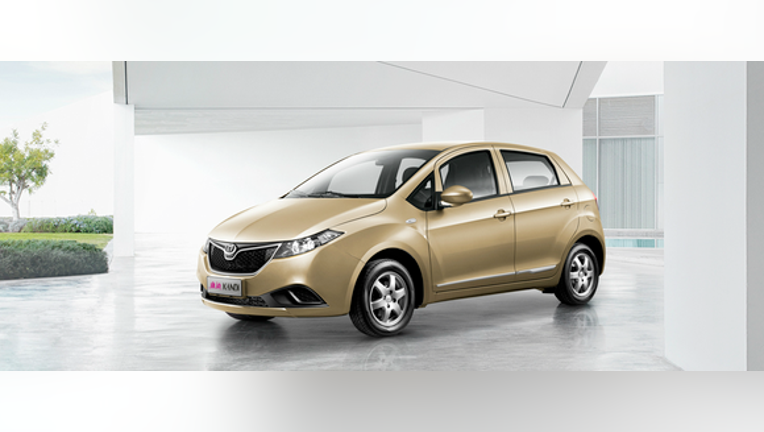 Kandi K17 electric vehicle. Image source: Kandi Technologies Group.
Kandi Technologies Group reported fourth-quarter results on March 14. The auto-parts manufacturer is enjoying surging demand for its products as the nascent -- yet potentially massive -- electric vehicle market in China expands rapidly.
The raw numbers
| Metric | Q4 2015 | Q4 2014 | Growth (YOY) |
| --- | --- | --- | --- |
| Revenue | $58.8 million | $52.9 million | 11.2% |
| Gross profit | $28.4 million | $23.4 million | 21.4% |
| Non-GAAP EPS | $0.30 | $0.09 | 233.3% |
Data source: Kandi Technologies Q4 2015 earnings press release.
What happened with Kandi Technologies this quarter?
Total revenues grew 11.2% to $58.8 million, boosted by a 51.6% jump in electric vehicle (EV) parts sales to $57.5 million.
Kandi Electric Vehicles Group Co. -- a joint venture in which Kandi Technologies Group has a 50% stake -- sold 12,100 EV products in the fourth quarter, a 231% increase compared to the year-ago period.
Gross margin improved to 14.4% from 11% in Q4 2014, mainly due to lower costs in Kandi's battery-packing production.
Operating margin, however, declined to negative 9.2% from 5.4% in the fourth quarter of 2014, as total operating expenses ballooned 367.4% to $13.9 million, with most of the increase coming from higher stock compensation expense. Excluding stock compensation, adjusted operating expenses were $4 million, compared with $1 million in the year-ago quarter, primarily due to higher research and development costs for new EV product models and battery packs.
All told, non-GAAP adjusted net income, which excludes stock award expenses and other special items, surged 250.9% to $13.9 million.
What did management have to say?In Kandi's fourth-quarter press release, Chairman and CEO Xiaoming Hu highlighted the strong performance of the Kandi Electric Vehicles Group joint venture:
Additionally, Hu praised the early success of Kandi's new direct sales program and suggested that this segment will continue to fuel the company's growth in the years ahead:
Importantly, Hu noted that government incentives should also continue to bolster Kandi's growth:
Looking forwardKandi expects first-quarter revenue to be between $46 million and $48 million, with gross margin in the range of 13.5% to 14.5%.
For the full year, the company anticipates 2016 net revenues in the range of $270 million to $300 million. In addition, management projects that Kandi Electric Vehicles Group will deliver at least 35,000 EV products during the year.
"By focusing on our unique growth engines, which are the rapid expansion of the Micro Public Transportation program and the direct sales program through the distribution channel, we look forward to leading the growth of China's EV industry in 2016," added Hu.
The article Kandi Technologies Group, Inc. Earnings Soar as China's EV Market Ramps Up originally appeared on Fool.com.
Joe Tenebruso has no position in any stocks mentioned. The Motley Fool recommends Kandi Technologies. Try any of our Foolish newsletter services free for 30 days. We Fools may not all hold the same opinions, but we all believe that considering a diverse range of insights makes us better investors. The Motley Fool has a disclosure policy.
Copyright 1995 - 2016 The Motley Fool, LLC. All rights reserved. The Motley Fool has a disclosure policy.