Juniper Networks Stock Upgraded: What You Need to Know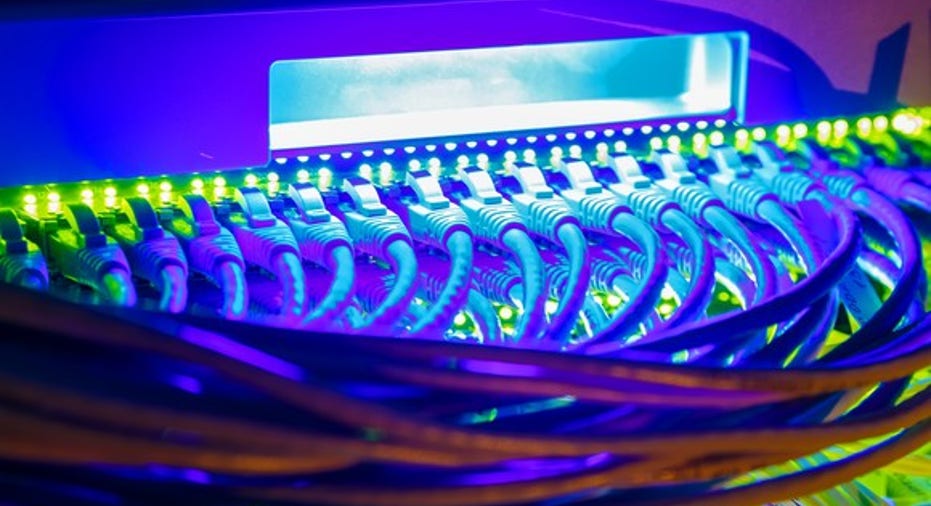 2016 has been a year of disappointments for investors in Juniper Networks (NYSE: JNPR). After beginning the year with a stock price of $27 and change, Juniper stock now looks set to end the year right back where it began.
And yet, if you ask the analysts at Credit Suisse, 2016's miserable performance sets up Juniper stock to outperform in 2017. This morning, the investment banker announced it is upgrading Juniper Networks stock to outperform. What's more, after crunching the numbers on likely revenue and profit margin growth, Credit Suisse says it's upping its price target on the stock as well -- to $31 a share.
Here are three things you need to know about that.
Credit Suisse thinks it's time to plug into Juniper Networks stock -- but is it right? Image source: Getty Images.
1. Sales are on the upswing
Quoted on StreetInsider.com this morning, Credit Suisse argues that despite what its stock price might suggest to you, "Juniper is transitioning through the IT disruption and volatile service provider market successfully." The company boasts "a strong product portfolio," and "increasingly diversified product offerings" that, says Credit Suisse, will enable Juniper to grow its revenue at about 3.7% to 3.8% over the next couple of years.
2. Profits are growing, too
Granted, though sub-4% sales growth might not sound impressive, it would at least be an improvement over the performance Juniper turned in this year. According to data from S&P Global Market Intelligence, the most Juniper stock has managed to produce so far this year is sales growth of 1.9% over 2015 levels. Thus, a move to 3.8% sales growth, for example, would actually be twice as fast as Juniper has been growing. And Credit Suisse believes these greater sales will "drive operating leverage" at Juniper, resulting in at least "gradual EPS growth."
According to the analyst, Juniper is likely to earn $2.29 per share in fiscal 2017, and then $2.40 per share in FY2018. Both those numbers would be a nice improvement over the $1.59 in per-share earnings that Juniper produced last year, and even compared to the $2.07 per share that analysts are forecastingfor 2017.
3. What's driving the growth?
Credit Suisse believes Juniper is gaining on rivals such as Cisco (NASDAQ: CSCO), Hewlett-Packard Enterprise (NYSE: HPE), and Huawei in the battle for market share in ethernet switches -- but here's where the analyst's argument begins to fall apart. In Q2 2016, market researcher IDC noted that Juniper suffered a 4.3% decline in revenues at its switching business, despite 3% overall growth in the ethernet switching market worldwide. This indicated a shrinking market share, and according to IDC data, this trend continued into Q3.
As worldwide switcher sales grew 2%, Juniper's sales declined 3.5% to just $222 million last quarter. And while that was a better performance than Juniper showed in Q2, and showed sequential growth, it still indicated continued market share slippage year over year.
Granted, Juniper rivals Hewlett-Packard Enterprise and Cisco fared poorly last quarter as well, with switching revenue declining 4.3% and 5.4% respectively. But the market share gains that we're seeing clearly aren't accruing to Juniper Networks, but rather to its rival Huawei -- whose revenue surged 91.6% year over year.
The most important thing: Valuation
Finding this flaw in Credit Suisse's buy thesis, must we now reject Credit Suisse's argument entirely? Sadly, I believe the answer to this question is "yes."
With $602 million in trailing net income, Juniper stock sells for 16.7 times earnings (net of cash and debt). That may not sound overly expensive, but most analysts who follow the stock agree that Juniper is unlikely to grow its profits at more than 11% annually over the next five years. Credit Suisse's forecast of $2.29 per share in profits next year, up 11% from this year's projected $2.07, doesn't hold out much promise of this growth rate improving anytime soon.
When you consider, further, that Credit Suisse's projection is based on Juniper Networks enjoying gains in ethernet switching market share -- gains that IDC's data entirely fail to confirm -- it follows that Juniper's business isn't nearly as strong as Credit Suisse seems to think it is. To the contrary, of the top five players in this particular segment of the internet equipment market, Juniper remains the weakest.
I think Credit Suisse is wrong to recommend it.
10 stocks we like better than Juniper Networks When investing geniuses David and Tom Gardner have a stock tip, it can pay to listen. After all, the newsletter they have run for over a decade, Motley Fool Stock Advisor, has tripled the market.*
David and Tom just revealed what they believe are the 10 best stocks for investors to buy right now... and Juniper Networks wasn't one of them! That's right -- they think these 10 stocks are even better buys.
Click here to learn about these picks!
*Stock Advisor returns as of Nov. 7, 2016
Fool contributorRich Smithdoes not own shares of, nor is he short, any company named above. You can find him onMotley Fool CAPS, publicly pontificating under the handleTMFDitty, where he currently ranks No. 340 out of more than 75,000 rated members.
The Motley Fool recommends Cisco Systems. Try any of our Foolish newsletter services free for 30 days. We Fools may not all hold the same opinions, but we all believe that considering a diverse range of insights makes us better investors. The Motley Fool has a disclosure policy.