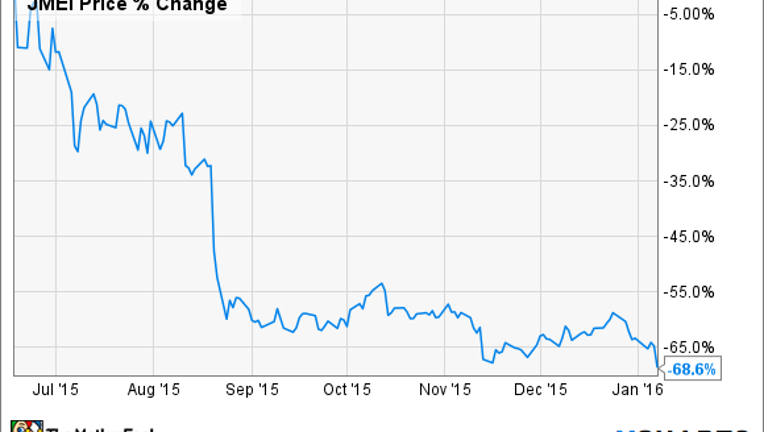 What:Shares ofJumei International Holding Ltd (ADR) are down 11.4% at 3:40PM EST on January 7. The Chinese online cosmetics retailer's stock is down 40% during the past year, and nearly 70% since peaking last June:
So what:If you've gotten a single glimpse of the financial news today, you'll know that it's all about China. The Chinese stock market plummeted 7% quickly after opening, and didn't even make it to the 30-minute mark before being closed for trading. Plain and simple, anything Chinese-related is feeling a lot of market aversion right now, and Jumei International is certainly not immune from that.
Now what:The Chinese economy looks to be in shambles, but it may not be as bad as the news makes it seem. The world's second-largest economy is still expected to grow more than 5% in 2016, and most data suggests that the weakness has been largely in industrial and manufacturing, while service-related sectors are doing well, and consumer spending has held up so far.
That last bit is probably good for Jumei, as cosmetics and beauty products fall squarely in the lap of something China's growing middle class will want. But with that said, there will be growing competiton, and it's unclear if Jumei's market size -- the company claims about one-quarter of the Chinese market -- will be strong enough to lead it higher.
Putting it all together, the current uncertainty around the Chinese economy and questions about the company's ability to execute suggest taking a pass on Jumei International right now.
The article Jumei International Holding Ltd (ADR) Stock Down 11%: Here's Why originally appeared on Fool.com.
Jason Hall has no position in any stocks mentioned. The Motley Fool has no position in any of the stocks mentioned. Try any of our Foolish newsletter services free for 30 days. We Fools may not all hold the same opinions, but we all believe that considering a diverse range of insights makes us better investors. The Motley Fool has a disclosure policy.
Copyright 1995 - 2016 The Motley Fool, LLC. All rights reserved. The Motley Fool has a disclosure policy.