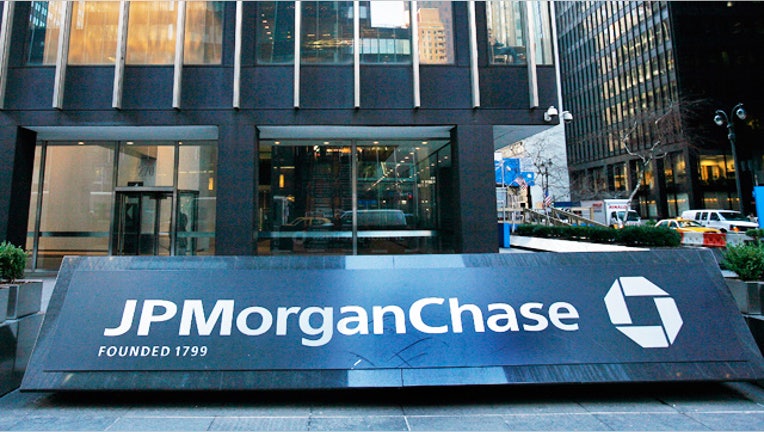 Hurt by weakness at its investment bank, JPMorgan Chase (NYSE:JPM) posted a 3.5% slide in third-quarter earnings on Thursday, but the big U.S. financial house's profit decline was masked by an accounting gain.
Kicking off earnings season for the financial sector, New York-based JPMorgan said it earned $4.3 billion, or $1.02 a share, last quarter, compared with a profit of $4.4 billion, or $1.01 a share, a year earlier. The recent quarter's results were boosted by a 5-cent adjustment. Analysts had called for EPS of 91 cents.
JPMorgan, the No. 2 U.S. bank by assets, said revenue inched up 0.1% to $24.37 billion, easily exceeding the Street's view of $23.4 billion.
Despite the better-than-expected results, shares of JPMorgan sank 1.81% to $32.60 ahead of Thursday's opening bell. The company's stock has been hit by the turbulence in the financial markets, dropping 22% year-to-date.
"All things considered, we believe the firm's returns were reasonable given the current environment," CEO James Dimon said in a statement. "Our shareholders should rest assured that we are being extremely cautious while navigating through this challenging economic environment."
As had been anticipated, JPMorgan's investment bank suffered a slowdown amid the troubles in the financial markets.
Thanks to a $1.9 billion accounting adjustment tied to JPMorgan's weakening debt prices, revenue in this business increased 19% to $6.4 billion. The gain masked a $691 million net loss on derivative assets that included hedges and credit valuation adjustments. Net income grew 27% to $1.6 billion.
During a conference call with analysts and reporters, Dimon said the company plans to cut its investment bank workforce by 1,000 employees over the next six quarters, Reuters reported.
On the other hand, JPMorgan's retail arm posted net income of $1.2 billion, nearly double from the year-earlier's $716 million. Net revenue jumped 11% to $7.6 billion. Provisions for credit losses sank by $370 million from the year before to $1 billion.
Dimon, a well-respected voice on Wall Street, addressed the economic uncertainties, saying, "It looks like the recovery is still here."
Other big banks are scheduled to report third-quarter results in the coming days, including Bank of America (NYSE:BAC), Citigroup (NYSE:C) and Goldman Sachs (NYSE:GS), which analysts have warned may post a loss.