Johnson & Johnson Boosts Guidance on Strong 1st-Quarter Results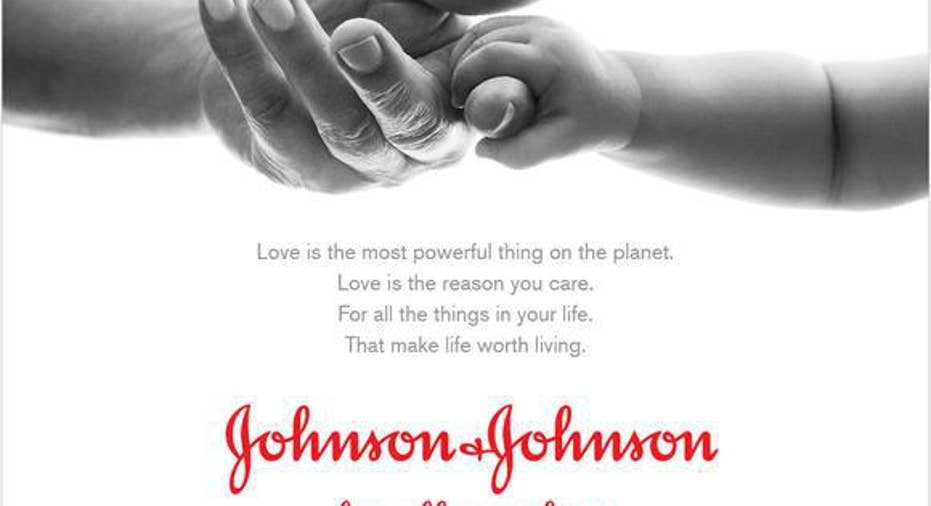 Image source: Johnson & Johnson.
Among healthcare companies, it's hard to find a match forJohnson & Johnson . Its impressive scope encompasses the over-the-counter consumer remedy market as well as the medical device arena, but J&J's biggest source of growth lately has come from the pharmaceutical space. Even as it works to compete against Pfizer and other big pharma names, Johnson & Johnson has had to fight against the strength of the U.S. dollar and its downward impact on its financial results.
Coming into Tuesday's first-quarter financial report, investors in Johnson & Johnson had hoped the company would be able to get things moving in the right direction again, and positive results on sales and earnings per share showed its success in doing so. Let's take a closer look at Johnson & Johnson's latest results and what you should learn from them.
J&J has a good prognosisJohnson & Johnson's first-quarter financials showed some positive signs that investors haven't seen in a long time. Revenue for the quarter inched upward by 0.6% to $17.48 billion, exactly matching the consensus forecast among investors, but more importantly finding a way to produce any growth at all. Adjusted net income was up 6% to $4.69 billion, and that produced adjusted earnings of $1.68 per share, beating analyst estimates by $0.03 per share.
What's remarkable is that Johnson & Johnson managed to overcome what are still considerable currency headwinds to produce growth. Overall, the U.S. dollar's strength cost J&J 3.3 percentage points of potential revenue growth, including a 6.6-point hit in its international business. The effect was most pronounced in the consumer segment, where international sales took a 9.3 percentage-point reduction from currency impacts. The foreign-exchange impact hid a nearly 4% rise in revenue based on operations.
As we've seen in past quarters, J&J's pharmaceutical segment continued to outpace its counterparts. First-quarter revenue for the unit rose almost 6% compared to declines of 2.4% in medical devices and 5.8% in consumer. Even in the U.S. market, domestic consumer revenue fell slightly from year-ago levels, pointing to the unit's general weakness. Globally, the Western Hemisphere outside the U.S. showed the most vulnerability to currency-induced contraction, while the Asia-Pacific and Africa geographical segment held up the best.
Johnson & Johnson pointed to many of the usual suspects in driving growth: Consumer painkillers Tylenol and Motrin, prescription drugs Imbruvica and Xarelto, and cardiovascular devices in the medical-device segment were among the positive contributors to Johnson & Johnson's overall success.
Can Johnson & Johnson stay healthy?J&J CEO Alex Gorsky summed up the quarter in general terms: "Our pharmaceuticals business continues to deliver impressive levels of growth," Gorsky said. "We have steady improvement in our consumer business, and we are seeing momentum in our medical devices businesses, all of which are fueling our optimism for the full year ahead."
Johnson & Johnson also rewarded investors with improved guidance. The healthcare giant boosted its sales predictions by $400 million to a new range of $71.2 billion to $71.9 billion. A dime-per-share improvement on the earnings front brought J&J's new guidance to $6.53 to $6.68 per share.
One interesting thing about the approach Johnson & Johnson has taken is that it hasn't focused as much on major acquisitions as some of its rivals. Pfizer, for instance, is currently going through the disruptive event of having to back away from its proposed buyout of Allergan, which U.S. regulators specifically targeted in changing requirements for mergers that use tax-inversion strategies to reap benefits for shareholders. Pfizer has shied away from embracing its legacy products business, even as Johnson & Johnson embraces its long history and its consumer brand awareness. That gives J&J an advantage over Pfizer, even though both rely on the health of the prescription-drug space overall for their livelihood.
Investors were pleased with Johnson & Johnson's results, sending the stock up 2% in early trading after the announcement. If the dollar continues to have less of an impact on the company's top- and bottom-line growth, then Johnson & Johnson could well see its gains accelerate throughout the rest of 2016.
The article Johnson & Johnson Boosts Guidance on Strong 1st-Quarter Results originally appeared on Fool.com.
Dan Caplinger has no position in any stocks mentioned. The Motley Fool owns shares of and recommends Johnson & Johnson. Try any of our Foolish newsletter services free for 30 days. We Fools may not all hold the same opinions, but we all believe that considering a diverse range of insights makes us better investors. The Motley Fool has a disclosure policy.
Copyright 1995 - 2016 The Motley Fool, LLC. All rights reserved. The Motley Fool has a disclosure policy.