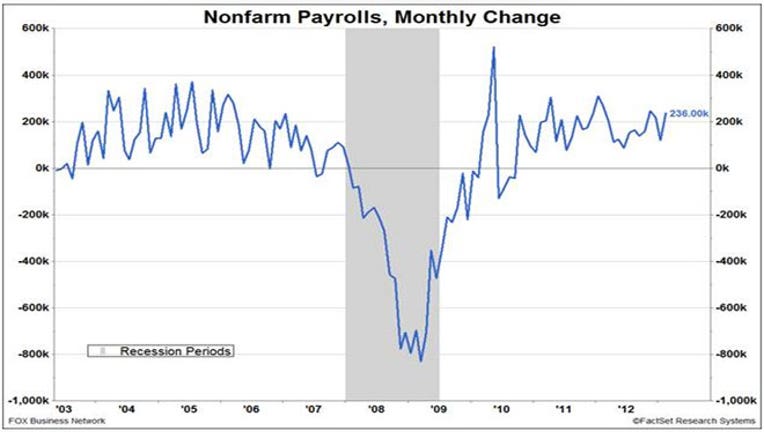 The surprisingly strong February jobs report may have blown away consensus forecasts by a hefty 76,000 jobs, but Americans shouldn't brace for a sudden acceleration in job growth just yet.
The good news is that the latest employment figures indicate the U.S. labor market continues to mend its wounds, and even strengthen, despite significant political ambiguity.
However, there are a slew of credible reasons to be skeptical that the February report will end up marking a true inflection point, including a disappointing contraction in the monthly labor force participation rate and the looming dual impact of sequestration and the expiration of the payroll tax hike.
"I think it's certainly indicative of the economy gaining traction but I wouldn't quite call it a turning point.     I'm not fully embracing the February numbers," said Russell Price, senior economist at Ameriprise Financial (NYSE:AMPT).
If Ben Bernanke and his fellow central bankers concur, that means the Federal Reserve is unlikely in the short term to yank the easy-money punch bowl that has helped lift stock prices to all-time highs.
Jobs Market Heats Up
None of this is to say the February report was lackluster.
The U.S. added 236,000 nonfarm jobs in February, 48% more than consensus calls for 160,000 and the best print since November. Private payrolls soared by 246,000 jobs, compared with estimates for a gain of just 170,000.
"Despite considerable uncertainty stemming from the fiscal front, businesses have shrugged it off," Doug Duncan, chief economist at mortgage giant Fannie Mae, said in a statement.
"We caution against overreacting to the strong February data."
Under the hood, the employment figures looked mostly positive as well: service-providing sector jobs surged by 179,000 and construction job growth nearly doubled the prior month's gain to 48,000. Temporary help employment, which economists look at as a leading indicator, jumped by 16,000 jobs as well.
The figures suggest that "labor markets have maintained their momentum heading into 2013, despite the downside risks posed by the package of policies to avoid the fiscal cliff," Michael Gapen, director of U.S. economic research at Barclays (NYSE:BCS), wrote in a note.
Labor Force Participation Rate Climbs
On the other hand, the February report does offer some cautionary tales.
Skeptics pointed to the fact that the unemployment rate dipping to 7.7% wasn't solely due to the job growth. Instead, the decline was partially caused by the labor force participation rate slipping to 63.5% from 63.6%, potentially a negative sign that job seekers grew frustrated at the labor picture.
Likewise, the government downgraded its previous estimate for January job growth to 119,000 from a healthier 157,000.
That means the three-month average, which seeks to smooth out volatility, actually slid to 191,000 from 200,000 in January.
This drop "leads us to temper our view of labor market strength based on the February data alone," Gapen said. "We caution against overreacting to the strong February data…It is not clear to us...that the labor market has up-shifted to a stronger trend rate of payroll growth."
Sequester, Spending Hurdles Loom
Price is concerned about a number of obstacles likely to hold back the labor markets, such as the impact of the $85 billion in automatic spending cuts caused by sequestration. Cutbacks in government spending are likely to cause layoffs, especially in the defense sector.
Consumer spending is also being pressured by gas prices, which AAA says have jumped by an average of 16.6 cents a gallon over the past month, and the expiration of the payroll tax holiday. Economists have projected the payroll tax increase will carve $125 billion from disposable income in 2013.
The February jobs report was "very encouraging, no doubt," said Price. "But there are still a few headwinds and the speed of those headwinds pick up over the next three months."
Gus Faucher, senior macroeconomist at PNC Financial (NYSE:PNC), acknowledges there are "some drags on the economy" but said the overall "fundamentals look decent." He pointed to improving corporate and consumer balance sheets and the strengthening housing market, which is adding to household net worth.
Still, Faucher doesn't anticipate monthly U.S. payroll growth to average more than 200,000 in 2013. He said he wouldn't be surprised to see growth hover around the 190,000-job level.
What Does Big Ben Think?
If job growth continues at a decent but not stellar pace, expect the Fed to keep its foot firmly planted on the easy-money pedal for now.
That could be good news for equity investors as the current bull market, which sent the Dow Industrials to an all-time high this week, has been seriously boosted by Bernanke's dovish policies.
The Fed has said it would keep interest rates at their historically low levels as long as unemployment remains above 6.5% -- it's currently at 7.7% -- and inflation stays below 2.5%.
"We think the combination of the unstable monthly path of job growth and a decline in the unemployment rate for the 'wrong reasons' are unsatisfactory to the Fed," Aichi Amemiya, an economist at Nomura Securities, wrote in a note. "We think there is a long way to go before the Fed begins considering removing its super accommodative monetary policy."
On the QE front, Barclays believes the Fed will continue its monthly purchase rate of $85 billion for the remainder of 2013.
"Labor market health is improving, but not in a way to suggest that the improvement has been substantial enough to alter the policy stance," Gapen said.