Jobs Friday Fizzles Out; S&P 500's Four-Day Streak Dies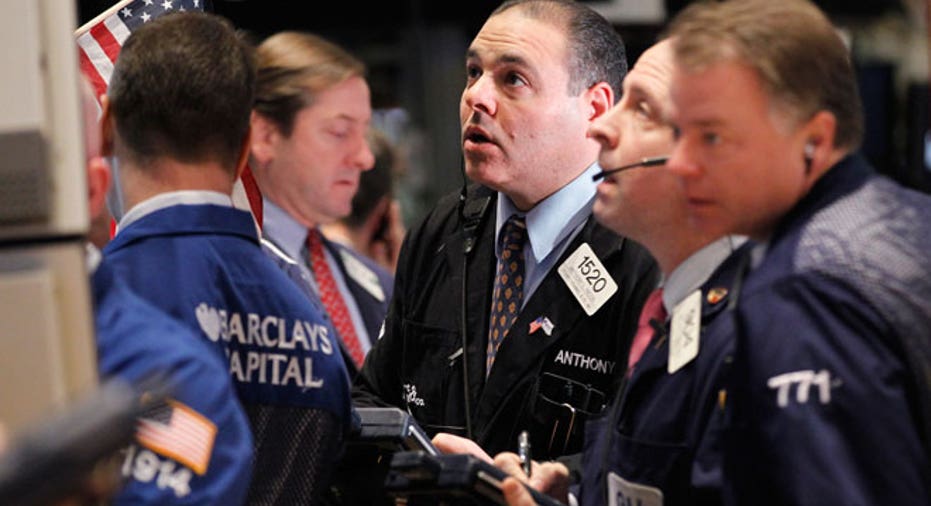 FOX Business: The Power to Prosper
The S&P 500's four-day win streak came to a halt on Friday as Wall Street ended the day with a mixed verdict, mirroring the mixed feelings among traders about a surprise tumble in the September jobless rate to January 2009 levels.
Today's Markets
The Dow Jones Industrial Average jumped 34.79 points, or 0.26%, to 13610.15, the S&P 500 slipped 0.47 points, or 0.03%, to 1460.93 and the Nasdaq Composite dropped 13.27 points, or 0.42%, to 3136.19. The FOX 50 fell 1.39 points, or 0.13%, to 1101.98.
Wall Street's knee-jerk reaction to the September jobs data was largely positive as the blue chips climbed to their highest intraday level since December 2007.
However, that initial enthusiasm faded throughout the day, dragged down in part by slumping tech stocks, led by heavy-weighted iPhone maker Apple (NASDAQ:AAPL).
"I think the market expects slow improvement in the labor market. This confirms that," said Scott Wren, senior market strategist at Wells Fargo's (NYSE:WFC) Wells Fargo Advisors.
"We're still largely riding on the coattails of the central banks dumping money into the financial system. I would argue that's the largest reason we're staying up here at these decent levels," he added.
Still, the markets managed to post their first weekly rally in three weeks.
Most of the Dow's 30 members advanced, led by economically-sensitive Home Depot (NYSE:HD) and Boeing (NYSE:BA). The index's biggest laggards included Hewlett-Packard (NYSE:HPQ) and UnitedHealth (NYSE:UNH).
The Nasdaq Composite suffered a modest pullback, driven down by Apple and other tech stocks like eBay (NASDAQ:EBAY).
Jobless Rate Tumbles
Yet the spotlight was squarely on the U.S. labor markets on Friday after the government revealed a surprise plunge in the U.S. unemployment rate to 7.8% from 8.1%, leaving the gauge at its lowest level since January 2009. Economists had expected it to rise to 8.2%.
The drop in the unemployment rate was driven by a surprise 873,000 surge in the household survey, the largest such increase since 2003.
"These developments are exactly what the Federal Reserve is looking for in terms of a 'better' labor market," Dan Greenhaus, chief global strategist at BTIG, wrote in a note.
Others were more cautious about reading too much into the data.
"The jump in employment reported in September was almost certainly a statistical fluke," Dean Baker, director of the left-leaning Center for Economic and Policy Research, wrote in a note, adding that the unemployment rate is "almost certainly" moving downward, though likely at a "considerably slower" rate than the latest data suggest.
Economists often prefer the less volatile nonfarm payrolls, which showed employers added 114,000 jobs in September, nearly matching the 113,000 economists had forecasted. Importantly, the estimates for job gains for August and July climbed by a combined 86,000 jobs.
Private-sector jobs rose by 104,000 in September, missing estimates for a gain of 130,000 but above August's reading of 97,000.
Meanwhile, tn the turbulent eurozone, Greece's stock market surged to the best levels since February thanks to talk of a merger between the National Bank of Greece (NYSE:NBG) and rival Eurobank.
On the commodities front, crude oil continued its rollercoaster ride of late. After plunging 4% on Wednesday and then surging back by the same amount the next day, crude slid $1.83 a barrel, or 2.00%, on Friday to $89.88. For the week, crude dropped 2.51%, its third consecutive weekly decline.
Gold declined $15.50 a troy ounce, or 0.86%, to $1,778.60.
The mixed performance on Wall Street comes after the blue chips rallied 81 points on Wednesday, fueled by stronger-than-expected economic data and optimism about the presidential election triggered by Mitt Romney's strong debate performance.
Corporate Movers
Zynga (NASDQ:ZNGA) plummeted 12% to fresh all-time lows after the online game maker projected a loss of 12 cents to 14 cents a share for the current quarter, compared with forecasts for a breakeven quarter. The news also weighed on Facebook's (NASDAQ:FB) shares.
Constellation Brands (NYSE:STZ) revealed a 23% slide in fiscal second-quarter earnings, but the wine and spirits maker's adjusted profits and full-year guidance surpassed Wall Street's expectations.
J.P. Morgan Chase (NYSE:JPM) regulatory chief Barry Zubrow is expected to leave the bank, the latest in a string of departures following the London Whale trading debacle. Zubrow, formerly chief risk officer, is seen leaving before the end of the year, The Wall Street Journal reported.
Global Markets
The Euro Stoxx 50 soared 1.83% to 2531.21, London's FTSE 100 gained 0.74% to 5871.02 and the German DAX jumped 1.27% to 7397.87.
In Asia, Japan's Nikkei 225 rose 0.44% to 8863.30 and Hong Kong's Hang Seng advanced 0.50% to 21012.38.