Job Growth Seen Picking Up Speed in January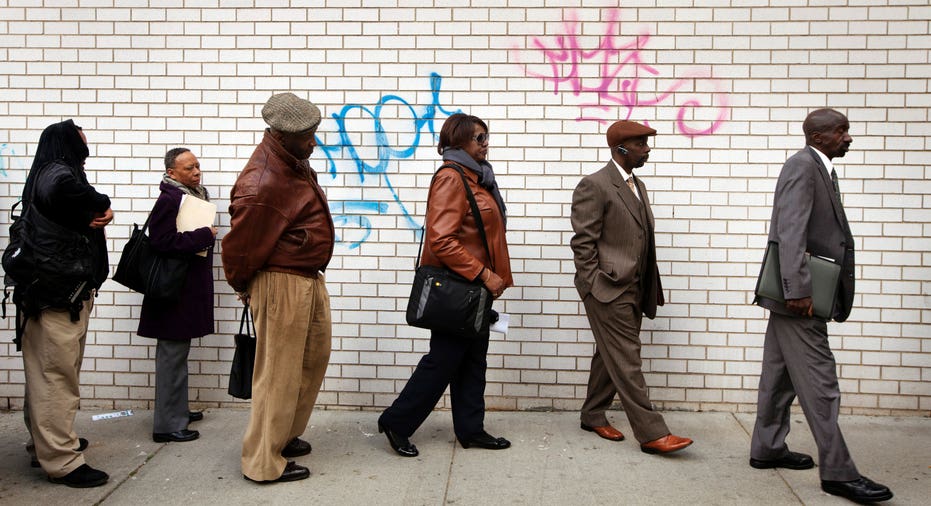 U.S. job growth likely accelerated in January, with wages expected to have increased steadily, suggesting a strong start for the Trump administration as it seeks to boost the economy and employment.
Nonfarm payrolls probably increased by 175,000 jobs last month, in part as warm weather bolstered hiring in the construction sector, according to a Reuters survey of economists. That would be a pick-up from the 156,000 jobs created in December.
President Donald Trump vowed during last year's election campaign to deliver 4 percent annual gross domestic product growth, largely on the back of a plan to cut taxes, reduce regulations, increase infrastructure spending and renegotiate deals in the United States' favor.
Although details on the policy proposals remain sketchy, consumer and business confidence have surged in the wake of Trump's election victory last November.
But with the economy near full employment, some economists are skeptical of the 4 percent growth pledge. Annual GDP growth has not exceeded 2.6 percent since the 2007-08 recession.
"Time will tell if Trump can keep the economy's winning streak alive. It's not going to be easy to bring back those manufacturing jobs lost since the late '90s," said Chris Rupkey,
chief economist at MUFG Union Bank in New York.
The Labor Department will publish its closely watched employment report on Friday at 08:30 a.m. (08:30 a.m. ET).
With the minimum wage taking effect in more than a dozen states in January, average hourly earnings are forecast to have risen by 0.3 percent after increasing 0.4 percent in December. However, the year-on-year gain in earnings is expected to fall to 2.8 percent from 2.9 percent in December as the jump in wages seen in January 2016 drops out of the picture.
Rising wages could pave the way for the Federal Reserve to raise interest rates this year. The unemployment rate is forecast unchanged at 4.7 percent.
"Solid job growth should help, in part, lead to lower unemployment and firming wage pressures, and justify the Fed hiking interest rates twice this year," said Sam Bullard, a senior economist at Wells Fargo Securities in Charlotte, North Carolina.
The Fed, which hiked rates in December, has forecast three rate increases this year. On Wednesday, the U.S. central bank kept its benchmark overnight interest rate unchanged in a range of 0.50 percent to 0.75 percent. It said it expected labor market conditions would strengthen "somewhat further."
UPSIDE SURPRISE LIKELY
January payrolls could beat expectations. The ADP National Employment Report on Wednesday showed that private employers added 246,000 jobs last month, up from 151,000 in December. At the same time, the Institute for Supply Management's measure of factory employment hit its highest level since August 2014.
With its January employment report, the government will publish its annual "benchmark" revisions and update the formulas it uses to smooth the data for regular seasonal fluctuations. It will also incorporate new population estimates.
In an early benchmark estimate last year, the government said the level of employment in March of last year was likely 150,000 lower than it had reported.
As the labor market nears full employment, the pool of workers is shrinking, which is slowing job growth. Job gains averaged 180,000 per month in 2016, down from 229,000 in 2015.
The shift in population controls will mean figures on the labor force or number of employed or unemployed in January will not be directly comparable with December.
The labor force participation rate, or the share of working-age Americans who are employed or at least looking for a job, has been bouncing around near multi-decade lows, pointing to slack in the jobs market. Some of the decline reflects demographic changes.
"I think we will hit full employment later this year," said Ryan Sweet, a senior economist at Moody's Analytics in West Chester, Pennsylvania. "There is still shadow slack in the jobs market. But if we continue to create more than 100,000 jobs per month, we are going to work through that slack."
All sectors of the economy are expected to have added jobs in January. Manufacturing payrolls are forecast to have increased for a second straight month as the oil-related drag on the sector eases. Construction employment likely rebounded after being depressed by cold weather in December.
Retail payrolls probably declined as workers hired during the holiday season were laid off. A sharp drop is likely after retailers, including Macy's, Sears, American Apparel and Abercrombie & Fitch announced job cuts amid store closures.
Department store sales are being undercut by online retailers, led by Amazon.com.
Government employment likely increased in January for a third straight month. Economists see no impact from a freeze on the hiring of civilian federal government workers, which took effect on Jan. 22 - well after the survey period for nonfarm payrolls. It will hurt job growth in the coming months.
"The actual impact, while still ambiguous, will likely be more modest, and we estimate that it will reduce job gains by about 20,000 per month," said Daniel Silver, an economist at JPMorgan in New York.
(Reporting by Lucia Mutikani; Editing by Dan Grebler)