Jeter's No. 2 Retired in Emotional Yankees Ceremony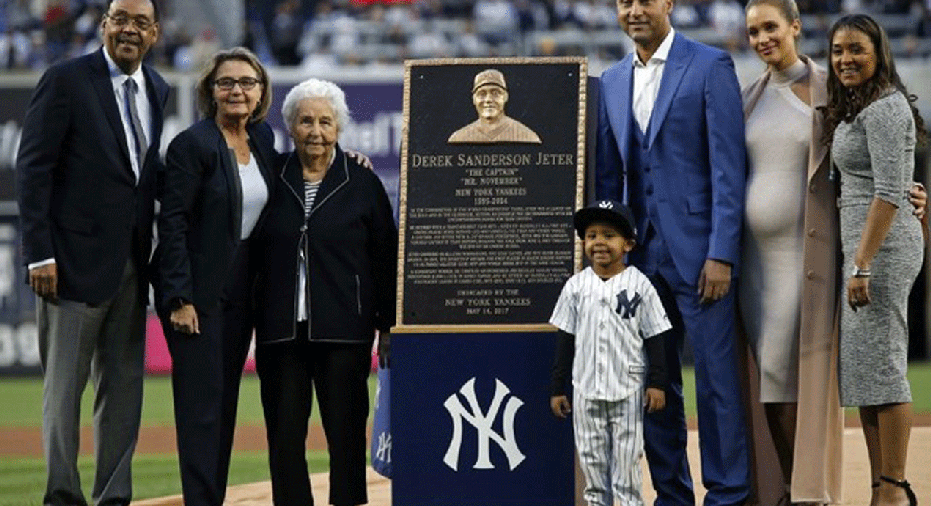 Derek Jeter completed the top 10 list of numbers retired by the New York Yankees when Major League Baseball's most successful franchise retired his No. 2 in an emotional ceremony on Sunday.
Jeter's No. 2 was the last single digit number still available for players on the Yankees, winners of a record 27 World Series titles, five of which featured Jeter, who walked away from the diamond in 2014.
"I played here for 20 years and I learned that time flies and that memories fade, but family is forever," Jeter told the sold-out crowd of 48,000 that frequently broke into a familiar "Der-ek Je-ter" chant that rocked Yankee Stadium.
"And I'll be eternally grateful for being a part of the Yankee family."
Jeter chose Mother's Day for the occasion, and he was accompanied by his grandmother, his mother and father, sister and pregnant wife, Hannah.
A host of former team mates and coaches attended the ceremony before Sunday's game against the Houston Astros, including Mariano Rivera, Andy Pettitte, Jorge Posada, Hideki Matsui, and his former manager Joe Torre.
A bronze plaque commemorating his career was placed in Monument Park along with his pinstriped No. 2 behind the fence in center field, a foreshadowing of the ceremony anticipated for Jeter at Cooperstown's Hall of Fame once he becomes eligible.
The 14-times All-Star shortstop joined the likes of Babe Ruth (3), Lou Gehrig (4), Joe DiMaggio (5), Mickey Mantle (7) and Yogi Berra (8) in having his number memorialized.
Jeter's No. 2 made it 21 numbers now off-limits to Yankee players.
No. 1 belonged to former player and manager Billy Martin, No. 6 was worn by Torre, who steered the pinstripes to four World Series crowns in five years from 1996, No. 9 graced the back of Roger Maris, whose 61 home runs in 1961 broke Ruth's 1927 mark of 60, and 10 was Phil Rizzuto's number.
Fans roared in delight at the procession of Yankee favorites that helped salute Jeter as the Astros players lined the railing in front of the visitors' dugout to take in the tribute.
Banners blared out their love from the stands. "Thank the Good Lord for making Jeter a Yankee," said one. "The house Jeter built," said another, echoing the nickname for the old Yankee Stadium as "The House that Ruth built."
Jeter won five World Series, retired with 3,465 hits, sixth on MLB's all-time list and a career batting average of .310.
A model of consistency with an even-keeled deportment and the confidence of a natural leader, Jeter became the face of the team and in 2003 was named 11th captain in franchise history.
He won five Gold Gloves for defensive excellence at one of the game's crucial fielding positions, and five Silver Slugger awards for being the best offensive player at the position.
Jeter was the not best hitter of his generation, nor the best fielder, yet he was a winner and a brilliant clutch hitter with a knack for rising up on the big occasion.
The 2011 game in which he became the first Yankee to join the 3,000 hits club is Exhibit A.
Needing two hits before a sold-out home crowd to reach the milestone, Jeter reached 3,000 with a home run and went on to go 5-for-5, the last single giving them a one-run victory over the Tampa Bay Rays.
(Reporting by Larry Fine; Editing by Andrew Both)