Jeter-Bush Have Cash Raising Woes for Marlins Bid, Giving Romney Leg Up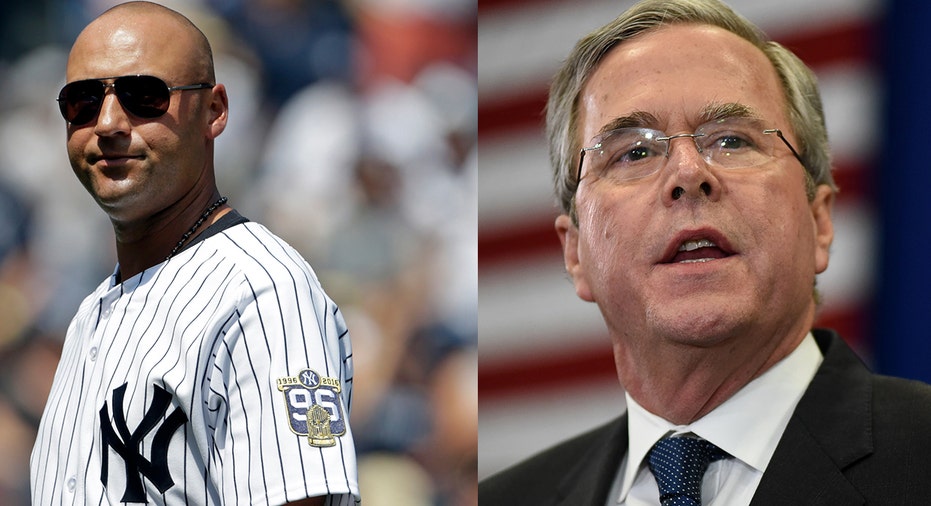 Derek Jeter's dream of buying a Major League Baseball team has hit a roadblock and could jeopardize fulfilling his $1.34 billion bid to buy the Miami Marlins, FOX Business has learned.
Jeter is experiencing some difficulties in raising a sizeable amount of cash necessary to purchase the team amid the new preference of Major League Baseball that his investor group – which includes former Florida Governor Jeb Bush – have a cash cushion once the deal is complete, according to two people with direct knowledge of the deal.
A spokeswoman for Bush, who recently expressed optimism that he and Jeter would successfully raise the money, disputed the notion that the duo may not be able to collect the necessary cash to fulfill their offer. Spokeswoman Kristy Campbell said it was "inaccurate" to suggest that their bid was in jeopardy but refused to comment further.
Representatives for Jeter didn't respond to calls for comment, nor did press officials for Major League Baseball and the Marlins.
Initially, Jeter and Bush were looking to raise as much as $900 million in cash, and would complete the deal by receiving some financing from Citigroup (NYSE:C). By raising that amount in cash, Jeter and Bush would satisfy the league's requirement that the new owner not be saddled with significant amounts of debt to buy a team that is said to be losing money, these people say. Not only are the Marlins losing money, the franchise is laden with debt. Reports have pegged that figure at $400 million.
But in recent weeks, the metrics have changed with Major League Baseball pushing for the buyer to come up with as much as $500 million more as a cash cushion because of the dire financial condition of the Marlins, these people add.
"Major League Baseball will not allow a situation where a new team owner is saddled with so much debt that they can't effectively manage a franchise," said one person with direct knowledge of the matter.
As reported by FOX Business last month, Jeter and Bush emerged as the "preferred bidder" to purchase the Marlins with their $1.34 billion offer. But the cash issues have impacted the Jeter-Bush bid so much that another investor group led by Tagg Romney, a hedge fund manager and son of 2012 GOP presidential candidate Mitt Romney, now appears also to have a shot – at least for the moment—of buying the team, these people add.
Romney is said to have bid $1.1 billion for the Marlins, but he also has access to more cash and will likely dip into the fundraising apparatus of his father, who founded the private equity firm Bain Capital before entering politics, first as Massachusetts governor, and later as a GOP presidential contender.
A spokesman for Romney did not return a call for comment.
An investor group led by hedge fund investor Wayne Rothbaum, the founder of Quogue Capital, is said to have bid about $1 billion for the Marlins.
The news of Jeter-Bush cash raising issues has yet to have been reported, and comes just a week after Bush made public comments at the Milken Institute Conference in Los Angeles, where he expressed optimism that the duo would be able to raise the necessary funds to complete the deal. Despite the Marlins' acute money woes, Bush has told people he believes the team could have a bright future as baseball expands into Latin America and Cuba, now that the U.S. is normalizing relations with the communist dictatorship, as covered by FOX Business.
But what might look good in theory is proving to be a difficult sale with potential investors, as many have declined an invitation to become silent partners of the Jeter-Bush team. Both Jeter and Bush are wealthy, but they are far from billionaires, and are planning to invest just $50 million combined, while raising money from outside investors, people with direct knowledge of the bidding process say.
That doesn't mean the Jeter-Bush bid is dead. In fact, many people on Wall Street speculate that the duo's investment banker, Gregory Fleming — a former senior executive at Morgan Stanley (NYSE:MS) and Merrill Lynch (NYSE:BAC) — may now be looking to raise money from his vast network of contacts in China and Latin America, many of whom would be willing to put up significant sums of cash as silent investors, while allowing Jeter and Bush to run the team.
Even if they come up with the money, the bigger issue is whether the Marlins can make money. The Marlins are considered one of the league's more mediocre performing franchises both on the field and financially. The team's attendance has been one of the worst in Major League Baseball; in 2016, out of 30 MLB teams, the Marlins ranked 26th, with 21,405 fans coming to each game. The Tampa Bay Rays are last in the league with an average of 15,879 fans coming to each game.
The Marlins' financial woes don't end there. The team appears to be most vulnerable to the impact of cord cutting, when people drop cable subscriptions for streaming services. That means cable providers likely won't be handing any future owner lucrative deals to carry the team's games.
Meanwhile, the current owner, Jeffrey Loria has "back loaded" many of the most expensive contracts on his roster, so the financial hit of these salaries will be felt in the coming years and inherited by the new owners.
With that, Bush is being advised by friends to walk away from the purchase, while Jeter and his investment banker Fleming, are still scrambling to raise the necessary cash, these people add.
People close to the negotiations say MLB Commissioner Rob Manfred is not rushing the money-raising process, nor is Marlins owner Loria, but as of now, Jeter and Bush are facing a battle to come up with the necessary cash, these people add.
Loria, who made his early fortune as an art dealer, can command a price well above the $158 million he paid 15 years ago because of the scarcity value of professional baseball teams, and he may be forced to drop the price tag of the team in order to complete a sale, though he has showed no desire to do so.
"The numbers don't add up," said one person with direct knowledge of the bidding process. "The Marlins are losing money, and Jeb is being advised just to walk away."