JetBlue Wins on Customer Satisfaction Again, but Southwest Is Closing In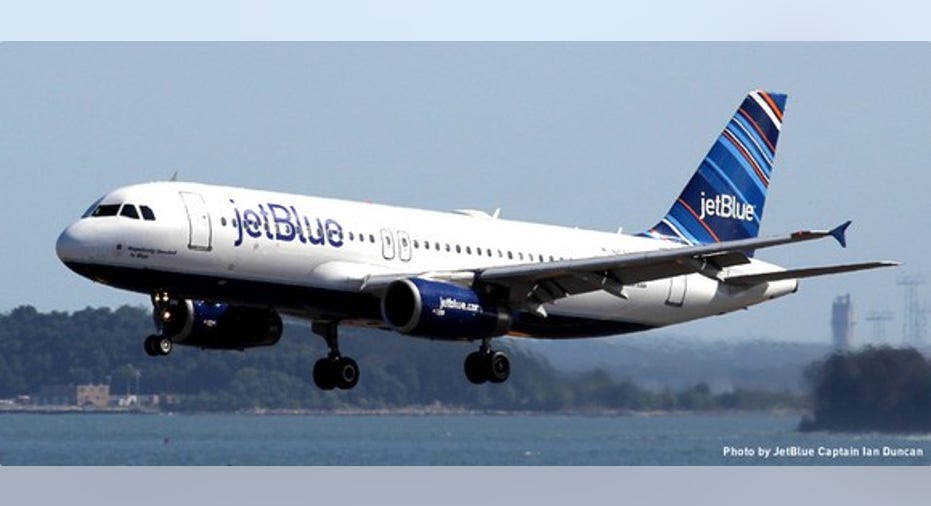 For more than a decade, J.D. Power has been measuring customer satisfaction in the airline industry, broken down by traditional carriers and low-cost ones. In every single year, JetBlue Airways has received the best score of any low-cost carrier -- and the best score overall.
JetBlue has led the J.D. Power airline rankings every year since 2005. Image source: JetBlue Airways.
JetBlue kept its winning streak alive in 2016, with its 11th consecutive No. 1 ranking in the low-cost carrier segment. It was also its 12th consecutive overall No. 1 ranking. (In 2005, J.D. Power considered all of the airlines as a single group.) Nevertheless, JetBlue is in danger of losing its leading position to Southwest Airlines in the near future.
What the survey captures
J.D. Power's North American Airline Satisfaction Study measures customer satisfaction across seven different factors. The researchers describe these factors as follows: cost and fees, in-flight services, boarding/deplaning/baggage, flight crew, aircraft, check-in, and reservation.
Airlines did pretty well in the 2016 version of the study. Overall satisfaction with the industry improved from 717 to 726 on J.D. Power's 1,000-point scale, with traditional carriers showing somewhat more improvement than low-cost carriers. That was the best score since J.D. Power started using its current methodology in 2006.
JetBlue dominates the rankings but faces pressure
JetBlue's long stay at the top of the J.D. Power rankings has been well deserved. For most of the past decade, it has offered significantly more legroom than other carriers, seatback TVs for every customer (with free live satellite TV), free satellite radio, unlimited snacks, a free first checked bag, and low fares.
As a result of all these amenities, JetBlue enjoyed a comfortable 20-point advantage over No. 2-ranked Southwest Airlines in the 2015 survey. However, in the 2016 edition of the survey, JetBlue's score declined in six of the seven categories, while Southwest improved in all seven. As a result, JetBlue's lead shrank to just 1 point.
Southwest nearly surpassed JetBlue for the No. 1 spot this year. Image source: Southwest Airlines.
Part of JetBlue's decline probably stems from the fact that last summer, it started charging for checked bags for customers who buy the cheapest tickets. Southwest is now unique in offering free checked bags with every ticket.
JetBlue is also in the midst of reconfiguring most of its aircraft, which will reduce legroom somewhat. It will still have the most legroom of any carrier in coach (on average), but its advantage over rivals like Southwest on this dimension will be smaller.
At the same time, Southwest Airlines has branched out somewhat from its roots as a no-frills airline. For example, while there are still no seatback TVs, Southwest does offer free live and on-demand streaming content that can be accessed on a PC, tablet, or smartphone.
Can JetBlue stay on top?
While Southwest gained a ton of ground on JetBlue in this year's J.D. Power survey, JetBlue isn't going to give up its No. 1 spot without a fight. In fact, JetBlue is making a lot of enhancements to its service that could more than make up for more widespread baggage charges and less generous legroom.
First, JetBlue has been rolling out super-fast Wi-Fi on its planes over the past couple of years. And in contrast to its competitors (including Southwest), JetBlue offers this service for free. JetBlue has now installed Wi-Fi on more than 80% of its fleet, with the rollout scheduled for completion in the next year.
Second, JetBlue's upcoming cabin reconfiguration will improve the quality of its amenities on its Airbus fleet. It will add onboard power outlets in every row, new and dramatically larger HD seatback TVs, upgraded headrests, and LED cabin lighting. Plus, the new planes will have three times as many satellite TV channels available.
JetBlue's seatback TVs are getting a lot bigger -- and better. Image source: JetBlue Airways.
No matter which airline comes out on top in the 2017 J.D. Power rankings, one thing seems clear: Customers are benefiting from the increased focus on aircraft upgrades and onboard amenities at airlines like JetBlue and Southwest.
The article JetBlue Wins on Customer Satisfaction Again, but Southwest Is Closing In originally appeared on Fool.com.
Adam Levine-Weinberg owns shares of JetBlue Airways and is long January 2017 $17 calls on JetBlue Airways. The Motley Fool has no position in any of the stocks mentioned. Try any of our Foolish newsletter services free for 30 days. We Fools may not all hold the same opinions, but we all believe that considering a diverse range of insights makes us better investors. The Motley Fool has a disclosure policy.
Copyright 1995 - 2016 The Motley Fool, LLC. All rights reserved. The Motley Fool has a disclosure policy.