Jet.com Was Just the Start of Wal-Mart's E-Commerce Acquisitions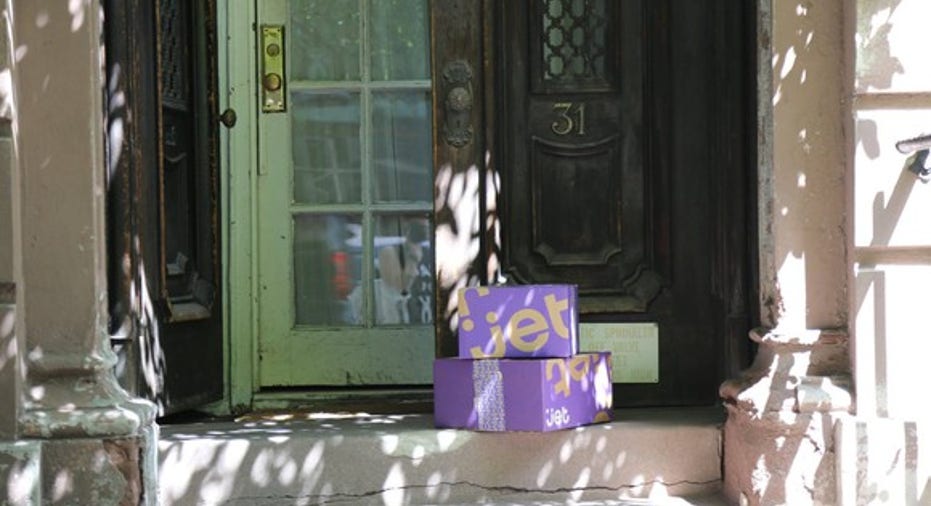 Image source: Jet.
Jet.com has helped reinvigorate Wal-Mart's (NYSE: WMT) online sales growth, but the megaretailer is far from done transforming its online sales operations. Wal-Mart is kicking off the year with the acquisition of ShoeBuy.com, an online shoe retailer that competes with Amazon's (NASDAQ: AMZN) Zappos. The acquisition reportedly cost $70 million.
More telling are comments from Wal-Mart's head of e-commerce, Marc Lore, (former CEO of Jet.com) who said Jet and Wal-Mart will likely pursue more acquisitions like ShoeBuy. In particular, he pointed to "categories where they are long-tail, high-margin products and harder-to-crack brands." Jet.com's selection still pales in comparison to Amazon.com's, so improving inventory through acquisition is a quick fix for the problem.
Raiding the closet
Apparel is the largest online sales category in the United States. It shouldn't be a huge surprise that Amazon is the largest online seller of clothing in the country -- just like nearly every other category. What's more, analysts project Amazon's share of the U.S. apparel market to triple from 2015 to 2020.
While Wal-Mart sells a good amount of clothing in its brick-and-mortar stores, it doesn't crack the top 10 online apparel retailers. Thus, the ShoeBuy acquisition is a perfect fit to launch sales of the "long-tail, high-margin" categories Wal-Mart is lacking.
Before Amazon bought Zappos in 2009, its apparel business was minimal. It started adding T-shirts, jeans, and other basics to its product catalog, and it rapidly grew. Amazon sold $16.3 billion in clothing and accessories in 2015, according to Internet Retailer. With the introduction of its own clothing lines, it seems like only a matter of time before Amazon surpasses Macy's as the largest overall apparel retailer in the country.
While ShoeBuy isn't nearly as large as Zappos -- $315 million in revenue versus $1 billion for Zappos in 2009 -- it still gives Wal-Mart a foot in the door to more robust clothing sales sales.
A big budget for improvements and acquisitions
Wal-Mart plans on spending $1.1 billion on its e-commerce operations in fiscal 2018, up from $900 million this year. But Wal-Mart developed that plan before it acquired Jet.com and put Marc Lore in charge of growing its e-commerce business. If Lore wants to make more acquisitions instead of developing things internally, Wal-Mart has the capital to move some money around and make it work.
Consider that ShoeBuy and its $315 million in sales only cost $70 million to acquire, Wal-Mart has room to acquire several more similarly sized companies every year. By incorporating the smaller e-tailer's inventory, retail partnerships, and operations with Wal-Mart's giant infrastructure, the company should be able to boost the bottom lines of the smaller companies it plans to snatch up.
If Wal-Mart stands a chance at catching up with Amazon, it'll need to do so through both acquisitions and organic growth. Amazon is still one of the fastest-growing online retailers despite its massive sales base. Amazon's retail sales increased 27% through the first nine months of 2016. By comparison, Wal-Mart's online sales increased just 21% in the third quarter after reporting growth of just 7% and 12% in the first and second quarters, respectively.
Acquisitions like ShoeBuy to penetrate the vast apparel market or other small retailers with a small foothold in a big retail category should fit well into Wal-Mart's larger online platforms. But Wal-Mart will have to keep spending in order to grow.
10 stocks we like better than Wal-Mart Stores When investing geniuses David and Tom Gardner have a stock tip, it can pay to listen. After all, the newsletter they have run for over a decade, Motley Fool Stock Advisor, has tripled the market.*
David and Tom just revealed what they believe are the 10 best stocks for investors to buy right now... and Wal-Mart Stores wasn't one of them! That's right -- they think these 10 stocks are even better buys.
Click here to learn about these picks!
*Stock Advisor returns as of January 4, 2017
Adam Levy owns shares of Amazon.com. The Motley Fool owns shares of and recommends Amazon.com. The Motley Fool has a disclosure policy.