Jefferies Says to Sell ConocoPhillips Stock: 3 Reasons It Might Be Right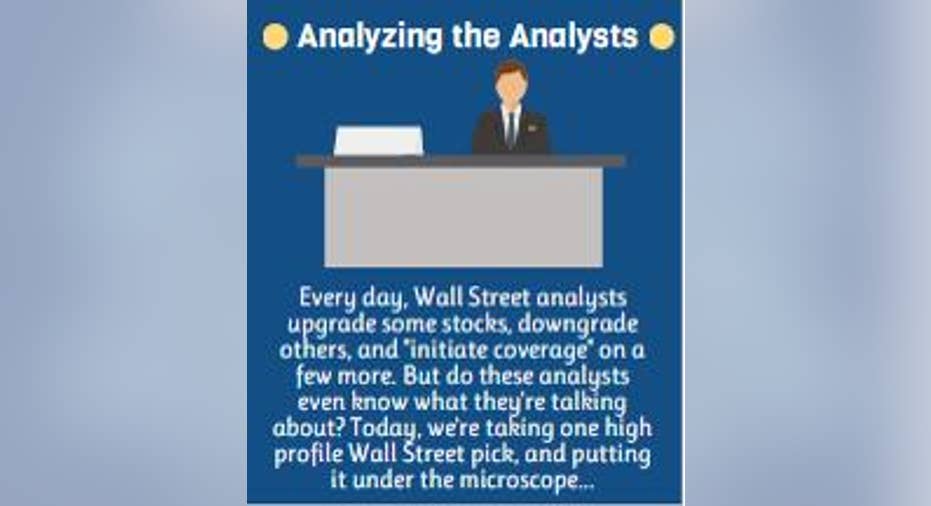 Oil prices are back above $40, and you'd think that would be good news for oil stocks -- but no such luck. Early Thursday morning, analysts at Jefferies & Co. took an axe to their rating on ConocoPhillips stock, and cut it to underperform (with a $37 price target).
The newsAt its base, this is a valuation call that Jefferies is making against Conoco. As related on StreetInsider.com this morning, Jefferies worries that ConocoPhillips stock sells for "a 3 turn premium to the sector average P/E by 2018" and "the valuation proposition is elusive." Or translated into English, based on what Jefferies thinks Conoco will be earning two years from now, the stock costs three times as much as what other oil companies -- that will be earning similar profits in 2018 -- cost today.
Why is Jefferies giving ConocoPhillips the cold shoulder? Image source: ConocoPhillips.
Accordingly, Jefferies thinks ConocoPhillips stock will underperform the market for at least the next year. Are they right about that? Here are three things you need to know.
Thing No. 1: ConocoPhillips stock (still) costs too muchConcocoPhillips stock is up slightly since the start of 2016, but don't expect to hear much cheering from the shareholders. The stock is still down 31% over the past year. And yet, bad as that performance has been, Jefferies warns that it could get worse.
"COP is now trading 27% above our target price of $37," says Jefferies. To get to a fair valuation, the analyst thinks ConocoPhillips shares would have to fall a further 21%.
Thing No. 2: The divvy disappoints, as wellAnd the stock price is only half the equation here. As recently as last year, ConocoPhillips stock was paying out north of 5% annually in dividend checks, and its average payment over the past years was a very respectable 4.4%. But as Jefferies points out, "since cutting the dividend by 66% on February 5 the yield is among the lowest in the sector."
Or put another way, why would you want to own unprofitable Conoco and its (now) 2.1% dividend yield, when ExxonMobil is paying 3.4% and Chevron pays 4.3% -- the kind of yield that Conoco used to pay? Seeing as both ExxonMobil and Chevron are profitable oil producers, while ConocoPhillips is not, Jefferies' answer would seem to be: "You shouldn't want to own Conoco."
Thing 3: Don't expect that to changeUnfavorable -- and obvious -- as the comparisons between ConocoPhillips, ExxonMobil, and Chevron may be, Jefferies sees little hope that Conoco will see the light and raise its dividend payment back up to competitive levels. The reason: Conoco currently carries a massive 62.1 debt-to-equity level, while Chevron scores a relatively svelte 25.1 and Exxon looks positively debt-lite at 21.9.
Given the debt overhang, Jefferies believes that "balance sheet repair could be a higher priority" at Conoco, and that whatever free cash flows the company can manage to produce in future years (according to data from S&P Global Market Intelligence, Conoco is currently burning cash) will more likely be directed to paying down debt, rather than distributed as dividends for shareholders.
Final thingPulling no punches, let's sum it up for you: According to Jefferies, ConocoPhillips is a cash-burning, unprofitable, debt-laden dinosaur of the fossil fuels industry -- and a tightwad when it comes to dividend payments. According to the analyst, these are all good reasons to sell ConocoPhillips.
I do not disagree.
The article Jefferies Says to Sell ConocoPhillips Stock: 3 Reasons It Might Be Right originally appeared on Fool.com.
Fool contributorRich Smithdoes not own shares of, nor is he short, any company named above. You can find him onMotley Fool CAPS, publicly pontificating under the handleTMFDitty, where he's currently ranked No. 315 out of more than 75,000 rated members.The Motley Fool owns shares of and recommends Chevron. The Motley Fool owns shares of ExxonMobil. Try any of our Foolish newsletter services free for 30 days. We Fools may not all hold the same opinions, but we all believe that considering a diverse range of insights makes us better investors. The Motley Fool has a disclosure policy.
Copyright 1995 - 2016 The Motley Fool, LLC. All rights reserved. The Motley Fool has a disclosure policy.