Japanese public TV says staffer sent missile alert in error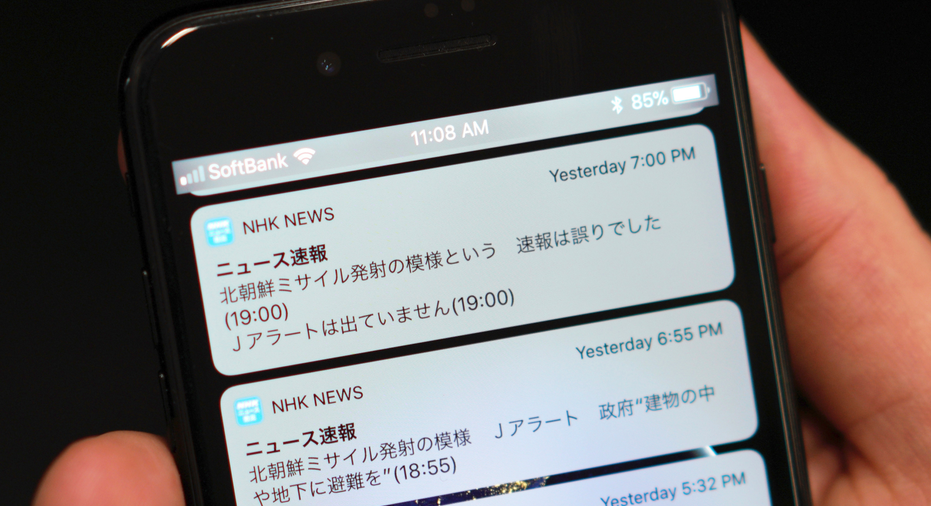 Japanese public broadcaster NHK said Wednesday that an erroneous alert about a North Korean missile fired at Japan was sent by a staff member who meant to transmit a different news flash.
NHK denied any mechanical flaw and said it is studying preventive measures, though it did not give further details.
The false alarm Tuesday came just days after emergency authorities in Hawaii sent a mistaken warning of a missile attack to mobile phones across the state, triggering panic.
The erroneous NHK news flash had been prepared for a possible emergency, the broadcaster said, adding that transmission of an alert usually involves checking by multiple staff members.
The false alert said North Korea appeared to have fired a missile at Japan and that the government was warning people to take shelter. NHK retracted the mistake in five minutes, first on the internet, and then apologized on air and other formats.
NHK said it was not sure how many of the 300,000 followers of its "NHK News and Disaster Prevention" service saw the alert or if anyone followed the instructions.
The broadcaster said most of the complaints it had received were from people who learned about the mistake when they saw the correction instead of the erroneous flash itself. Some, however, were simply trying to make sure a missile was actually not fired.
Tension has grown in Japan over North Korean missile tests as they have flown closer to Japanese coasts. NHK and other Japanese media generally alert each missile test, and the government has issued emergency notices when the missiles flew over northern Japan.
Japan is also stepping up its missile defense capabilities and is conducting missile drills across the country. Tokyo will have its first drill next week.
___
Follow Mari Yamaguchi on Twitter at twitter.com/mariyamaguchi
Find her work at https://www.apnews.com/search/mari%20yamaguchi