Japanese airbag maker Takata files for bankruptcy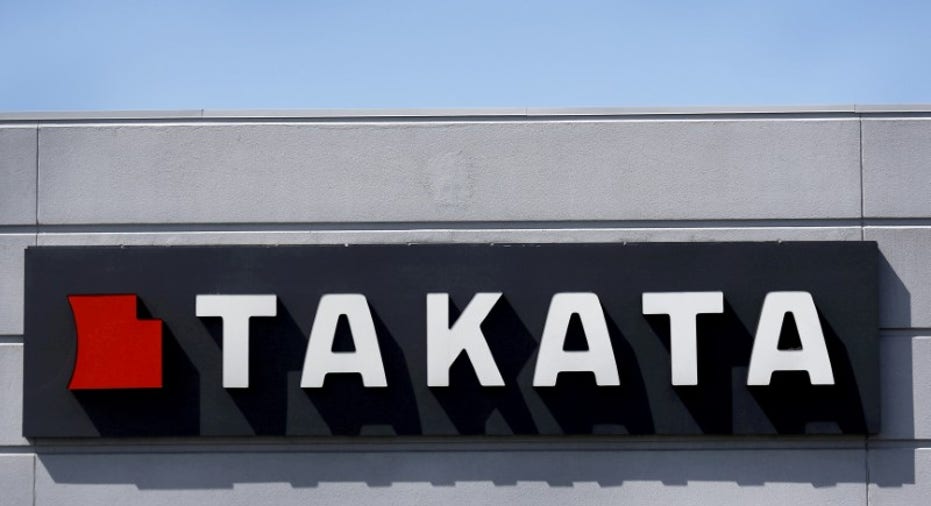 Japan's Takata, the firm at the center of the auto industry's biggest ever product recall, filed for bankruptcy protection in the United States and Japan and said it would seek $1.6 billion in aid from U.S.-based Key Safety Systems (KSS).
In one of Japan's biggest bankruptcies, Takata is facing tens of billions of dollars in costs and liabilities resulting from almost a decade of recalls and lawsuits. Its airbags have been linked to at least 17 deaths and more than 180 injuries.
Its U.S. arm filed Chapter 11 bankruptcy in Delaware on Sunday with liabilities of $10 billion to $50 billion, while the Japanese parent filed for protection with the Tokyo District Court early on Monday.
The Tokyo Stock Exchange said its shares would be delisted on July 27.
The filings opened the door to the financial rescue from auto parts supplier KSS, which Takata tapped as its preferred sponsor to help it keep churning out millions of replacement airbag inflators. Proceeds from the sale will be used to settle a plea agreement with the U.S Department of Justice.
The filings have, however, not resolved all issues. Honda Motor, Takata's biggest customer, said it had reached no final agreement with Takata on responsibilities for the recall. Honda said it will continue talks with the supplier but anticipates difficulties in recovering the bulk of its claims.
Takata, an 84-year-old company, faces billions in lawsuits and recall-related costs to its clients, including Honda, BMW, Toyota Motor and others which have been paying recall costs to date.
Takata said its agreement with KSS would mean the company could continue to operate without interruptions to its operations.
"We believe taking these actions in Japan and the U.S. is the best way to address the ongoing costs and liabilities of the airbag inflator issues with certainty and in an organised manner,"Takata CEO Shigehisa Takada said in a statement.
Jason Luo, president and CEO of KSS, said in a statement the "underlying strength" of Takata's business had not diminished despite the airbag recall, citing its skilled employee base, geographic reach and other safety products such as seat belts. As part of the bankruptcy protection plans, KSS would acquire all of Takata's assets barring certain assets and operations related to the airbag inflators involved in the global recall in the planned deal, the two companies said.
Takata will keep operations of its affected inflators for now to continue supplying recall replacement parts, and will eventually wind down those operations.
UNPRECEDENTED RECALLS
Global transport authorities have ordered about 100 million inflators to be recalled. Industry sources have said that recall costs could climb to about $10 billion.
The ammonium nitrate compound used in the airbags was found to become volatile with age and prolonged exposure to heat, causing the devices to explode.
Costs so far have pushed the company into the red for the past three years, and it has been forced to sell subsidiaries to pay fines and other liabilities.
Industry sources say Takata would be able to complete the current global recall under bankruptcy, but could face problems if further recalls are required down the line. It has sought help from rival suppliers including Sweden's Autoliv to produce replacement inflators.
It also faces potential liabilities stemming from class action lawsuits in the United States, Canada and other countries.
Earlier this year, Takata pleaded guilty to a criminal charge of falsifying data on its inflator defects, agreeing to pay a $1 billion fine.
Founded as a textiles company in 1933, Takata began producing airbags in 1987 and at its peak became the world's No. 2 producer of the safety products. It also produces one-third of all seatbelts used in vehicles sold globally, along with childseats, steering wheel systems and other components.
CEO and Chairman Shigehisa Takada, the bookish grandson of the company's founder, has been criticised for his handling of the recall crisis. He has promised to resign after a new management team takes over.
(Reporting by Naomi Tajitsu in Tokyo, Additional reporting by David Shepardson on Washington D.C. and Tom Hals in Wilmington, Delaware; Editing by William Mallard, Stephen Coates and Edwina Gibbs)