Japan not considering support for Toshiba, sharing information with U.S.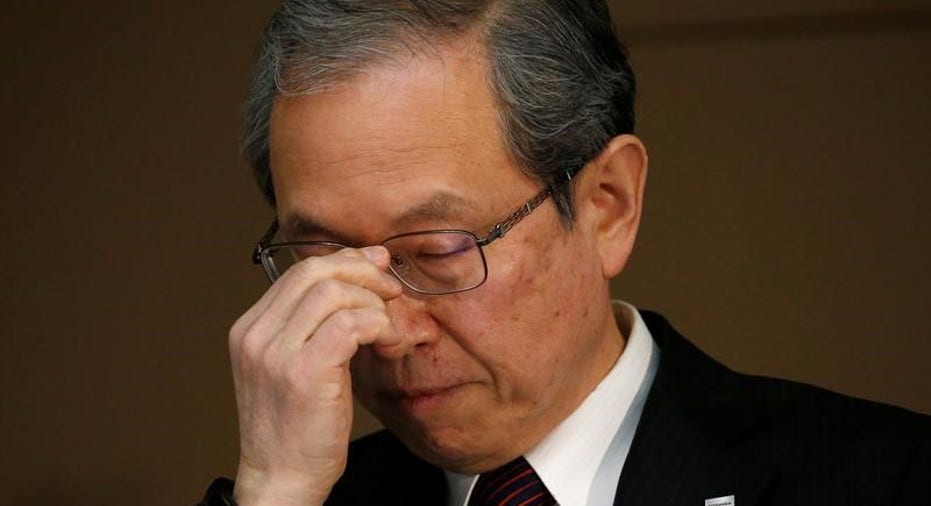 The Japanese government said it was not considering steps to support embattled Toshiba Corp <6502.T> and will share information with Washington on developments involving the firm and its U.S. nuclear unit Westinghouse.
But Chief Cabinet Secretary Yoshihide Suga added the government would closely monitor the sale of Toshiba's chips business - the world's biggest NAND flash memory producer after Samsung Electronics Co <005930.KS>.
While the government has been adamant that it will not be stepping in to rescue Toshiba, sources familiar with the matter have said a state-backed fund may invest as a minority shareholder to prevent a sale to bidders deemed risky to national security.
"Toshiba's chip business is highly competitive globally and important in terms of keeping jobs in Japan," Suga told a news briefing. "Flash memory is also expected to increase in importance from the standpoint of information security."
Toshiba's crisis has only deepened this week. It missed submitting audited third-quarter earnings for a second time and said it would consider selling a majority stake in Westinghouse which is at the center of its financial troubles.
On Friday, Standard & Poor's cut its long-term credit ratings for Toshiba by two notches to CCC-, saying that it was increasingly likely that the conglomerate would be unable to fulfil its financial obligations in timely manner.
It added that Toshiba's creditor banks are likely to find it difficult to accept any potential request for further funding, given that the stock exchange has place Toshiba's stock under supervision having seen insufficient improvement in its internal controls.
Sources have said bankruptcy lawyers have been hired as an exploratory step for Westinghouse which has been plagued by huge cost overruns at two U.S. projects in Georgia and South Carolina. Toshiba has flagged an upcoming $6.3 billion writedown for the nuclear unit and is worried about the future potential losses.
The Yomiuri newspaper reported earlier on Friday that the White House was opposed to a Chapter 11 filing for Westinghouse, citing an identified source familiar with Department of Commerce deliberations.
Suga said he was not aware that this was the White House's stance.
The agreement to share information was reached between a meeting with Trade Minister Hiroshige Seko and U.S. Commerce Secretary Wilbur Ross as well as other U.S. officials on Thursday.
(Reporting by Kaori Kaneko and Hitoshi Ishida; Additional reporting by Umesh Desai; Writing by Makiko Yamazaki; Editing by Edwina Gibbs)