Japan leads Asian shares higher, buoyed by Wall St record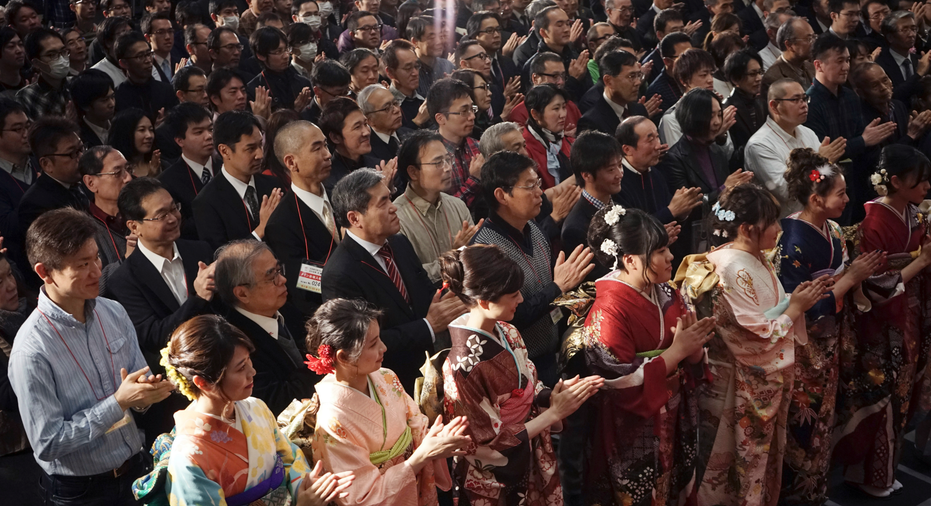 Asian shares were mostly higher on Thursday, led by Japan, on optimism over the coming year that pushed Wall Street to new record highs. Shares fell in South Korea despite signs tensions with its rival in North Korea may be easing.
KEEPING SCORE: Japan's benchmark Nikkei 225 advanced 2.5 percent to 23,337.47 during the celebratory first trading session of the year, when female employees of the Tokyo exchange appear in colorful kimono. Australia's S&P/ASX 200 edged up 0.1 percent to 6,077.70. South Korea's Kospi lost 0.6 percent to 2,470.71. Hong Kong's Hang Seng added 0.5 percent to 30,698.54, while the Shanghai Composite gained 0.4 percent to 3,382.91. Shares in Southeast Asia were mostly higher.
WALL STREET: Big gains for technology and health care companies helped U.S. stocks set records again. The Standard & Poor's 500 index rose 0.6 percent to 2,713.06. The Dow Jones industrial average added 0.4 percent to 24,922.68 and the Nasdaq composite surged 0.8 percent to 7,065.53. The Russell 2000 index of smaller-company stocks gained 0.2 percent to 1,552.58. All four finished at record highs.
NORTH KOREA: Shares fell in South Korea on selling of automaker stocks despite surprise overtures from Pyongyang suggesting North Korean leader Kim Jong Un may seek better ties with the south. Seoul quickly offered to meet and talk, and the two sides made preliminary contact on a newly reopened cross-border communication channel. It was unclear if those moves will vanquish the shadow cast over the region by North Korea's missile launches and its strongest-ever nuclear bomb test.
ENERGY: Benchmark U.S. crude rose 26 cents to $61.89 a barrel in electronic trading on the New York Mercantile Exchange. It added $1.26, or 2.1 percent, to $61.63 a barrel on Wednesday. Brent crude, used to price international oils, picked up 12 cents to $67.96 a barrel in London.
CURRENCIES: The dollar rose to 112.66 yen from 112.36 yen. The euro was flat at $1.2014.
____
AP Markets Writer Marley Jay, who contributed to this report, can be reached at http://twitter.com/MarleyJayAP His work can be found at https://apnews.com/search/marley%20jayt
Follow AP Business Writer Yuri Kageyama on Twitter at https://twitter.com/yurikageyama
Her work can be found at https://www.apnews.com/search/yuri%20kageyama