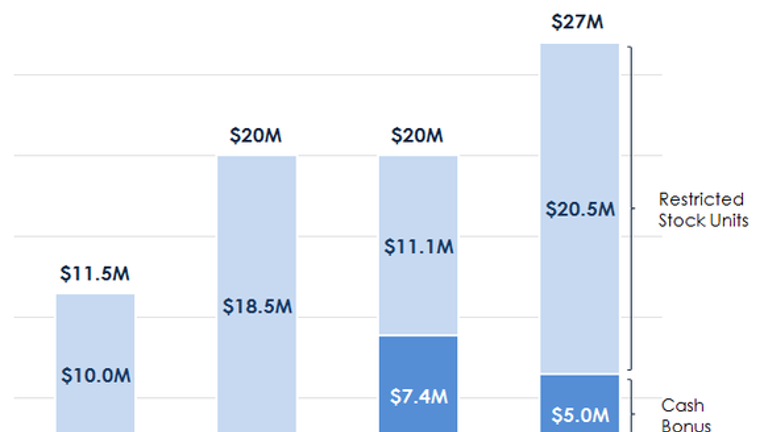 JPMorgan Chase chairman and CEO Jamie Dimon. Image credit: JPMorgan Chase.
JPMorgan Chase recently announced both how and how much it compensated its top executives for 2015. Spoiler alert: CEO Jamie Dimon made a lot of money. As the two charts below illustrate, however, his compensation is designed in a way that's unusually shareholder friendly.
1. Dimon's $7 million raiseIt's good to be Jamie Dimon. The 59-year-old chairman and CEO earned $27 million last year, which equates to a $7 million raise over 2014. The increase was in restricted stock units. In 2014, he was given $11.1 million worth of restricted stock; the amount increased last year to $20.5 million.
Data source: JPMorgan Chase.
Make no mistake about it: Dimon earns his money. His leadership is what allowed JPMorgan Chase to reascend to the apex of global finance after Citigroup held the title since 1935 -- when the Glass-Steagall Act cleaved JPMorgan in two. Fast forward to the financial crisis; it was under Dimon's watch that the government requested JPMorgan's assistance with Bear Stearns. It was also under Dimon's watch that JPMorgan grew once again to be the biggest bank in America following its 2008 acquisition of Washington Mutual.
2. Cash vs. stockOne of the highlights of Dimon's compensation, at least from a shareholder's perspective, is that the majority of it consists of restricted stock units. As noted, $20.5 million out of the $27 million total is made up of such. The remainder consists of $1.5 million in salary, and a $5 million cash bonus.
Data source: JPMorgan Chase.
The extent of JPMorgan's commitment to shareholders is evidenced by three points. First, unlike Dimon's counterpart at Bank of America , who's performance-based restricted stock units are paid in cash, all of Dimon's $20.5 million worth of stock will settle in stock. This will increase the already substantial amount of skin that Dimon has in the game.
Second, the terms of Dimon's stock award are more limiting than Bank of America CEO Brian Moynihan's. The latter's vest in three years at the latest. The shares that Dimon receives, by contrast, have an added two-year period before they can be sold, for a combined vesting and holding period of five years. Though, to be clear, it's not like Dimon would sell his nearly $400 million stake in JPMorgan Chase anytime soon. As the bank noted in its 2015 proxy statement:
Finally, a much larger share of Dimon's compensation consists of stock than does his counterpart at the nation's second-biggest bank by assets, Bank of America. Only 18% of Moynihan's total 2015 compensation will settle in stock compared to 76% for Dimon. That's a substantial difference that shareholders in both banks should take note of.The implication is that Dimon is more closely aligned with the interests of his shareholders.
The article Jamie Dimons 2015 Compensation In 2 Charts originally appeared on Fool.com.
John Maxfield owns shares of Bank of America. The Motley Fool recommends Bank of America. Try any of our Foolish newsletter services free for 30 days. We Fools may not all hold the same opinions, but we all believe that considering a diverse range of insights makes us better investors. The Motley Fool has a disclosure policy.
Copyright 1995 - 2016 The Motley Fool, LLC. All rights reserved. The Motley Fool has a disclosure policy.