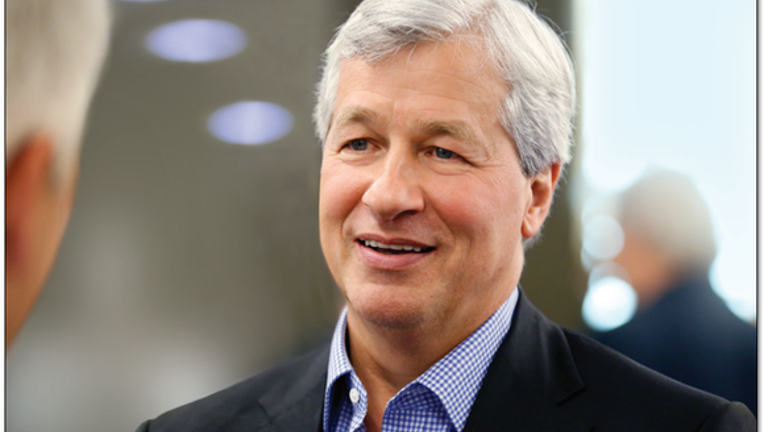 JPMorgan Chase chairman and CEO Jamie Dimon. Image credit: JPMorgan Chase.
Jamie Dimon doesn't only lead JPMorgan Chase , much of his personal wealth is hitched to it as well. The 59-year-old chairman and chief executive officer owns approximately 6.7 million shares of common stock in the nation's biggest bank by assets valued at roughly $400 million.
Dimon has accumulated his sizable stake in JPMorgan Chase through both open market purchases and by retaining all of the stock awarded to him as compensation over the past 16 years. The bank noted this point in its 2014 proxy statement, saying in reference to the bank's guideline that Dimon owns at least 1 million shares:
As JPMorgan's proxy statement intimates, Dimon's open market purchases date back to March of 2000, when he was hired to run Bank One, which merged with JPMorgan Chase in 2004. The then 47-year-old executive invested $60 million into Bank One stock after being hired to serve as its chairman and CEO, explained Patricia Crisafulli in The House of Dimon.
Dimon went on to add to his open market purchases on at least three occasions. First, he bought 500,000 shares at the depths of the financial crisis. Second, he purchased another 500,000 shares in the wake of the London Whale scandal, which caused more than $6 billion in losses. And most recently, he acquired 500,000 shares earlier this year after low oil prices and concerns about economic growth in China triggered a 15% drop in its stock price since the beginning of 2015.
Based on these four purchases alone, in turn, more than half of Dimon's stake in JPMorgan Chase was purchased with his own money. (This assumes that Dimon paid $34 per share for his original $60 million stake in Bank One, which then converted to JPMorgan Chase shares at the merger exchange rate of 1.34 shares of JPMorgan for every 1.0 share of Bank One.)
For investors who think that skin in the game is important -- I'm one of them -- Dimon's substantial stake in JPMorgan Chase undeniably adds to the allure of its stock. It's also something Warren Buffett would agree with wholeheartedly: "To be successful in business and investing, you've got to have skin in the game."
The article Jamie Dimon Has $400 Million Worth of Skin in the Game originally appeared on Fool.com.
John Maxfield has no position in any stocks mentioned. The Motley Fool has no position in any of the stocks mentioned. Try any of our Foolish newsletter services free for 30 days. We Fools may not all hold the same opinions, but we all believe that considering a diverse range of insights makes us better investors. The Motley Fool has a disclosure policy.
Copyright 1995 - 2016 The Motley Fool, LLC. All rights reserved. The Motley Fool has a disclosure policy.