Jamba Stock Has a Lot to Prove on Monday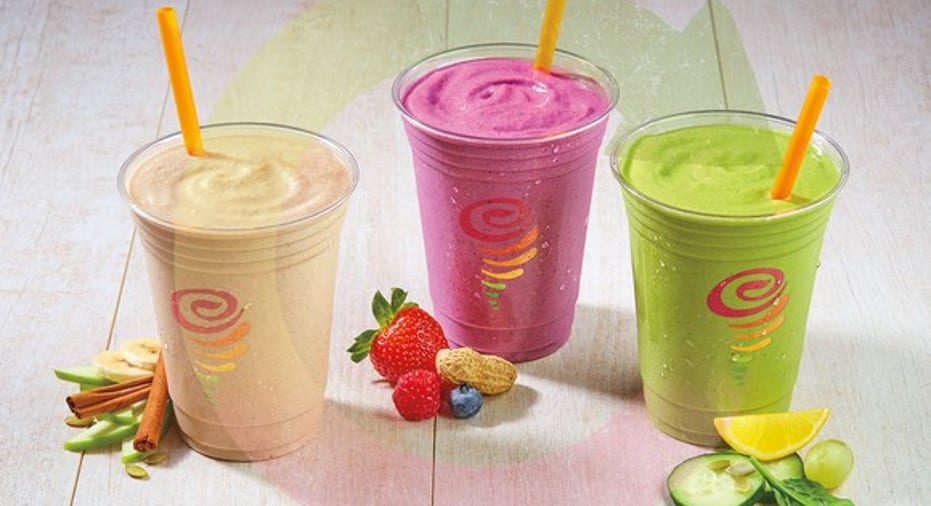 It's time to see if the financials at Jamba(NASDAQ: JMBA)blend as well as its smoothies. The parent company behind Jamba Juice -- the country's largest smoothie chain -- will be posting its financial results for the holiday quarter on Monday morning. It will also update its outlook for the year ahead.
Jamba stock has been a market laggard in recent years. The shares fell by 24% last year, and that was following a 11% slide in 2015. The stock is also trading slightly lower so far in 2017, and Monday's report can either push the stock back into positive territory or set the stage for Jamba investors suffering their third consecutive year of negative returns.
Image source: Jamba Juice.
Key ingredients
We know what Wall Street's expecting out of its fourth-quarter financials, and it's not pretty. Analysts see revenue sliding 19% to $15.8 million, its weakest top-line showing as a public company. This doesn't mean that investors should be alarmed. Jamba has been handing over company-owned locations to franchisees, a move that naturally stings revenue but often at the expense of improving profit margins.
Jamba had 69 company-owned locations as of the end of the third quarter, down from 94 a year earlier. However, domestic and international franchisee-run locations grew from 790 to 827 stores. The total number of Jamba Juice units run by the company or franchisees actually rose by a dozen shops.
Revenue may seem to be falling sharply, but this doesn't mean that store level-comps are cascading. Jamba's top line plummeted 38% during the third quarter, but it experienced a modest 1.1% dip in systemwide comps.
This is a seasonal business. Smoothie sales peak during the summer, and the holiday quarter has always been its weakest period. Analysts see a deficit of $0.18 a share, but it's actually a lot less in red ink than the $0.28-a-share deficit it scored during the prior year's fourth quarter.
Patient investors will want to give the relatively new leadership at Jamba a chance to grow this business. Carrabba's Italian Grill President David Pace was tapped as its new CEO early last year, and former P.F. Chang's CEO Richard Federico became the board's new chairman. Bringing in restaurant vets to run a smoothie shop may seem like out-of-the-blender thinking, but they've already made the hard decision to fold JambaGO, the once-promising self-serve machines that just didn't pan out for convenience stores, hotels, and schools.
Jamba won't be initiating its 2017 outlook on Monday. Back in November, it introduced guidance for the year ahead calling for $78 million to $80 million in revenue with positive comps growth of 2% to 4%. It's targeting 65 openings, net of closures. Investors will want to keep an eye on how those metrics are tweaked come Monday morning, since that's what will ultimately drive the stock's performance next week.
10 stocks we like better than JambaWhen investing geniuses David and Tom Gardner have a stock tip, it can pay to listen. After all, the newsletter they have run for over a decade, Motley Fool Stock Advisor, has tripled the market.*
David and Tom just revealed what they believe are the 10 best stocks for investors to buy right now... and Jamba wasn't one of them! That's right -- they think these 10 stocks are even better buys.
Click here to learn about these picks!
*Stock Advisor returns as of February 6, 2017
Rick Munarriz owns shares of Jamba. The Motley Fool has no position in any of the stocks mentioned. The Motley Fool has a disclosure policy.