Jack Daniel's Maker Accused of Trying to Douse Rival's Cinnamon Whiskey's Fire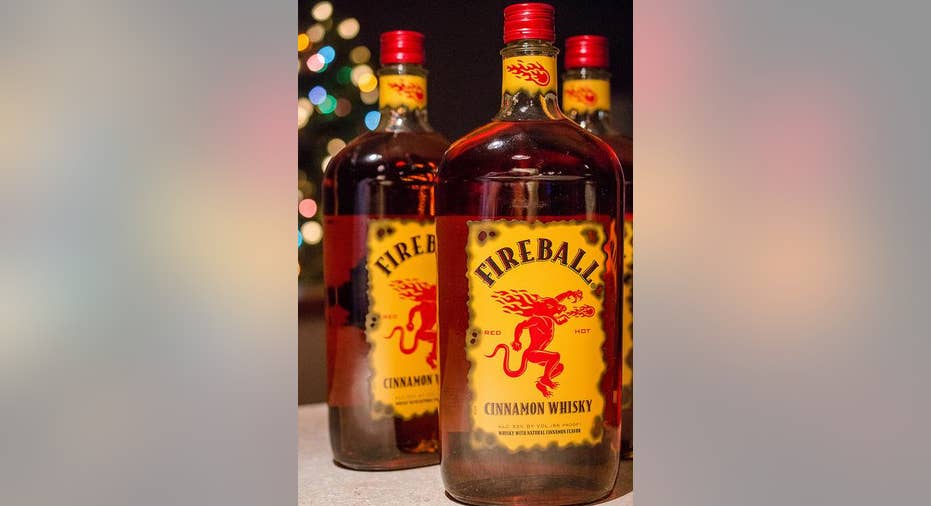 Jack Daniel's maker Brown-Forman could find itself in hot water afterrival distiller Sazerac accused it of trademark infringement in AdWords keywords. Image: Jack Daniel's.
You could say Brown-Forman was just meeting fire with fire, but rival distiller Sazerac says the maker of the Jack Daniel's family of whiskeys is really trying to confuse and steal its customers.
Although Brown-Forman still dominates the whiskey market, new entrants into the flavored end of the segment have caused an industry upheaval and forced the leading distiller to play catch-up.Sazerac's Fireball is the premiere cinnamon-flavored whiskey on the market, with retail sales reportedly as high as $130.7 million in 2014, according to the market analysts at IRI, up from $65 million in 2013. In comparison, Jack Daniels had sales of just $43.7 million from its flavored whiskeys last year while Beam Suntory's Jim Beam brand notched some $22.5 million.
Whiskey rebellionWhile flavored whiskey now accounts for 12% of all whiskey sales, cinnamon-flavored brands are hottest, with sales nearly doubling last year. Brown-Forman responded by rolling out nationally its own cinnamon-flavored version this year, called Tennessee Fire, while Jim Beam lit up with Kentucky Fire. Yet Sazerac's Fireball remains the industry's leader and is the sixth most popular spirit in the U.S. by retail sales volume.
Despite what it says are confusing search terms that leads drinkers away from its Fireball whiskey, Sazerac's cinnamon-flavored liquor remains the industry volume leader. Photo: m01229.
In a lawsuit filed in Kentucky federal court against Brown-Forman, Sazerac charges the Jack Daniel's maker purchased keywords that caused consumers doing Internet searches for Fireball to find Tennessee Fire instead.
Great balls of fire!While that might sound like Sazerac is getting hot under the collar over a bit of competitive gamesmanship, when it comes to copyright law, it might not be so simple as that. Apparently the laws are a little muddy when it comes to buying Google Adwords.
I'm no lawyer, but from my reading it seems a company with a trademark like Sazerac has with Fireball needs to do more than just show someone used its intellectual property to get people to do something, like buy a product.
One site points out contact lens manufacturer 1-800-Contacts lost a case against a company that used one of its trademarked terms to simply cause a pop-up ad to appear. Another losing suit involved a competing online dating site using trademarked terms that caused the search results to appear under a heading called "ads."
What the courts apparently do look for is whether a customer will be confused by what they find when landing on a page that's used the trademark term. So lawyers looking to drum up business against a company won't violate a trademark since consumers aren't likely to think the law firms are affiliated with the company.
Following a hot leadBut would someone looking for Sazerac's Fireball cinammon-flavored whiskey be deceived if they land on Jack Daniel'sTennessee Fire page? From this layman's perspective, it seems reasonable there could beconfusion.
And according to the site Law360, Sazerac charges Brown-Forman "deliberately chose to purchase 'Fireball' as a Google AdWords and include either 'Fireball' or 'Fire-Ball' in the text and headers of its ads triggered by searches for 'Fireball' in order to create a false association with or subversively divert consumers away from Sazerac's Fireball brand."
Sazerac is seeking to force Brown-Forman to give up all the profits it's earned from sales of Tennessee Fire as well as making it pay damages and legal costs.
It could be a pricey case if Brown-Forman loses. In its fiscal second quarter earnings report released last week, thedistiller said underlying net sales of its Jack Daniel's family of whiskey grew 7% in the U.S. primarily as a result of volumes that were pushed higher by "the continued rollout of Jack Daniel's Tennessee Fire," which alone helped drive three percentage points of underlying net sales growth.
Search engine optimization has become an integral component of business marketing, but Brown-Forman may find its use of trademarked terms may not be enough to douse the fire of its cinnamon whiskey rival, and it could get burned for having tried to trick Internet users seeking to quench their thirst with a shot of Fireball.
The article Jack Daniel's Maker Accused of Trying to Douse Rival's Cinnamon Whiskey's Fire originally appeared on Fool.com.
Rich Duprey has no position in any stocks mentioned. The Motley Fool has no position in any of the stocks mentioned. Try any of our Foolish newsletter services free for 30 days. We Fools may not all hold the same opinions, but we all believe that considering a diverse range of insights makes us better investors. The Motley Fool has a disclosure policy.
Copyright 1995 - 2015 The Motley Fool, LLC. All rights reserved. The Motley Fool has a disclosure policy.