J.C. Penney Is Leaning on Sephora to Lead Its Comeback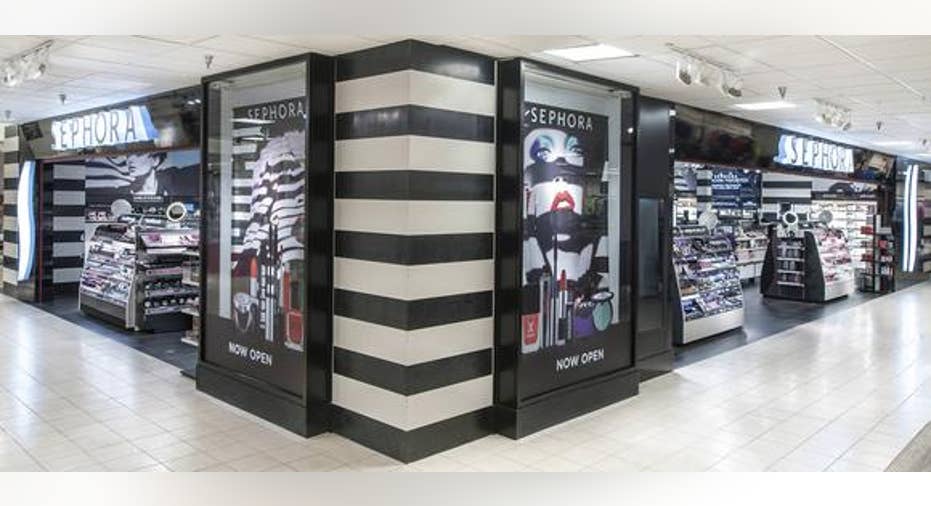 In the past two years or so, J.C. Penney has executed a remarkable turnaround. Despite losing more than $1 billion and posting negative free cash flow of $2.7 billion in fiscal 2013, J.C. Penney has now produced two consecutive years of positive free cash flow and expects to return to profitability in fiscal 2016.
J.C. Penney's results have improved dramatically since 2013. Photo: The Motley Fool
One of the keys to J.C. Penney's comeback has been its partnership with European beauty retailer Sephora, which is a part of luxury goods conglomerate LVMH Moet Hennessy Louis Vuitton . By expanding this partnership with Sephora, J.C. Penney hopes to drive the next phase of its turnaround plan.
An unusual partnershipJ.C. Penney began opening Sephora boutiques within its stores nearly a decade ago. J.C. Penney's CEO at the time was Mike Ullman, a former LVMH executive. He saw Sephora as an aspirational brand that could appeal to some existing J.C. Penney customers while also bringing in new ones.
J.C. Penney and Sephora were odd partners from the start. The two brands' core customers are quite different in terms of age, average income, and fashion sense. Yet the Sephora shops in J.C. Penney stores have been extremely successful, encouraging the two companies to continually expand their footprint.
Sephora shops take offAs recently as the beginning of 2010, J.C. Penney had just 155 Sephora boutiques across its more than 1,100 stores. By contrast, the company ended fiscal 2015 with 518 Sephora boutiques, despite shrinking its overall store base in the last five years. J.C. Penney plans to open about 60 more Sephora shops this year.
J.C. Penney keeps building more Sephora shops in its stores. Photo: J.C. Penney
In the past few years, the Sephora shops have outperformed the rest of the store for J.C. Penney. Even when J.C. Penney seemed to be going down the tubes a few years ago, Sephora remained one of the few relative bright spots in the store.
Whereas J.C. Penney originally treated Sephora as a concept that would mainly work in major metro areas with a more affluent demographic, its success has been broad-based. As a result, J.C. Penney began adding Sephora boutiques in smaller markets across the country during 2015.
Getting even more bang for the buckSephora clearly brings a lot of brand prestige to J.C. Penney, which still has a stodgy image. More concretely, Sephora shops have helped to bring new customers to J.C. Penney, particularly millennials. On the flip side, J.C. Penney has helped LVMH expand the Sephora concept in the U.S. far more quickly and cheaply than would have been possible otherwise.
The next step for J.C. Penney is to maximize the value created by its Sephora shops. Right now, Sephora is bringing in plenty of new customers, but many of them aren't staying to shop the rest of the store.
Indeed, J.C. Penney CEO Marvin Ellison told analysts back in November that only 25% of the Sephora boutiques' customers "cross-shop" in other departments. He blamed that result partly on the fact that other sections near the Sephora shops don't look very appealing right now.
Thus, one of the company's key initiatives this year will be redesigning the "center core" area in about a third of the store base. Through better products and better presentation in categories like handbags and accessories, J.C. Penney wants to entice more customers who visit the Sephora boutiques to venture out into the rest of the store.
This isn't just an idle hope. According to Ellison, J.C. Penney did see a significant increase in cross-shopping in the pilot stores where it has been testing the new center core setup.
If it can achieve similar results after making these changes to a third of the store base, I would expect J.C. Penney to roll out the new center core setup more broadly while continuing to add new Sephora shops each year. This powerful partnership between J.C. Penney and LVMH still has plenty of potential upside ahead.
The article J.C. Penney Is Leaning on Sephora to Lead Its Comeback originally appeared on Fool.com.
Adam Levine-Weinberg has no position in any stocks mentioned. The Motley Fool has no position in any of the stocks mentioned. Try any of our Foolish newsletter services free for 30 days. We Fools may not all hold the same opinions, but we all believe that considering a diverse range of insights makes us better investors. The Motley Fool has a disclosure policy.
Copyright 1995 - 2016 The Motley Fool, LLC. All rights reserved. The Motley Fool has a disclosure policy.