J.C. Penney Fetches a Hefty Sum for Its Headquarters Building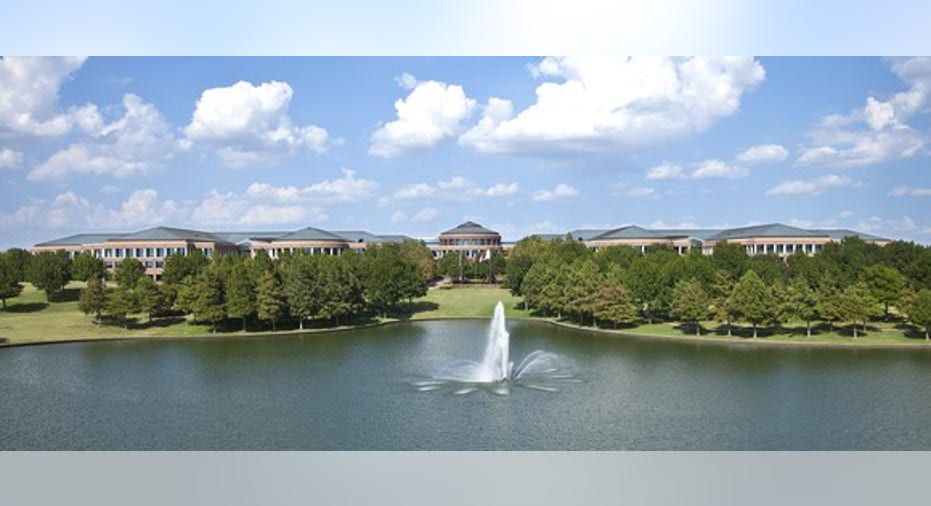 Mid-priced department store J.C. Penney (NYSE: JCP) has hit some bumps in its recovery over the past year. Unfavorable weather and disruption from the reconfiguration of its stores combined to undermine J.C. Penney's sales momentum during 2016.
J.C. Penney's turnaround lost some momentum during 2016. Image source: The Motley Fool.
However, the company has continued making progress on one of its most important priorities: cleaning up its balance sheet. Most recently, J.C. Penney completed the long-awaited sale of its home office building and the surrounding land. This move will help the company make a big dent in its debt load.
J.C. Penney focuses on debt reduction
In fiscal 2015, J.C. Penney generated $131 million of free cash flow. Additionally, by expanding its revolving credit line, the company improved its liquidity, reducing its need to carry a large cash balance. This move allowed it to pay down roughly $500 million of debt during that year.
In early 2016, the company decided to pursue a sale-leaseback arrangement for its 1.8 million-square-foot headquarters building in Plano, Texas, to further reduce its debt. While this move would put it on the hook for lease payments, J.C. Penney estimates that those additional costs would be fully offset by lower maintenance costs, real estate taxes, and interest costs.
Two aspects of J.C. Penney's sale-leaseback plan make it particularly attractive. First, J.C. Penney plans to relinquish more than 650,000 square feet of excess space in its headquarters building. This move will hold down future rent costs. Second, it also decided to sell off about 40 acres of surrounding undeveloped land, driving up the sale price.
Last February, J.C. Penney CFO Ed Record said J.C. Penney planned to pay down $400 million to $500 million of debt in fiscal 2016, with a little more than half of that amount funded by the sale-leaseback proceeds. This outlook suggests that he expected the building to fetch about $250 million, net of transaction costs.
A bigger-than-expected windfall
On Tuesday, J.C. Penney announced that it had sold the home office campus, including 45 acres of land, for $353 million before closing and transaction costs.
J.C. Penney's headquarters complex recently sold for $353 million. Image source: J.C. Penney.
Given that J.C. Penney still expects its full-year free cash flow to exceed the $131 million it generated in fiscal 2015, the company should have the capacity to meet or exceed the high end of its debt-reduction guidance. Of course, with the sale-leaseback being completed so late in the year, it's possible that some of the debt reduction activity will spill into fiscal 2017.
J.C. Penney has $220 million of high-cost debt maturing in April. Just paying down this small sum will reduce its annual interest expense by $17.5 million. Depending on the applicable interest rates for the other debt that J.C. Penney pays off, paying down $500 million of debt will reduce its annual interest expense by $30 million to $40 million going forward.
Another big step, but it's no substitute for sales growth
The sale-leaseback of its headquarters campus represents an important step in J.C. Penney's turnaround plan, as it will help the company reduce its debt by more than 10% in a single year. Furthermore, J.C. Penney's management thinks the company's new, smaller office layout will be more efficient.
That said, J.C. Penney is running out of financial-engineering maneuvers. The company has implemented a number of initiatives that could lead to better sales results in Q4 and throughout 2017. But if these actions don't drive an improvement in sales growth, J.C. Penney could quickly find itself in financial distress once again.
10 stocks we like better than J.C. Penney When investing geniuses David and Tom Gardner have a stock tip, it can pay to listen. After all, the newsletter they have run for over a decade, Motley Fool Stock Advisor, has tripled the market.*
David and Tom just revealed what they believe are the 10 best stocks for investors to buy right now... and J.C. Penney wasn't one of them! That's right -- they think these 10 stocks are even better buys.
Click here to learn about these picks!
*Stock Advisor returns as of Nov. 7, 2016
Adam Levine-Weinberg owns shares of J.C. Penney. The Motley Fool has no position in any of the stocks mentioned. The Motley Fool has a disclosure policy.