Ivanka Trump's India visit raises questions about her brand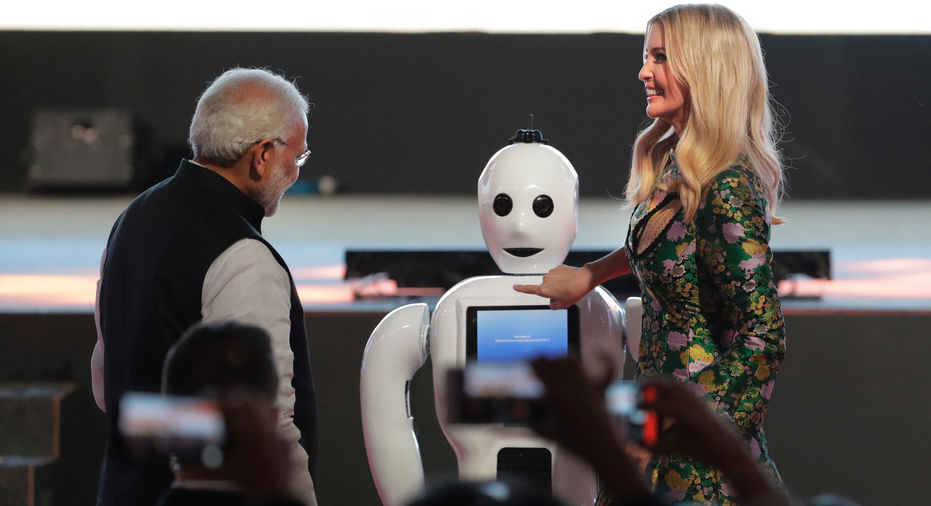 Ivanka Trump described the hurdles faced by women during a speech at a business conference in India, which is treating her trip like a royal visit.
But her solo outing also highlighted questions about whether her message of empowering poor women matches her actions.
Trump's speech Tuesday at the Global Entrepreneurship Summit in the southern city of Hyderabad was broadcast live throughout India by major news channels. A buildup worthy of a Bollywood musical included cultural references that ranged from independence leader Mahatma Gandhi to the movie "Slumdog Millionaire."
The city had cleared away beggars and filled potholes ahead of the visit by Trump, the daughter of President Donald Trump and a senior presidential adviser.
"As a former entrepreneur, employer, and executive in a male-dominated industry, I've seen firsthand that all too often women must do more than their male counterparts to prove themselves at work, while also disproportionately caring for their families at home," Trump said in her speech.
But the conference's focus on female entrepreneurs raises questions about some of the commercial decisions made by Trump and her namesake brand.
Critics have faulted her for failing to use her leadership role to call out labor and human rights abuses, particularly in China, where the bulk of her U.S. merchandise ships from. And they point out that she has failed to take a public stand on alleged abuses in her brand's own supply chain.
Trump stepped back from day-to-day management of her brand before taking on an official role as White House adviser, but still retains an ownership interest.
"After my father's election, I saw an opportunity to leave my businesses for the privilege of serving our country, and empowering all Americans to succeed," she said in the speech.
Her father praised her speech, saying "Great work Ivanka!" in a tweet late Tuesday in which he shared a U.S. State Department video of her remarks.
Abigail Klem, president of the Ivanka Trump brand, has called supply chain integrity "a top priority," but the brand has not joined the growing number of companies that publicly identify their manufacturers.
A September investigation by The Associated Press showed that Trump's supply chain has become more opaque than ever since she took on her White House role, making it impossible to know whom her company is doing business with around the world. The brand has said supply chains are the responsibility of its licensees.
Earlier this month, 23 rights groups signed a letter urging Trump, her brand and two licensees to publish the names and addresses of suppliers.
They also urged Trump and her brand to publicly demand that the Chinese government not prosecute three activists detained this past summer while investigating the brand's supply chain, and allow independent monitoring of factories.
Trump was joined at Tuesday's conference by Indian Prime Minister Narendra Modi.
"What you are achieving here is truly extraordinary," Trump said. "From your childhood selling tea to your election as India's prime minister, you've proven that transformational change is possible."
Modi was scheduled to host Trump for dinner at the luxurious Falaknuma Palace Hotel.
"This event showcases the close ties between the United States of America and India," Modi said. "It underlines our shared commitment to entrepreneurship and innovation."
Trump did not spend a lot of time during her speech discussing U.S. politics, although she did say the administration was "laser focused on passing long overdue tax cuts."
The cleanup of Hyderabad, a southern technology hub, began a month ahead of the conference, when the city began rounding up several hundred homeless people and beggars.
Officials said the drive against begging was launched because two international events were taking place in the city — the entrepreneurship summit and the World Telugu Conference in December. Begging is a criminal offense in India and can be punished by as much as 10 years in prison, although the law is rarely enforced.
Beggars tend to crowd around cars at traffic signals, knocking on windows and asking for food and money. They include children as young as 5, who weave through dangerous traffic and often perform small acrobatic acts.
"It's cool that she's coming," said Amani Bhugati, a medical student, before the speech. "She's glamorous, beautiful and powerful. It's like a combination of Hollywood and politics."
Others marveled at the improvements made around Hyderabad. "All new," said Gopal, a taxi driver who gave only his first name.
But he also pointed to the potholes that remain on many smaller streets. "She's not coming here, so they didn't fix it," he said.
More than 1,200 people were attending the three-day conference, although not everyone was thrilled about Trump's presence.
"It's now being called Ivanka Trump's summit. It totally overshadows all our work," said Sangeeta Agarawal, the chief executive of U.S. startup Helpsy Health. "We feel that's it become more about her."
The annual entrepreneurship conference has a theme this year of "Women first, prosperity for all," and involves networking, mentoring and workshops.
Trump was to host at least two panel discussions before leaving Wednesday.
___
Associated Press writer Erika Kinetz in Shanghai contributed to this report.