It's Too Late to Turn Disney World's New Avatar Expansion Into Moana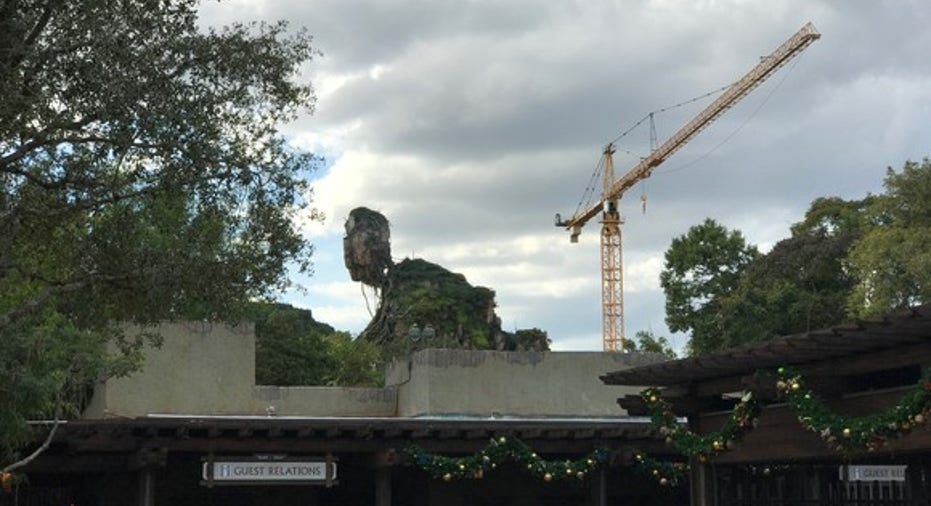 Image source: author.
Like a lot of moviegoers over the weekend, I was quickly won over by the charm of Walt Disney's(NYSE: DIS)Moana. It raked in $81.1 million in domestic ticket sales over the holiday weekend. The only movie to have ever made more money during Thanksgiving weekend is Disney's own Frozen back in 2013, raking in $93.6 million.
Moana is also being universally enjoyed. A whopping 98% of the critics tracked by Rotten Tomatoes are recommending the movie, even higher than Frozen's 89% score.Disney has a hit on its hands, and it's probably just a matter of time before Moanaworks its way into its theme parks.
It's against this backdrop that Disney World in Florida -- the media giant's largest resort -- is toiling away on an aggressive buildout at its Animal Kingdom theme park of an Avatar-themed expansion.When guests cross the bridge into Pandora -- The World of Avatar next summer they'll be able to explore the universe that James Cameron created in his 2009 blockbuster Avatar.
There will be two main attractions in the expansion. The Na'vi River Journey will be a gentle boat ride through Pandora'sbioluminescent rainforest. Avatar Flight of Passage will be the new land's thrill ride with guests riding the film's flying mountain banshees.
The concept art for the entire place looks impressive, and Disney "imagineers" have been working on the project for several years. However, one can only wonder how this would've played out if Disney had gone with a Moana theme instead.
Poly technique
Moanais being celebrated as a game-changing full-length feature for Disney. There's no hint of a love interest at all for the titular heroine. The soundtrack is backed by original songs penned by Hamilton scribe Lin-Manuel Miranda. The humor is effective, some of the narrative elements are inventive, and the animation has more than a few moments that take one's breath away.
However, as Moana navigated the Polynesian waters oozingbioluminescence and the lens caught sweeping lush tropical vistas throughout the movie, it's easy to draw comparisons to the world going up at Disney's Animal Kingdom to the one Disney itself created in Moana.
It would make a lot more sense for Disney's Animal Kingdom to open up a new land devoted to the Pacific Islands -- just as there are already lands in the park devoted to Asia and Africa -- than to Cameron's make-believe universe. One can always argue that Disney's Animal Kingdom was originally set to embrace fictional creatures. A dragon was part of the park's original logo, and one of its parking sections continues to be unicorn-themed. However, the new land will still seem out of place
It also doesn't help that Avatar will have come out nearly eight years earlier by the time Pandora opens next summer at Disney's Animal Kingdom. Cameron does have a sequel in the works that's slated to hit theaters by the end of 2018. That should refresh the franchise in the minds of consumers, but there are no guarantees that it will fare as well as the original.
Moana would've been the smarter bet, even if it would've required years of planning to line up the release of the movie with the attraction. It would've been a property that Disney owns outright, offering it greater opportunities to cash in if the new land is a success.
Theme parks are naturally a big part of Disney's business, accounting for 31% of its revenue and 21% of its segment operating profit in fiscal 2016. Pandora will be a big driver of increased attendance at Disney World next summer, something it can use after a sluggish 2016 in terms of guest counts. The new addition will be great, but it's easy to see how it could've been better
Find out why Walt Disney is one of the 10 best stocks to buy now
Motley Fool co-founders Tom and David Gardner have spent more than a decade beating the market. (In fact, the newsletter they run, Motley Fool Stock Advisor, has tripled the market!*)
Tom and David just revealed their ten top stock picks for investors to buy right now. Walt Disney is on the list -- but there are nine others you may be overlooking.
Click here to get access to the full list!
*Stock Advisor returns as of November 7, 2016
Rick Munarriz owns shares of Walt Disney. The Motley Fool owns shares of and recommends Walt Disney. Try any of our Foolish newsletter services free for 30 days. We Fools may not all hold the same opinions, but we all believe that considering a diverse range of insights makes us better investors. The Motley Fool has a disclosure policy.