Its the Worst Time in 15 Years to Be a First-Time Homebuyer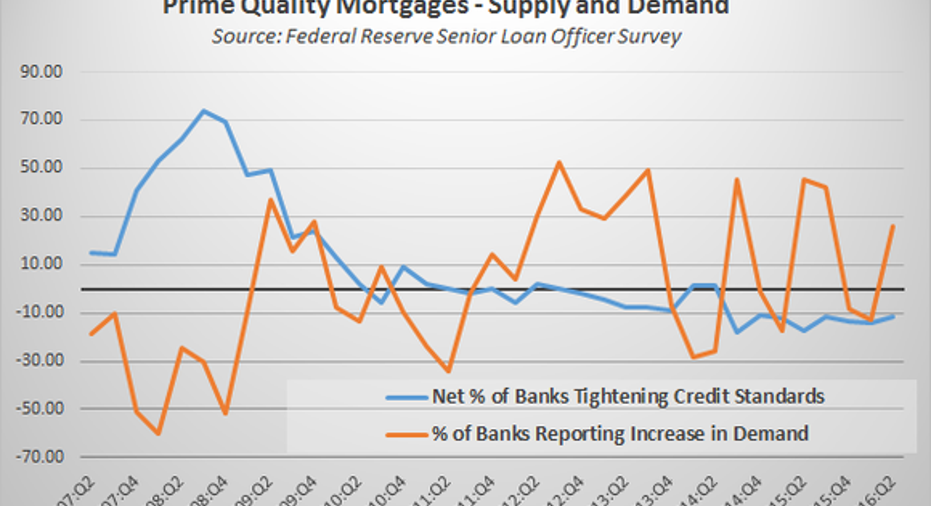 Over the last 15 years, the real estate market for first-time homebuyers has been fairly strong. Before the financial crisis, lending standards were such that first-time buyers had little problem obtaining the financing they needed to move into a home of their own. After the crisis, the Obama first-time homebuyer tax credit plus dramatically lower prices put first-time buyers in an enviable position in the market.
Today's market is a different story. The current generation of first-time homebuyers is ill prepared for the financial reality of buying a home, faces serious affordability problems because of rapidly appreciating home prices, and is struggling to obtain financing because of tight lending standards at banks.
Unprepared to buy
First, today's first-time homebuyers have underestimated what it takes financially to buy a home. A survey of 12,000 individuals between ages 18 and 34 by ApartmentList.com illustrates the problem.
Survey respondents reported having savings of $3,450 earmarked for their down payments, with a budgeted savings of $250 per month going to their down-payment funds. Apartment List projects that these individuals must continue saving for 6.7 years before they'll have enough for a down payment.
Saving $250 per month for 6.7 years will generate about $20,000 in savings, excluding any interest or investment returns. That is a nice chunk of change, but it would only afford that first-time buyer a home of $100,000 to qualify for a conventional mortgage with a 20% down payment. It's no surprise then that according to data from the National Association of Realtors, just 18% of first-time homebuyers last year were able to put down the full 20% when buying their first home. Buying a home with lower down payments increases monthly expenses, including higher interest payments and (potentially) private mortgage insurance.
Affordability was cited by77% of the survey respondents as the reason they haven't yet purchased a home. Part of that is likely due to the higher costs of unconventional mortgage loans, as well as the next challenge facing buyers today: skyrocketing home prices.
Skyrocketing prices
Since 2012, home prices nationwide have taken off like a rocket, with prices rising at a pace similarto what was seen during the real estate bubble 10 years ago. The price appreciation has been faster in major cities, areas where many young, first-time homebuyers currently rent and would like to buy, if only they could afford to.
Case-Shiller Home Price Index: National data by YCharts.
Nationwide, the Case-Shiller Home Price Index is just 3% off its all-time high and shows no signs of slowing down. That's great news for existing homeowners, but for first-time homebuyers it means bigger down-payment requirements, higher monthly payments, and a tougher overall time affording that first home.
Bank approvals remain hard to come by
At a glance, the mortgage market may seem ripe for first-time homebuyers. The 30-year fixed-mortgage rate remains just above 3.5%, a level unheard of in a generation prior to the financial crisis. However, accessing today's low rates remains a challenge. To see why, let's start with the current supply-and-demand dynamic in the mortgage market.
Data source: Federal Reserve. Data through Q4 2014 reported as "Prime" mortgages. Q1 2015 to the present reported as "GSE eligible."
The chart shows two dynamics. First, the orange line shows the net percentage of banks reporting an increase in demand for mortgage loans. Mortgage demand is seasonal, as we can see by the peaks and valleys since the market returned to a somewhat normal balance in 2013 and 2014. Over the past two years or so, the spikes in demand are considerably higher than the troughs in the down seasons. This means that by and large, demand for mortgages is rising.
The blue line shows the net percentage of banks reporting tightening credit standards for their mortgage loans. A negative number indicates easing standards, or more supply. The extremely high numbers reported around 2008 show just how severe the credit crunch was: a time when obtaining a mortgage was next to impossible. Looking at the past few years, though, we can see that banks are easing their credit standards and increasing supply, but they're only doing so marginally. In the most recent data, the net percentage of banks easing standards was just 11%. That's hardly a change compared to the 25.8% increase in demand.
What's clear is that while demand is spiking, supply is staying mostly stable. More people want loans, but only the most credit-worthy are able to get them. That's not an encouraging fact forfirst-time homebuyers, who we've already established are likely to be unprepared to make a large down payment for a house in any market, much less one appreciating so rapidly.
2016 may not be the best time for first-time homebuyers, but buying a home is still possible
Despite the challenges, first-time homebuyers do have options, and over the long term I'm confident that this generation will eventually find success transitioning from renting to owning.
Government programs are available that require lower down payments, sometimes as low as just 3.5%. Low interest rates also make monthly payments more affordable for higher-dollar mortgages, helping to offset the affordability issues from rising home prices and lower down payments. And in the bigger picture, it's a good thing that banks are underwriting their loans with prudence and maintaining conservative credit standards. If the financial crisis taught us anything, it's that sometimes it's better to wait until you can truly afford a home, rather than overextending yourself with a mortgage you can't afford.
The article Its the Worst Time in 15 Years to Be a First-Time Homebuyer originally appeared on Fool.com.
Try any of our Foolish newsletter services free for 30 days. We Fools may not all hold the same opinions, but we all believe that considering a diverse range of insights makes us better investors. The Motley Fool has a disclosure policy.
Copyright 1995 - 2016 The Motley Fool, LLC. All rights reserved. The Motley Fool has a disclosure policy.