It's the Little Things That Matter for Peregrine Pharmaceuticals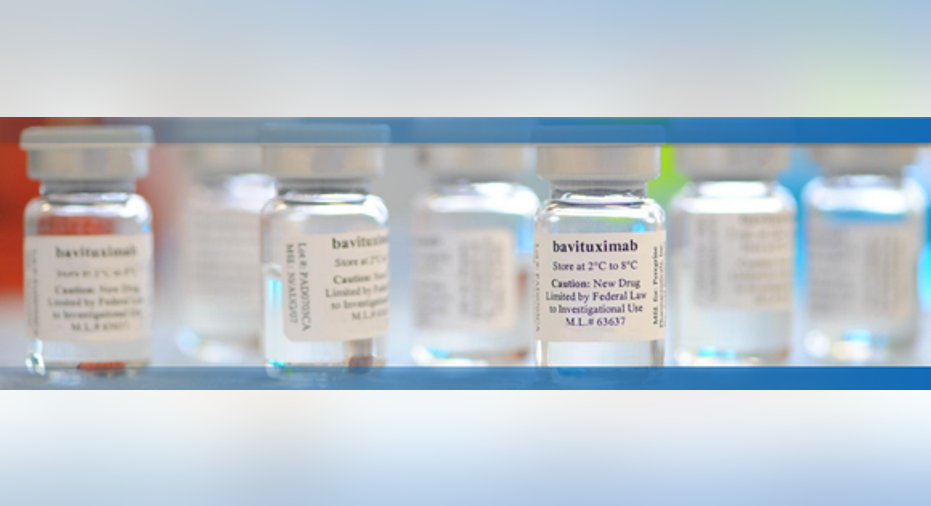 Shares of Peregrine Pharmaceuticals , a clinical-stage biotech company focused on the development of immunotherapies to fight cancer, hurdled 15% higher in the month of November based on data from S&P Capital IQ. The impetus for the big move? Two relatively small press releases that got shareholders excited about Peregrine's future.
The first jolt came on Nov. 9, when Peregrine presented new preclinical data on lead immunotherapy bavituximab at the Society for Immunotherapy of Cancer's annual meeting. Peregrine's reported preclinical work encompassed breast cancer and melanoma models.
While testing multiple breast cancer models, researchers from Duke University and Peregrine determined that a bavituximab equivalent compound in combination with an anti-PD1 therapy was significantly better in terms of improved overall survival and complete tumor regression as compared to the anti-PD1 therapy as a stand-alone candidate. For testing melanoma, the University of Texas, Southwestern and Peregrine evaluated the bavituximab equivalent in combination with checkpoint inhibitors for anti-PD1 or anti-CTLA-4 and discovered a greater tumor infiltrating response via CD8+ T-cell counts than any of the three compounds as stand-alone therapies.
In short, there's further evidence (albeit preclinical) that bavituximab's future may be best suited in combination with other immunotherapies.
The second bump came later in the month when Peregrine announced it would be presenting at two life science investor conferences: Piper Jaffray's Annual Healthcare Conference, and Roth Capital Partners Immuno-Oncology Corporate Access Day. Although both events are on the December docket, the opportunity to hear management speak, and to potentially see new data laid out in a corporate presentation, clearly got shareholders excited.
Image source: Peregrine Pharmaceuticals.
The big question is whether this run higher in Peregrine Pharmaceuticals shares can continue or if it'll once again hit a brick wall.
On one hand, Peregrine's cash burn continues to work against the company. Management's solution to raising cash has been to sell common stock at current market rates, thus diluting existing shareholders. Since the end of 2010, Peregrine's outstanding shares have essentially quadrupled, and it's stymied any chance of an extended rally in the stock.
On the bright side, its ongoing phase 3 study known as SUNRISE for bavituximab as a second-line non-small cell lung cancer treatment looks promising. Midstage studies demonstrated a statistically significant improvement in median overall survival of 4.4 months (11.7 months versus 7.3 months) in the bavituximab arm compared to the placebo. This promising result also landed Peregrine a collaboration with AstraZenecaand its experiment checkpoint inhibitor durvalumab. Between SUNRISE and combination potential, Peregrine's bavituximab has plenty of promise.
It remains to be seen if that promise will turn into profits for the company, but for the time being, only investors with a long-term time frame and who understand the risks involved with small-cap, clinical-stage biotechs should own this stock.
The article It's the Little Things That Matter for Peregrine Pharmaceuticals originally appeared on Fool.com.
Sean Williamshas no material interest in any companies mentioned in this article. You can follow him on CAPS under the screen nameTMFUltraLong, track every pick he makes under the screen nameTrackUltraLong, and check him out on Twitter, where he goes by the handle@TMFUltraLong.The Motley Fool has no position in any of the stocks mentioned. Try any of our Foolish newsletter servicesfree for 30 days. We Fools may not all hold the same opinions, but we all believe thatconsidering a diverse range of insightsmakes us better investors. The Motley Fool has adisclosure policy.
Copyright 1995 - 2015 The Motley Fool, LLC. All rights reserved. The Motley Fool has a disclosure policy.