It's Official: New Electric Porsche Will Challenge Tesla Motors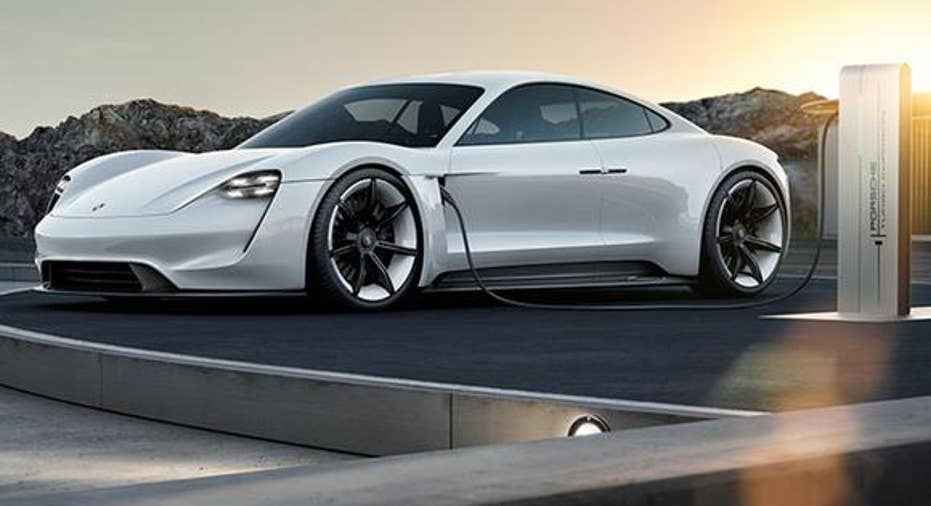 It's official: Porsche said on Friday that the all-electric Mission E Concept sports car will become a production car by the end of the decade. Image source: Porsche.
Volkswagen Group's Porsche subsidiary made it official on Friday: The company will develop and sell a battery-electric sports car by the end of the decade.
The battery-powered Porsche will follow an electric Audi SUV that is expected to go into production by early 2018. Both are believed to be based on a new electric-vehicle architecture under development by Volkswagen.
For Tesla Motors , it means the serious competition CEO Elon Musk has been hoping for is finally, genuinely, on the way.
It'll be a true Porsche, just an electric one What will this new electric Porsche be like? Porsche said it will be a production version of the Mission E Concept that Porsche revealed back in September.
The Mission E looks like a stylized, futuristic take on Porsche's iconic 911, but it's a four-door. And it's a fast one: It has a power output of "over 440 kilowatts," Porsche says, equivalent to about 600 horsepower, giving it the ability to go from 0 to 100 kilometers per hour (62 mph) in "under 3.5 seconds."
The Mission E's interior is futuristic while honoring Porsche's racing-bred traditions. Image source: Porsche.
In true Porsche tradition, the electric powertrain is even race-bred: It's a development of the system used in the hybrid Porsche 919 racer that won this year's 24 Hours of Le Mans. And in keeping with Porsche tradition, the new car's performance will go well beyond acceleration numbers: The company says the Mission E has lapped the famous Nurburgring Nordschleife racetrack in less than eight minutes. Translation: It's not just very fast, it also handles very well.
Porsche said the car will have a range of "more than 500 kilometers," or over 312 miles. It can be recharged via a new 800-volt charging system that Porsche says it has developed especially for this car. That charger is twice as powerful as current fast-charge systems, and Porsche said it can recharge the car to 80% of its full range in just 15 minutes.
Optionally, Porsche says, the new car will have the ability to be wirelessly recharged by induction, via a system that owners will be able to have installed in their garage floor.
What it means for Porsche and VWFor Porsche, which is still a relatively small company within the vast VW empire, this is a huge deal.
"We are resolutely taking on the challenge of electric mobility," Porsche CEO Oliver Blume said in a statement. "Even with solely battery-powered sports cars, Porsche is remaining true to its philosophy and offering our customers the sportiest and technologically most sophisticated model in this market segment."
Porsche said it will invest 700 million euros in a new assembly plant and other facilities to build the electric car, including an expansion to Porsche's existing engine factory to allow for the production of electric drivetrains. The project is expected to create over 1,000 new jobs in and around Porsche's hometown, Stuttgart.
Porsche said it has developed a new fast-charging system for its upcoming electric sports car. The system will recharge 80% of the car's 500 km range in just 15 minutes. Image source: Porsche.
For Porsche's corporate parent Volkswagen, this is also a big deal. Volkswagen CEO Matthias Mueller has made it clear that the giant German automaker plans to ramp up electric-car development in the wake of its diesel-emissions cheating scandal.
VW has said it is creating a new modular vehicle "toolkit" that will serve as the basis for a number of different battery-electric vehicles across the company's brands. Some of those are expected to be high-volume Volkswagen models. But it looks like the first few will be higher-end products.
An electric Audi SUV is also confirmed for production and expected to arrive in just over a year, and a new battery-electric version of the VW brand's flagship Phaeton sedan is said to be under development.
And now we know an electric Porsche is coming, as the VW group makes a big bet on the "premium electric vehicles" segment created by Tesla. Tesla has a big technological lead. Can VW catch up? I wouldn't bet against it.
The article It's Official: New Electric Porsche Will Challenge Tesla Motors originally appeared on Fool.com.
John Rosevear has no position in any stocks mentioned. The Motley Fool owns shares of and recommends Tesla Motors. Try any of our Foolish newsletter services free for 30 days. We Fools may not all hold the same opinions, but we all believe that considering a diverse range of insights makes us better investors. The Motley Fool has a disclosure policy.
Copyright 1995 - 2015 The Motley Fool, LLC. All rights reserved. The Motley Fool has a disclosure policy.