Italy digs in on spending, jolting markets and worrying EU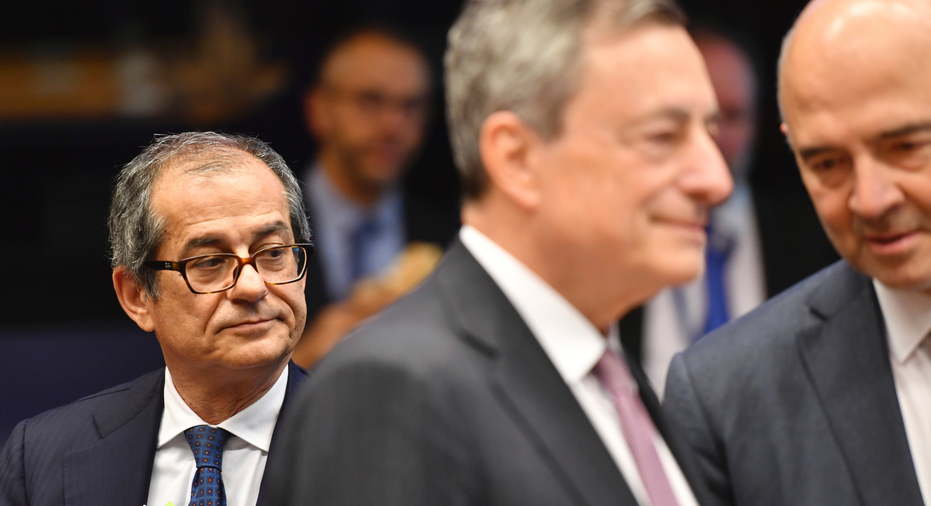 Italy's leaders refused to budge from new spending plans that have been spooking investors, pushing the eurozone's third-largest economy on a collision course with its EU partners.
Deputy Prime Minister Luigi Di Maio said Tuesday that the government "will not back up one millimeter" from spending that will increase the country's deficit to 2.4 percent of annual GDP, beyond previous commitments.
The government's plans and subsequent clashes with EU technocrats have jolted investors, who are now charging Italy more to borrow in bond markets. On Tuesday, the yield on Italy's 10-year bond was up 0.10 percentage point at 3.40 percent, and that's increased the difference between the Italian benchmark and the sturdy German benchmark to 3 percentage points, the highest level this year.
"This verbal toing and froing between Italy and Brussels is likely to keep investors a little cautious of piling back into Italian assets," said Michael Hewson of CMC Markets.
On Monday, Economic Minister Giovanni Tria's was warned by his counterparts in the 19-country eurozone that Italy's plans break the rules of the single currency bloc. The EU's economy commissioner, Pierre Moscovici, said the plans represent "a very significant deviation from the commitment which had been taken."
That claim drew an angry response from Di Maio, who accused Moscovici of "creating terrorism with the markets." Tria insisted the government's plans would promote growth in Italy of 1.6 percent next year, which would keep public finances in control.
But political analyst Wolfango Piccoli of Teneo Intelligence called the growth target optimistic, with growth trending around 1.1 percent.
Italy's economy has been a laggard for years, with growth well below that of many other countries in the eurozone. Unemployment also remains relatively high at 9.7 percent.
Tria skipped Tuesday's wider meeting of the EU's 28 finance chiefs to return to Rome to work on the budget, which must be submitted to Brussels by mid-October.
In Luxembourg, European Commission Vice President Valdis Dombrovskis kept up the pressure on Italy on the sidelines of the finance ministers' meeting, noting that Italy has been a chief beneficiary of rules for more flexibility.
"Discussions about draft budget plan seem to be heading into a direction which goes substantially beyond this flexibility," Dombrovskis said.
"It is a fact that Italy has the second highest debt-to-GDP ratio in the EU, second after Greece and the highest debt servicing costs in the EU. It's important that Italy sticks with responsible fiscal and macroeconomic policy also to maintain interest rates at acceptably low levels," he said.
Italy's government announced last week it would increase spending next year to push through promises made during this year's election. The government's plan sees the country's budget deficit rising to 2.4 percent of GDP despite pledges to keep it under 2 percent. While still within the 3-percent limit set by EU rules, the higher limit will increase the country's stubbornly high public debt.
It remains unclear what action the EU might take. The EU had placed France in an "excessive deficit procedure" for almost a decade without fining it. And Germany has in the past broken the EU deficit limit, also without fines.
Piccoli said that Italy's deficit target "is generally not worth the paper it is printed on," noting that the planned deficit of 1.8 percent of GDP in the 2013-16 period actually ranged between 2.5 percent and 3 percent.
The higher spending in the new plan is aimed at satisfying election promises by the 5-Star Movement for a basic income for job seekers, while its partner in government, the League, pledged to reduce taxes. Both want to repeal an unpopular pension reform.
The government hasn't given details on how the increased spending would be paid for, but 5-Star leader Di Maio defended the budget targets, saying on RTL radio that he "hopes'" the plans would raise GDP by 2 percent in 2019, significantly above forecasts by Tria, who is not aligned to any party.
____
Raf Casert in Brussels contributed.