It Makes Sense That Jeff Bezos Is Bullish on Amazon Prime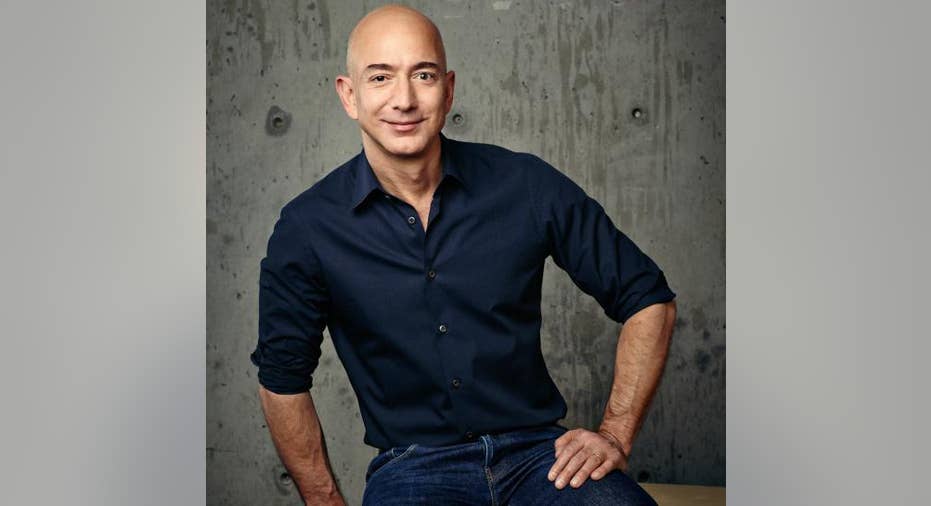 Prime fuels Amazon .
The $99-a-year program, which offers members free two-day shipping, a top-tier video streaming service, and a number of other perks, has become the company's most important product. That's partly because Prime members spend more than non-members -- about $1,100 a year compared to $600 for shoppers who don't join, according to research from Consumer Intelligence Research Partners (CIRP).
Bezos. Image source: Amazon.
But the added spending may not be the biggest advantage of increasing membership. Instead, the big reason for the company to push people into joining may well be the loyalty it creates. Anyone who shells out the $99 a year will be that much less likely to make a purchase at Wal-Mart , Target , or some other retailer just because they offer a better price on an item.
Prime membership keeps Amazon customers Amazon customers, andin his recent annual letter to shareholders, CEO Jeff Bezos called the service an example of a bold bet that worked. He also talked about how far the service has come and where it's going.
Bezos wants Prime to be essentialIn his letter, Bezos shared some numbers on Prime. While he did not offer a member count (CIRP placed it at 54 million at the end of 2015), the CEO did say membership grew 51% last year -- including 47% growth in the U.S. and even faster internationally. He acknowledged that there are "tens of millions of members worldwide," and even offered a mild rebuke for people who are not members.
"We want Prime to be such a good value, you'd be irresponsible not to be a member," he wrote.
The CEO also offered some stats about the service, including that its two-day delivery selection has grown from 1 million items to over 30 million. He also noted that the company has added Sunday delivery and has rolled out same-day delivery on hundreds of thousands of items in more than 35 cities. He also pointed out that members now get music, photo storage, the Kindle Owners' Lending Library, and streaming films and TV as part of the service.
"Prime has become an all-you-can-eat, physical-digital hybrid that members love," he wrote.
Video will be a key pillarWhen Amazon first rolled out Prime's video offering, it was hard to know exactly what it was. It had an OK selection of older shows and movies that made it a nice, albeit non-essential throw-in. Since those early days, the service has evolved and added a fairly impressive slate of originals.
Bezos laid out plans for growth.
"We want brilliant creators like Jill Soloway, Jason Schwartzman and Spike Lee to take risks and push boundaries" he wrote. "Our original series have already earned more than 120 nominations and won nearly 60 awards, including Golden Globe and Emmy awards. Many of these are stories that might never have been told in the traditional linear programming model."
The CEO noted that he company has shows from creators including Jeremy Clarkson, David E. Kelley, Woody Allen, and Kenneth Lonergan in its pipeline.
"These shows are great for customers, and they feed the Prime flywheel," he wrote. "Prime members who watch Prime Video are more likely to convert from a free trial to a paid membership, and more likely to renew their annual subscriptions."
Expect another Prime dayLast July, Bezos trumped his retail rivals, including Wal-Mart and Target, by creating Prime Day, a sort of Christmas in the summer one-day event. Some consumers were underwhelmed by what was actually put on sale, but the CEO was clearly thrilled by the results.
"Our first ever Prime Day surpassed all our expectations -- more new members tried Prime that day than any other day in our history," he wrote. "Worldwide order growth increased 266% over the same day the year before, and sellers whose products are Prime-eligible through FBA [Fulfillment by Amazon] saw record-breaking sales -- with growth nearing 300%."
Those are huge numbers for an event with no tie to any actual reason for people to shop. They make it almost certain that there will be another Prime day come July.
Prime will continue to evolveFrom its simple beginnings as a way to lock customers in by offering them free shipping Prime has become much more. The two-day shipping still holds a lot of appeal, but there are likely Prime users who don't even use that feature but still consider the $99 a good value.
Since Prime serves as Amazon's loyalty firewall to keep shoppers from ever sampling Target or Wal-Mart, expect continued evolution and further unexpected perks. Bezos is right to crow about the service and he clearly understands its important place in driving sales as well as loyalty for the online retailer.
The article It Makes Sense That Jeff Bezos Is Bullish on Amazon Prime originally appeared on Fool.com.
Daniel Kline has no position in any stocks mentioned. He is a Prime member who pretty much only uses the shipping service (and a little of the music product). The Motley Fool owns shares of and recommends Amazon.com. Try any of our Foolish newsletter services free for 30 days. We Fools may not all hold the same opinions, but we all believe that considering a diverse range of insights makes us better investors. The Motley Fool has a disclosure policy.
Copyright 1995 - 2016 The Motley Fool, LLC. All rights reserved. The Motley Fool has a disclosure policy.