It Can Get Worse for Qualcomm: Legal Blitz Threatens NXP Semiconductor Acquisition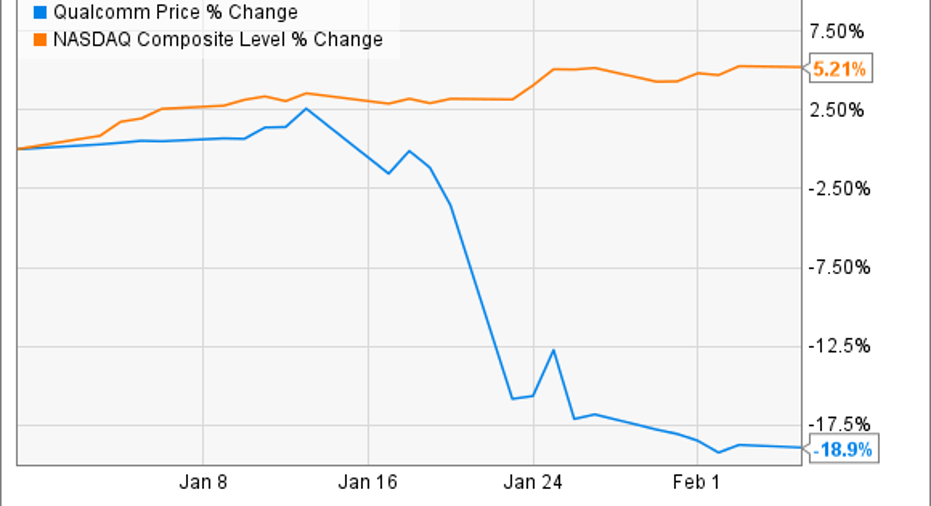 It's been a rough start to the year for semiconductor giant Qualcomm (NASDAQ: QCOM). After putting what many hoped were the worst of its legal troubles behind it, Qualcomm's shares have plummeted so far this year, as several new legal entanglements place continued pressure on the company's patent licensing segment.
These legal troubles could negatively affect the chipmaker in a number of ways. Particularly worrisome, though, is that at least one analyst has expressed concerns that its courtroom battles could hamper Qualcomm's pending acquisition of NXP Semiconductor (NASDAQ: NXPI).
Inside Qualcomm's legal troubles
Having unfolded in several stages around the world, Qualcomm's five-year legal ordeal can be broken down into five major points. Each suit has focused on the company's Qualcomm technology licensing (QTL) segment, which produces roughly two-thirds of the chipmaker's annual pre-tax profits.
In 2013, the Chinese government launched an antitrust investigation into Qualcomm's patent licensing practices,which led Qualcomm to pay a $975 million fine to Chinese regulators early last year. As part of its settlement, Qualcomm agreed to lower the per-device royalty rates it charges Chinese mobile-device OEMs. Collecting royalty payments for its standard-essential 3G and 4G patents, which typically range from 3.25% to 5% of a mobile device's wholesale price before potential rebate savings, has been a headache for Qualcomm in China. Many Chinese OEMs either simply didn't pay Qualcomm or allegedly underreported their royalty payments to the company, so many had hoped that resolving its Chinese legal issues would represent the conclusion of Qualcomm's legal woes. As it turns out, those problems were just the beginning.
In late 2015,the EU initiated a similar antitrust investigation into potential anti-competitive practices by Qualcomm. The European Commission, the EU's regulatory watchdog, has yet to reach a verdict against Qualcomm. Many expect the EU to render its findings, including potential fines, at some point this year.
Then late last year, South Korean regulators fined Qualcomm $854 million on similar antitrust grounds. Qualcomm is currently appealing this decision.
Finally, Qualcomm was hit with two more blockbuster lawsuits in late January. The first suit came from the Federal Trade Commission,claiming that Qualcomm used its competitive position to gain unfair advantages in the baseband chip market. Three days later, Apple, one of Qualcomm's largest customers, filed a $1 billion lawsuit against Qualcomm, alleging that the chipmaker engaged in a number of anticompetitive tactics. The charges make for some ugly reading.
Qualcomm is fighting each of its suits and has responded with some compelling arguments.It doesn't make sense to speculate about possible verdicts at this point, though some analysts say the company's mounting legal woes could delay or even jeopardize its pending NXP Semiconductor acquisition, an outcome that would damage Qualcomm's long-term growth trajectory.
Image source: Qualcomm
Will the lawsuits affect the NXP buyout?
Few analysts seem to believe that Qualcomm's patent licensing lawsuits alone could compel regulators to block the NXP acquisition. The important issue here is that Qualcomm's current products don't compete in the same areas of the semiconductor market as NXP.
However, it appears Qualcomm's growing number of legal entanglements could slow the merger approval process, especially in markets such as the EU, where Qualcomm is currently battling antitrust charges. In fact, one sell-side analyst recently downgraded Qualcomm shares on the assumption that the NXP deal will indeed now take longer than expected to close, in which case NXP's growth will take longer to have a positive impact on Qualcomm's financial performance.
Equally important, extending the time for the deal to close also increases the odds that an unforeseen event could affect the acquisition. What if Apple's suit fundamentally alters QTL's licensing practices? Could that affect Qualcomm's ability to finance the $39 billion deal?Perhaps. Could Apple's lawsuit embolden other major customers -- say,Samsung-- to file a similar complaint? If so, what would that mean? What if another country files yet another antitrust charge against it?
The point is that even a delay leaves the door open for some other outside factor to come along and derail Qualcomm's critical NXP purchase. Again, such a scenario appears unlikely. However, given NXP's place as Qualcomm's entry point to the Internet of Things market, any potential overhang that could threaten the deal becomes a must-watch item for its investors.
10 stocks we like better than QualcommWhen investing geniuses David and Tom Gardner have a stock tip, it can pay to listen. After all, the newsletter they have run for over a decade, Motley Fool Stock Advisor, has tripled the market.*
David and Tom just revealed what they believe are the 10 best stocks for investors to buy right now... and Qualcomm wasn't one of them! That's right -- they think these 10 stocks are even better buys.
Click here to learn about these picks!
*Stock Advisor returns as of February 6, 2017
Andrew Tonner owns shares of Apple. The Motley Fool owns shares of and recommends Apple and Qualcomm. The Motley Fool has the following options: long January 2018 $90 calls on Apple and short January 2018 $95 calls on Apple. The Motley Fool recommends NXP Semiconductors. The Motley Fool has a disclosure policy.