Is Wrapping Your Product in the American Flag Good for Business?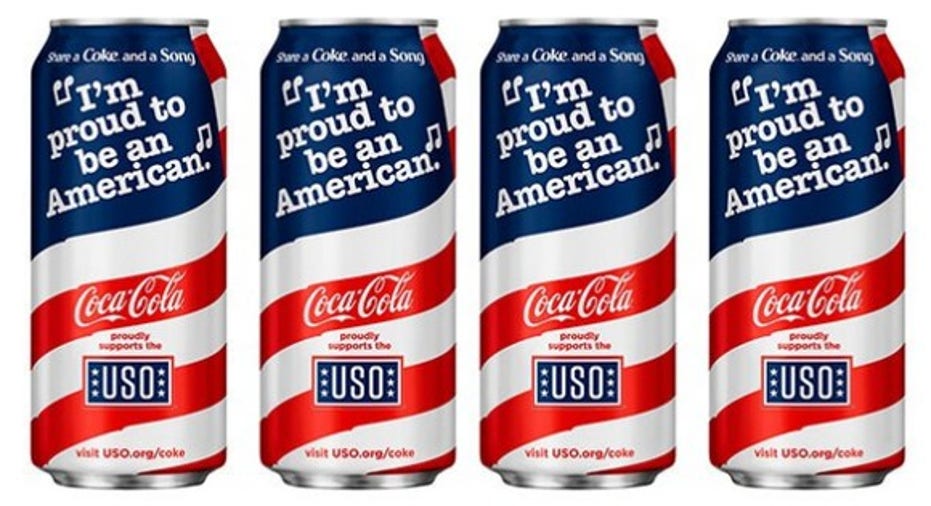 Coca-Cola has wrapped its cans in the American flag for the summer. Image source: Coca-Cola.
BothCoca-Cola and Anheuser-Busch InBev have signature products evocative of the American experience.
Coke and Budweiser practically scream America to the world simply because both iconic brands have represented the country around the world. In some ways, both brand's logos and products have become more American than apple pie and baseball -- simply because no matter where you are on the globe, it's generally possible to get a Coke or a Bud.
Now, however, both drinks have taken a further step to play to patriotic crowds. In the case ofAnheuser-Busch InBev, it has literally changed the name of Budweiser to "America" from late-May through mid-September. Coca-Cola has not been quite as bold, but it has wrapped its cans in the American flag for the summer with the phrase "I'm proud to be an American" in celebration of its 75-year partnership with the USO.
Both companies are seeking to tap into American patriotism, a tactic that has worked for Coke and Budweiser in the past, which also comes with certain risks.
What are Coke and Bud trying to do?
"Politicizing brands with nationalism and nationalistic themes has a long history,"TimothyMalefyt, Ph.D, a clinical associate professor of marketing at Fordham University, told The Motley Fool via email. "Often it links a brand to rises in patriotic events (July 4th) the Olympics, Superbowl events and now our upcoming presidential elections."
This has been a successful marketing plan for Coke and Budweiser in the past andMalefyt sees no reason why it will not work now.
Budweiser is literally replacing its name on its cans. Image source:Anheuser-Busch InBev.
"From the examples of Budweiser and Coke, this tying in with patriotism can work for established brands that reflect a sense of Americana since they are also tied to patriotic social traditions," he wrote. "Coke aligns with family time and holidays, Bud aligns with American work ethics and friendship."
The professor explained that wrapping their brands in the flag is a way to "refresh brand identity with patriotic themes at a time when national identity is a hot topic."
Will it work?
It's easy to see the emotions Coke and Bud are trying to tap into with their can imagery, but the companies are walking a potentially dangerous road,Tom Dougherty, President and CEO of branding company Stealing Share, told The Motley Fool via email.
"Budweiser renaming its signature beer America is a serious miscalculation," he wrote. "It feels like a self-serving reach on the part of the brand. No doubt it is looked at defensively because of the Belgium ownership of the brand. But it looks and feels like marketing and therefore smells inauthentic."
Dougherty explained that Budweiser is "in a death spiral" because beer consumption in the U.S. has shifted to imports and microbrews along with wine and spirits. He explained that "instead offinding a brand equity that it has permission to own, Budweiser has taken the unimaginative tactic of wrapping itself in American symbolism. Does it think the local microbrew is un-American? This is the sort ofinthe boxthinking that has placed Budweiser in the precarious position in the first place."
According to Dougherty, real brand value comes from believability.
"Think about it as the brand having permission within the rules that customers and prospects have created for those brands," he wrote. "Anything that moves outside of those permissions is seen as an affront as best and as manipulative at its worst."
Because of that, the marketing executive likes what Coca-Cola has done.
"Coca-Cola's brand is all about America nostalgia and authenticity," he wrote. "I look at the American flag on the Coke cans as a legitimate reminder of the brand's permissions. It is a defensive move rather than an offensive one because it is a reinforcement of brand permission rather than a persuasive one."
Not all marketing executives shareDougherty's thinking. Mark Stevens, CEO of marketing firm MCSO, who wrote the bookYour Marketing Sucks, thinks that both companies are on-target with their messaging.
"Bud grew to be a giant in the beer space based on its position as the heartland's brew. As America's Beer.Coke rose to greatness wrapped in the colors and the pride of the American soft drink,"he wrote in an email to The Motley Fool. "No matter where it was sold, Coke and Bud were islands of America. In an age of raging nationalism, returning to the roots that thrust these brands to iconic status is as powerful as the vote [by the United Kingdom] to leave the EU."
It's a slippery slope
From a business perspective, both Dougherty and Stevens are correct. Bud is doing something that seems transparent to anyone not already a fan of its brand. It's a clear Donald Trump-style nationalistic play to its base. The problem with making that type of move is that it can enhance your position with the audience that already likes you or your product, but it pushes away those who do not.
Coke, both marketing executives seem to agree, has more room to push in this area without coming across to non-fans as being crass or blatantly manipulative. Still, even in the cola's case, a very fine line must be walked between reinforcing an existing image and coming across as pandering.
It's hard to see how either of these marketing efforts does anything more than preach to the converted. Even in an Olympics summer, it's hard imagine anyone getting so moved by these cans that they start buying them in the swoon of patriotic fervor.
Playing the patriotism card probably won't hurt Budweiser or Coca-Cola, but it also seems unlikely to help much either.
The article Is Wrapping Your Product in the American Flag Good for Business? originally appeared on Fool.com.
Daniel Kline has no position in any stocks mentioned. He does not own any American flagparaphernalia, but considers himself patriotic. The MotleyFool recommends Anheuser-Busch InBev NV and Coca-Cola. Try any of our Foolish newsletter services free for 30 days. We Fools may not all hold the same opinions, but we all believe that considering a diverse range of insights makes us better investors. The Motley Fool has a disclosure policy.
Copyright 1995 - 2016 The Motley Fool, LLC. All rights reserved. The Motley Fool has a disclosure policy.