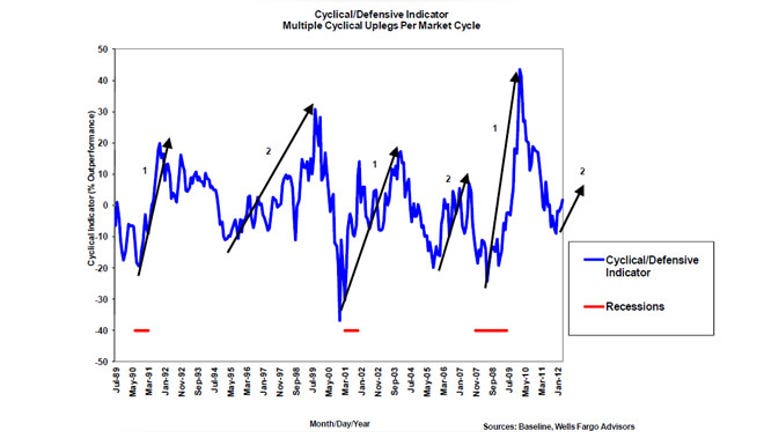 After taking a breather during the turbulent and scary second half of 2011, U.S. markets have enjoyed healthy gains during the first few months of 2012.
Some analysts believe the markets are now poised to begin the second leg of a cyclical bull market that lift will carry all sectors significantly higher, especially consumer-related stocks.
"We believe long-term investors should use any market pullbacks as opportunities to accumulate cyclically-oriented shares in an effort to participate in the second leg up in this market cycle," Stuart Freeman and Scott Wren, equity strategists at Wells Fargo Advisors (NYSE:WFC), wrote in a research note on Wednesday.
The last few bull markets have featured at least two legs to the rally. This was true during the bull market that began in early 2001 after the bursting of the dot-com bubble and ended as the U.S. housing market collapsed in 2007.
The first leg of that rally helped drive the Dow Jones Industrial Average above 10000, while the second one lasted two years and left the blue chips at all-time highs north of 14000.
In between the two legs of the cyclical bull market, stocks suffer through a "mid-cycle period of sideways volatility" as "investors worry over the sustainability of an economic recovery and look for reasons to take profits," Freeman and Wren wrote.
For this bull market, which began in March 2009 in the wake of the Great Recession, that occurred throughout much of 2011, especially during the 20% pullback between early May and autumn.
Those declines were marked by heavy volatility as the VIX spiked above 40 and relentless speculation about a potential double-dip recession caused by Europe's sovereign debt soap opera.
Yet turbulence has drastically declined -- the VIX is trading under 20 -- and concerns about another recession in the near term have mostly ebbed.
"I think we were so focused on Europe that we really undervalued the market here," said Marc Pado, U.S. market strategist at investment advisory DowBull.
Freeman and Wren said the second leg of a cyclical bull market typically comes "as job growth continues, consumers' income rise, general confidence lifts and consumer spending broadens."
Despite March's disappointing jobs report, employers have picked up the pace of hiring over the past six months, with more than 200,000 jobs being added to U.S. payrolls nearly each month.
According to the University of Michigan's consumer confidence report, consumer confidence jumped in March to 76.2 -- the highest level since February 2011.
Feeling more confident, consumers have also picked up their purchases.
New data released this week showed retail sales jumped 0.8% in March, more than doubling forecasts from economists for a gain of 0.3%. The acceleration in consumer purchases was driven by a 0.9% leap in auto sales as well as a 1.1% rise in furniture sales and a 1% bump at electronic stores.
Given the generally upbeat economic news, equity "valuations are just way too low," said Pado. "Unless you really think earnings are going to fall 15% to 20%."
That means the equity markets could be in store for a positive few months to catch up with the economic story.
But the Wells Fargo strategists note that the second leg of a cyclical bull market "tend to offer less upside than the first."
For this bull market, that means stock prices would likely generate a return below the 100% surge experienced during the run up from March 2009.
"Phase two is a rising tide lifts all ships. Everything goes up, but it's a matter of relative performance," said Pado.
In other words, some sectors of the market will experience stronger gains than others.
Typically, Pado said, those winning sectors include industrial and technology stocks, but especially consumer-related ones such as retailers. After all, consumer spending accounts for roughly 70% of the U.S. economy.
Pado said he also expects financial stocks to outperform as negative rhetoric bashing Wall Street and big banks fades following the November elections.
The bulls point to a slew of factors to support their case, including projections for double-digit earnings growth in the first quarter and technicals.
Pado said he is very encouraged by the fact that the S&P 500 recently hit a new post-crisis high that was confirmed by the cumulative advance/decline line as well as new highs on the other two major indexes and the small-cap Russell 2000.
Of course, some remain unsold on the idea the markets are in the midst of a second leg of the bull market, evidenced by last week's 200-point decline on the Dow, its second-straight weekly loss.
Pado said he believes the biggest threats to the bull market story lie overseas.
Specifically, he warned that evidence Europe is "starting to really collapse" under the weight of its sovereign debt crisis would hurt U.S. markets. Those lingering concerns were on display on Monday as stocks retreated on fears about the ability of Spain to continue to tap the bond markets.
Likewise, Wall Street remains subject to jitters about the Middle East as fears of a conflict with Iran haven't completely gone away.
Short of one of those geopolitical events occurring, market bulls believe the cash on the sidelines will win out.
"The sheer amount of cash that both corporations and individuals have on hand that they have been reluctant to put into investments is burning a hole in their pocket," said Pado. "It becomes a race to not be the last guy in."