Is Wal-Mart's Dividend in Doubt?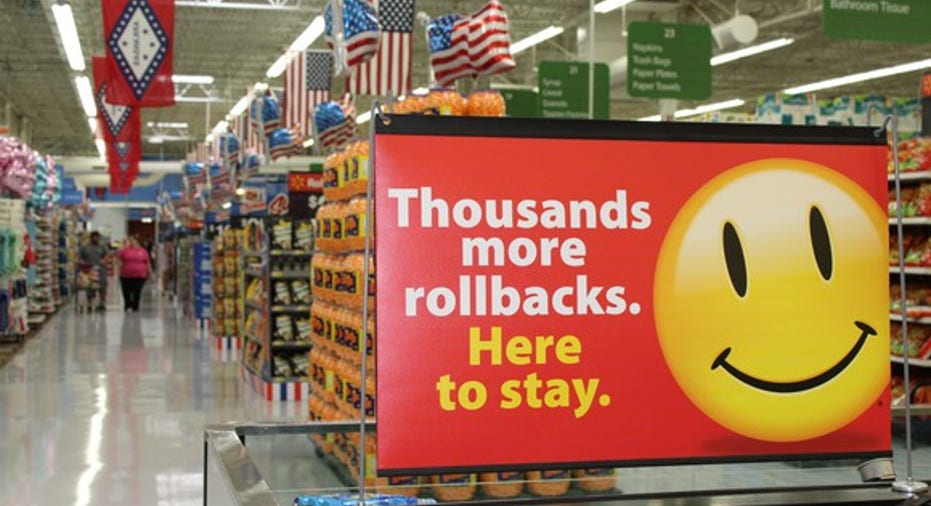 Image source: Wal-Mart.
Through the first two quarters of fiscal 2017, Wal-Mart's (NYSE: WMT) total dividend payment to its shareholders declined about 0.8%. Barring any unexpected changes to the company's quarterly dividend payment, which it raised for the 43rdconsecutive year in February, Wal-Mart will have its first-ever decline in total dividend payments.
Wal-Mart has been supporting minor increases in its dividend per share rate through the use of share buybacks over the past few years. In each of the past three years, management has increased the dividend by just $0.01 per quarter, just about the bare minimum to keep its streak of annual dividend increases alive.
With dividend growth slowing to a crawl, and now a decline in total dividend payment, should investors be worried about Wal-Mart's ability to continue increasing its payout? Let's take a look at some numbers to figure out where Wal-Mart's dividend stands.
The payout ratio
Dividends don't just magically appear in the middle of every quarter. Companies pay them out of their earnings. Whatever they don't pay out as a dividend is retained by the company for investment or a rainy day. What's leftover is aptly called retained earnings.
A key way to determine the safety of a company's dividend is to see what percentage of earnings it currently pays out to shareholders. That's called its payout ratio. Importantly, investors ought to use forward-looking projections (management's forecast or analysts' estimates) to calculate payout ratios.
Here's how Wal-Mart stacks up against some of its key competitors,Target (NYSE: TGT)and Costco (NASDAQ: COST).
| Company | Dividend | Earnings Forecast | Payout Ratio |
| --- | --- | --- | --- |
| Wal-Mart | $2.00 | $4.25 | 47% |
| Target | $2.40 | $5.00 | 48% |
| Costco | $1.80 | $5.95* | 30% |
*Analyst consensus estimate for fiscal 2017 ending in August 2017. Data source: Company financial reports and Costco's investor relations page. Table source: Author.
Wal-Mart's payout ratio is right in line with its biggest competitor, Target, but well above Costco's. Note, however, that Wal-Mart's dividend yield is 2.8% versus Costco's 1.1%, so it should be expected that it pays out a much higher portion of earnings. Target's yield, for reference, is 3.4%, notably better than Wal-Mart's despite similar payout ratios.
But Wal-Mart has something going for it that Target doesn't: superior earnings stability.
Earnings stability
Earnings stability provides investors with a better idea of how reliable management's or analysts' outlooks are for the future. The less variability in earnings from year to year, the more likely the predictions are to prove accurate. It also means the future of the dividend is relatively safe provided the payout ratio isn't hovering above 100%.
There are a couple factors I'll focus on with regard to earnings stability: revenue fluctuation and financial leverage.
Revenue fluctuation is fairly clear cut: How much does revenue fluctuate from year to year?
Wal-Mart's revenue is about as stable as it gets. Over the last five years, its total revenue grew about 10%. Over the last three years, the most Wal-Mart's revenue moved was up 1.77%. Target has seen larger revenue swings in each of the last four years.
One of the biggest factors that makes Wal-Mart's revenue so stable is that it appeals to shoppers in both good and bad economic times. During a recession, more people will shop at Wal-Mart versus higher-priced retailers. During a period of economic growth, regular Wal-Mart shoppers may spend more.
The other factor to consider is the business's financial leverage: how much debt the company holds as a percentage of its operating income. Businesses with a high amount of leverage will see an outsized impact on their bottom lines when revenue declines since interest expenses effectively add another fixed cost to the business.
One way to evaluate a company's financial leverage is to look at its interest coverage. That is what percentage of operating profits goes toward paying interest expenses.
| Company | Operating Profit (TTM) | Interest Expense (TTM) | Interest Coverage |
| --- | --- | --- | --- |
| Wal-Mart | $23.95 billion | $2.31 billion | 9.6% |
| Target | $4.99 billion | $1.02 billion | 20.4% |
Data source: Company financial reports, Yahoo! FinanceTable source: Author
Wal-Mart has significantly less financial leverage than Target, which means it's prone to less fluctuation in net earnings from changes in its operating profit. Coupled with its comparably more stable revenue, Wal-Mart's earnings projections are likely more accurate than Target's. That's also evidenced by the narrower range Wal-Mart provided ($4.15 to $4.35) compared to Target ($4.80 to $5.20).
One final factor
The last factor to consider is management's stance toward the dividend. Wal-Mart has been paying a dividend since 1974, and it's raised that dividend every year. But the slowing dividend payment indicates that management is starting to lean toward investing more of its earnings back into the company.
Specifically, management has been investing heavily to grow its e-commerce business. It expects to spend $900 million on its e-commerce operations this year, and another $1.1 billion next year, up from $700 million last year. What's more, it just spent another $300 million in cash and $3 billion in stock to acquire Jet.com.
Considering Wal-Mart's decline in online sales growth over the previous few years, the investment in e-commerce is necessary to take back market share in one of the fastest-growing retail avenues. The investments have already started paying off with digital sales revenue accelerating last quarter, and that's before the Jet.com acquisition.
Management may decide to return its focus to the dividend after it secures its position in e-commerce. In the meantime, they should expect management to continue with the minimum to keep its name on the list of Dividend Aristocrats.
So, despite the decline in total dividend payments, it doesn't seem like the dividend is in any doubt. That's not to say there aren't better options for investors looking to invest in the retail space.
A secret billion-dollar stock opportunity The world's biggest tech company forgot to show you something, but a few Wall Street analysts and the Fool didn't miss a beat: There's a small company that's powering their brand-new gadgets and the coming revolution in technology. And we think its stock price has nearly unlimited room to run for early, in-the-know investors! To be one of them, just click here.
Adam Levy has no position in any stocks mentioned. The Motley Fool owns shares of and recommends Costco Wholesale. Try any of our Foolish newsletter services free for 30 days. We Fools may not all hold the same opinions, but we all believeconsidering a diverse range of insights makes us better investors. The Motley Fool has a disclosure policy.