Is Verizon's Unlimited Plan Good or Bad for Investors?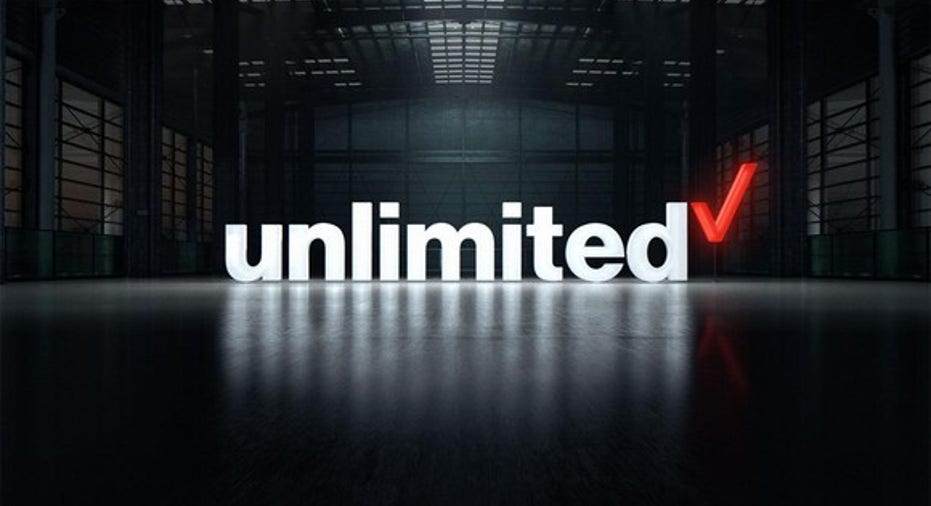 Verizon (NYSE: VZ) is the last of the four major U.S. wireless carriers to succumb to the pressure and offer an unlimited data plan. For the longest time, Verizon resisted pressure from T-Mobile (NASDAQ: TMUS) and Sprint (NYSE: S) to offer an unlimited plan. As recently as the company's fourth-quarter earnings call in January, CFO Matt Ellis said, "That's not something we feel we need to do," when asked about unlimited data plans.
But Verizon finally made the move, and it has both positives and negatives for investors. What should investors expect, and will the new unlimited plan from Verizon produce positive returns?
Image source: Verizon
Pro: People really seem to like it
It's only been a few weeks since Verizon launched its unlimited plan, but a lot of people have been signing up. "We've seen a pretty huge rush to unlimited," President of Operations John Stratton said at a Deutsche Bank conference earlier this month.
Early demand may be strong enough to break Verizon's two-year streak of postpaid phone subscriber losses in the first quarter. In the first quarter of 2015, Verizon lost 138,000 postpaid phone subscribers, and it lost 8,000 in 2016 during the first quarter. Combined with a promotion for a free iPhone 7, Verizon should be able to post a positive number in the first quarter this year.
Con: A lot of those people are now paying less
Stratton also said, "The first guys that you see come across are typically the ones who benefit greatest sort of on their bottom of the bill." In other words, customers who were paying more for a limited data bucket are the first to switch to the unlimited data plan.
Therefore, Verizon could see a dip in its average revenue per user (ARPU), which has already come under pressure as customers switch to device installment plans and hold onto their phones longer. Verizon's plan pricing is also feeling pressure from lower-priced competitors like T-Mobile and Sprint.
In the long run, however, Stratton says: "This is not a dilutive thing from an ARPU perspective. We think it's at least an even play because of where we priced it and how we laid it in." Verizon maintains it will return to service revenue growth by next year.
Pro: Verizon is taking back control of the conversation
With every major U.S. wireless provider offering unlimited data now, the conversation is no longer about how much data you get, but about network quality. This is an area where Verizon shines. It's ranked at the top of RootMetrics' surveys for three years straight.
Its pricing, while not as low as T-Mobile's or Sprint's, is still competitive, and with its brand and network strength, it should be able to maintain its premium price point. By focusing the conversation on network quality, Verizon is setting itself up to win more customers. People want the best, even if the best is only the best by a little bit.
Con: Verizon will have to spend heavily to maintain its network lead
Verizon holds the least amount of spectrum airwaves of the four major U.S. wireless providers. That's unlikely to change even after the recent incentive spectrum auction.
In order to maintain its network advantage, Verizon plans to spend a lot of money densifying its network to improve performance in high-population areas. Analyst Craig Moffett expects Verizon to spend $11.3 billion of its $22 billion capital spending budget on its wireless operations. By comparison, he expects T-Mobile and Sprint to spend just $5.1 billion and $3 billion, respectively.
But while Verizon may be seemingly outspending its smaller competitors, on a per-subscriber basis, Verizon is spending about the same amount as T-Mobile, although it's still spending significantly more than Sprint. It will be very difficult for Verizon to maintain its network lead without spending even more.
Lots of puts and takes
There are a lot of puts and takes with Verizon's new unlimited plan. The potential costs in both capital spending and lost service revenue are significant. Still, investors should consider what Verizon's performance would look like without the unlimited plan at all.
With the growing demand for more mobile video and social media, Verizon can't afford not to offer unlimited data. It's more important for it to hold onto customers and attract new ones at a slightly lower price than to stand still and watch service revenue decline year after year.
10 stocks we like better than Verizon CommunicationsWhen investing geniuses David and Tom Gardner have a stock tip, it can pay to listen. After all, the newsletter they have run for over a decade, Motley Fool Stock Advisor, has tripled the market.*
David and Tom just revealed what they believe are the 10 best stocks for investors to buy right now... and Verizon Communications wasn't one of them! That's right -- they think these 10 stocks are even better buys.
Click here to learn about these picks!
*Stock Advisor returns as of February 6, 2017
Adam Levy owns shares of Verizon Communications. The Motley Fool recommends T-Mobile US and Verizon Communications. The Motley Fool has a disclosure policy.