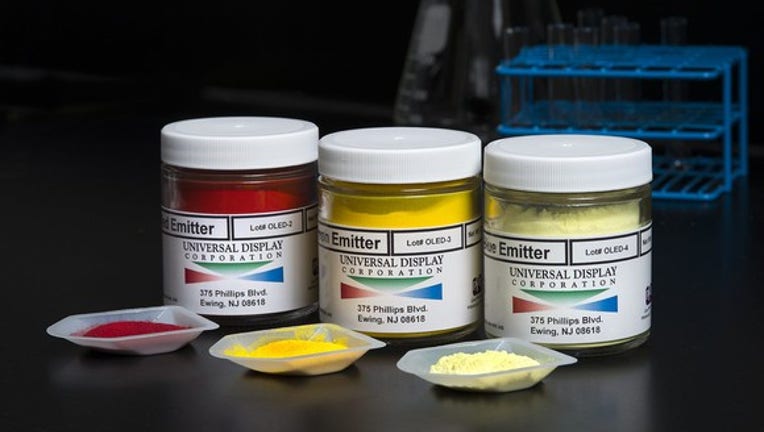 It's always a bit tricky to determine for sure if a short squeeze is happening, where short-sellers frantically buy back shares as prices rise, pushing shares even higher in the process. There are some possible signs that OLED specialist Universal Display (NASDAQ: OLED) may be enjoying one as we speak, though.
The stock skyrocketed 20% on Friday after the company reported strong fourth-quarter earnings and even went as far as initiating a dividend for the first time ever. Universal Display is kicking off this week with a bang as well, with shares gaining 7% by midday on no particular news. Meanwhile, short interest has been steadily rising over the past year as bears bet against the company. Are some of those bears now bailing?
The short interest rises
The most recent official short interest data from the exchange is for the settlement date of Jan. 31, but the mid-February numbers should be out any day now. Here's the past few months' worth of data.
Data source: Nasdaq.
You can see a fairly steady rise in Universal Display's overall short interest over the months. If we look even further back, short interest had been fluctuating within a range of 2.9 million shares to 3.3 million shares since last February, but short interest really started rising more meaningfully around October of last year. Interestingly, this is actually around the time that shares were putting in a relative bottom around $50, and shares have recovered and pushed higher on renewed optimism that Apple will finally release an OLED iPhone later this year.
OLED emitter materials. Image source: Universal Display.
Given the mounting evidence of the OLED iPhone, it's peculiar that short interest has been rising so much (shares held short have jumped nearly 40% since October). It's true that shares have now gotten rather expensive, trading at 104 times earnings and 20 times sales, but if the Mac maker indeed makes the switch, that would validate and accelerate the adoption trajectory.
We do know that Universal Display announced earlier this month that it was investing $15 million in manufacturing partner PPG's Ohio facility in order to double its commercial production capacity. Clearly, the company is preparing for something.
In a number of weeks, we'll be able to look back and see if short interest declined, and if so then investors can confidently say that shorts abandoning their bearish bets contributed to Universal Display shares jumping to all-time highs.
10 stocks we like better than Universal DisplayWhen investing geniuses David and Tom Gardner have a stock tip, it can pay to listen. After all, the newsletter they have run for over a decade, Motley Fool Stock Advisor, has tripled the market.*
David and Tom just revealed what they believe are the 10 best stocks for investors to buy right now... and Universal Display wasn't one of them! That's right -- they think these 10 stocks are even better buys.
Click here to learn about these picks!
*Stock Advisor returns as of February 6, 2017
Evan Niu, CFA owns shares of AAPL and Universal Display. Evan Niu, CFA has the following options: long January 2018 $50 calls on Universal Display. The Motley Fool owns shares of and recommends AAPL and Universal Display. The Motley Fool has the following options: long January 2018 $90 calls on AAPL and short January 2018 $95 calls on AAPL. The Motley Fool has a disclosure policy.