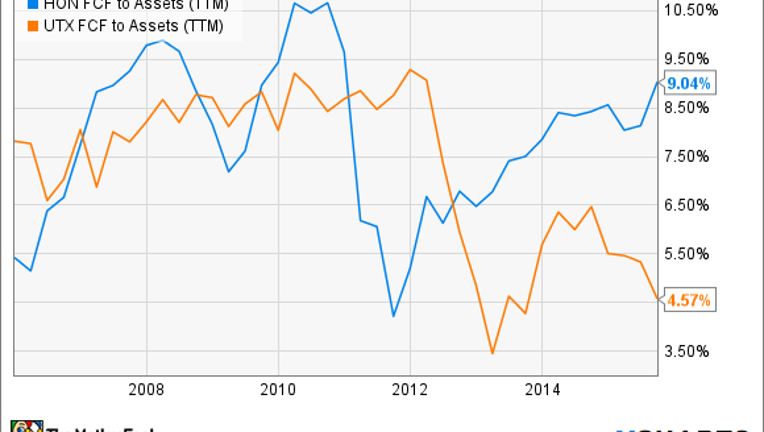 Next year promises to be one of transition for , as the company positions itself to generate long-term recurring revenue and cash flow. In doing so, the aerospace and construction giant is likely to become a Warren Buffett type of stock. What does that mean? Readers who likeinvesting in the style of the legendary investor should read on and take a closer look.
Ever since former CFO Greg Hayes became CEO in late 2014, the market has speculated on what direction the company would take. November marked the completion of the Sikorsky sale to as part of management's refocusing on its core commercial aerospace and construction businesses, but that isn'tthe only thing. United Technologies is also moving toward more of an operational focus on improving return on invested capital, or ROIC, rather than chasing earnings growth -- a classic Buffett-stock trait.
Moreover, 2016 will see United Technologies building out long-term revenue growth in three key ways:
Otis is likely to see lower margin to grow market share in new equipment in China, thus building an installed base for long-term services revenue.
Pratt & Whitney will ramp up sales and production of its geared turbofan engines, primarily for the A320neo, which will lead to strong long-term aftermarket revenue in the future.
UTC Aerospace Systems is introducing a raft of new lower-margin products on newer aircraft, which should increase long-term revenue in the future.
These factors are discussed in more depth elsewhere; the key point here is the positioning toward generating long-term sales and cash flow, evenwhile facing near-term earnings headwinds. Again, a disciplined long-term investor like Buffett wouldn't worry too much about the latter while the former was on track.
Moreover, Buffett would probably like Hayes' outline of future ROIC improvement plans at the recent investor day. Improving ROIC means a company can generate the same return but with less capital, thus freeing up capital to be used elsewhere. This is believed to be of key import to Buffett. Also, note that increasing ROIC doesn't necessarily require growing revenue or earnings -- although, all things being equal, it would obviously help.
Hayes discussed generating working-capital improvements, partly by managing inventory better, while he also outlined a multiyear restructuring plan aimed at reducing costs in high-cost locations. Indeed, a comparison with its closest peer, , demonstrates the opportunity for United Technologies to improve productivity.
A look at ROIC shows how the company has fallen behind Honeywell in recent years.
HON Return on Invested Capital (TTM) data by YCharts.
In addition, Hayes talked about improving inventory management. Take a look at days inventory outstanding -- a measure of how many average days it takes to turn inventory into sales. A lower number is better.
HON Days Inventory Outstanding (Annual) data by YCharts
Honeywell holds the advantage here.
Finally, let's look at free cash flow to assets. Here again, United Technologies has work to do if it wants to catch up with Honeywell.
HON FCF to Assets (TTM) data by YCharts.
All told, United Technologies appears to have an opportunity to increase productivity, at least compared with Honeywell International. Moreover, 2016 will see the company focus on laying the groundwork for substantive increases in long-term recurring earnings and cash flow -- something that will help de-risk the stock. The case for seeing United Technologies turn itself into a Buffett-like stock is a good one, and long-term investors should keep a close eye on developments in 2016.
The article Is United Technologies Turning Into a Warren Buffett-Style Stock? originally appeared on Fool.com.
Lee Samaha has no position in any stocks mentioned. The Motley Fool has no position in any of the stocks mentioned. Try any of our Foolish newsletter services free for 30 days. We Fools may not all hold the same opinions, but we all believe that considering a diverse range of insights makes us better investors. The Motley Fool has a disclosure policy.
Copyright 1995 - 2015 The Motley Fool, LLC. All rights reserved. The Motley Fool has a disclosure policy.