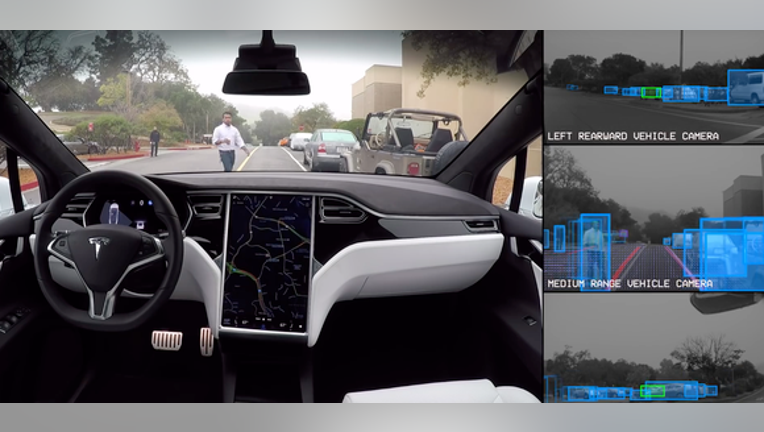 After deploying some of its "self-driving" Uber vehicles in Pittsburgh in September, the company is now deploying about five autonomous Volvo XC90 SUVs in San Francisco, Uber announced on Wednesday. Uber's aggressiveness in testing autonomous technology highlights the company's vision for a self-driving ride-hailing service.
Uber's self-driving Volvo. Image source: Uber.
"The promise of self-driving is core to our mission of reliable transportation, everywhere for everyone," Uber emphasized in a blog post on Wednesday. "As demand for ridesharing continues to skyrocket, the future of transportation will be a mix of human drivers and self-driving cars."
But there are a couple catches to Uber's new "self-driving" cars in San Francisco.
Are these vehicles really autonomous?
"San Francisco, your Self-Driving Uber is arriving now," reads an Uber's Wednesday morning blog post. This bold statement, however, isn't quite accurate.
Later in the same post Uber says, "For us, it's still early days and our cars are not yet ready to drive without a person monitoring them." Like Uber's vehicles deployed in Pittsburgh, these new "self-driving" vehicles require a driver to sit up front to ensure the ride goes normally. If something goes wrong, these operators need to take over the wheel.
Furthermore, there's a debate about whether Uber even has permission to operate vehicles like this in San Francisco. The state of California requires companies testing self-driving vehicles to obtain a permit to test these vehicles, and Uber doesn't have one.
Going into Uber's launch of its five self-driving vehicles in San Francisco on Wednesday, the ride-hailing company is aware of the controversy. Uber acknowledged the issue in its blog post: "Finally, we understand that there is a debate over whether or not we need a testing permit to launch self-driving Ubers in San Francisco. We have looked at this issue carefully and we don't believe we do."
California rules don't apply to their situation since the permit is intended for cars that drive without someone controlling or monitoring them, according to Uber.
But the California DMV disagrees, reports The Wall Street Journalon Wednesday. "Twenty manufacturers have already obtained permits to test hundreds of cars on California roads. Uber shall do the same," said the DMV.
Permit or not, Uber is clearly adamant about pushing the envelope when it comes to deploying and testing autonomous technology
Tesla's advantage over Uber
Interestingly, Uber's questionable strategy for testing autonomous driving technology in Pittsburgh and San Francisco highlights a major advantage electric-car maker Tesla Motors (NASDAQ: TSLA), which also plans to launch its own self-driving ride-hailing service, has over Uber.
Tesla demonstrated a self-driving Model S. Image source: Tesla Motors.
By beginning toinclude sensors for autonomous driving in every vehiclein October, Tesla is able to operate its vehicles' new sensors in "shadow mode," collecting data from every new vehicle's driving and determining how systems would have performed in different situations. Not only will this shadow mode data help Tesla refine its self-driving software before it is released, but it will also help serve as a benchmark for regulators to illustrate how the technology can increase safety, Tesla CEO Elon Musk has said.
Therefore, while Uber's San Francisco launch highlights a debate about regulatory challenges with testing self-driving technology, the more notable takeaway may be the weakness in Uber's overall approach. Uber's small number of vehicles for testing autonomous driving technology in Pittsburgh and San Francisco pales in comparison to Tesla's current production rate of 100,000 vehicles annually. Tesla's biggest advantage over Uber in preparing to launch an autonomous ride-hailing service may be its ability to generate far more data from self-driving sensors.
10 stocks we like better than Tesla Motors When investing geniuses David and Tom Gardner have a stock tip, it can pay to listen. After all, the newsletter they have run for over a decade, Motley Fool Stock Advisor, has tripled the market.*
David and Tom just revealed what they believe are the 10 best stocks for investors to buy right now... and Tesla Motors wasn't one of them! That's right -- they think these 10 stocks are even better buys.
Click here to learn about these picks!
*Stock Advisor returns as of Nov. 7, 2016
Daniel Sparks owns shares of Tesla Motors. The Motley Fool owns shares of and recommends Tesla Motors. Try any of our Foolish newsletter services free for 30 days. We Fools may not all hold the same opinions, but we all believe that considering a diverse range of insights makes us better investors. The Motley Fool has a disclosure policy.