Is Trump Bad for Healthcare Stocks? These 4 Winners Don't Think So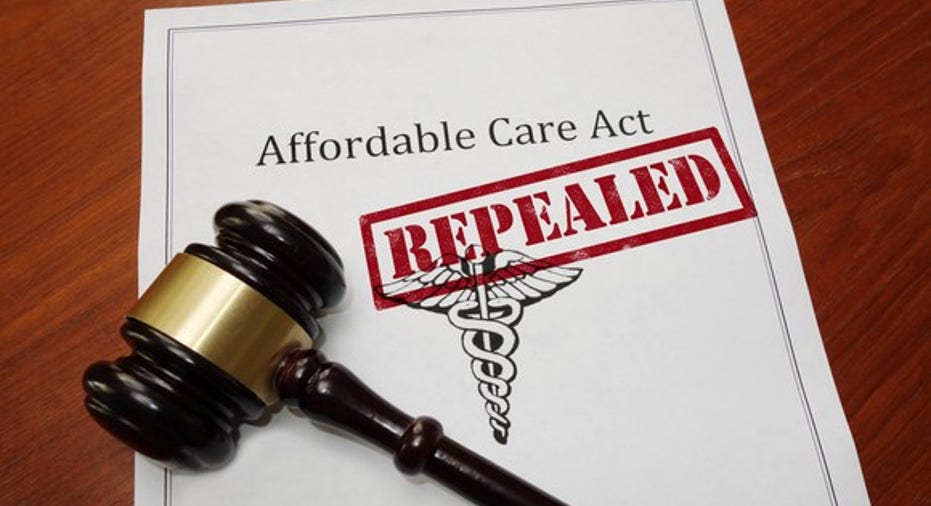 As President Trump noted during a recent meeting with insurance company CEOs, healthcare reform is an unbelievably complex subject.The Affordable Care Act (also known as Obamacare) brought around 20 million Americans into the fold, and it certainly stands to reason that its demise would pressure healthcare stocks throughout the sector.
Well, the market doesn't seem to agree. From the biotechnology industry, shares of Amgen, Inc. (NASDAQ: AMGN) have surged. Drug distributorAmerisourceBergen Corp. (NYSE: ABC), insurer Anthem Inc. (NYSE: ANTM), and leading genetic research equipment manufacturerIllumina, Inc. (NASDAQ: ILMN) have also posted impressive gains since last November. Each of these healthcare stocks have just about doubled the broad market S&P 500's impressive gain since election day.
Image source: Getty Images.
It's not uncommon for small-cap stocks to post big gains, but these companies are huge. Combined they've added a stunning $47.8 billion in market value in just a few short months.
Company
Industry
Price Increase Since 11/8/16
Market Cap Increase Since 11/8/16
Illumina
Medical technology

15.6%

$3.16

billion
AmerisourceBergen
Drug distribution

27.9%

$4.24

billion
Amgen
Biotechnology

28.6%

$29.41

billion
Anthem
Health insurance

33.4%

$11.15

billion
Data source: YCharts. Table by author.
The Commander-in-Chief was right: Healthcare is a very complicated subject, with a lot of ins, a lot of outs, and a lot of what-have-yous. It would be impossible to keep all the strands in any one person's head. Stick around, though, to see how some expected policy changes affecting the entire sector bode well for these four stocks.
AmerisourceBergen: Repeal beneficiary
With $148.3 billion in revenue over the past year, AmerisourceBergen is one of the most important components of the U.S. economy -- and you've probably never heard of it. The vast majority of its operations involve purchasing branded and generic drugs from their manufacturers, warehousing them, and distributing them to thousands of healthcare providers and pharmacies.
Although its revenues are staggering, the $1.35 billion net profit it booked over the past year makes this a slim-margin business. While this keeps would-be competitors at bay, it also means slight changes in drug pricing policies have a huge impact on its bottom line.
One of the myriad cost-cutting reforms within Obamacare included an updated formula for Medicaid federal upper limits on drugs available from multiple sources and purchased by retail pharmacies.A swift repeal of this provision wouldn't help governments cope with Medicaid funding, but it could do wonders for AmerisourceBergen's extremely narrow profit margin.
Amgen: Thank goodness for Gottlieb
Drugmakers across the board approve of President Trump's appointment of Scott Gottlieb as the next FDA commissioner, for a range of reasons. For Amgen in particular, his stance on accelerating and simplifying the approval process for biosimilars and complex generics bodes well for the big biotech's future.
Earlier this year, the FDA greenlighted Amgen's biosimilar version of the world's best-selling drug, Humira, but there's more coming down the pipe. Amgen's biosimilar candidates that reference Avastin, Remicade, Rituxan, and Herceptin are in late-stage clinical trials. Combined, these four branded drugs generated more than $26 billion in sales last year.
Because of their complexity, biosimilars generally command prices of around 70% of the branded versions they reference. Any policy changes that speed Amgen's to the U.S. market could significantly boost the company's bottom line.
Anthem: Concerns addressed
This health-insurance stock surged following the election with hopes that a unified Republican government would tweak Obamacare in ways that might help its bottom line. Near the top of the list of Anthem's concerns is the establishment of a patient and state stability fund, and a repeal of the ACA's health insurance tax.
So far it looks as if the GOP is ready to grant Anthem's wishes. The recently proposed American Health Care Act includes $100 billion in federal funding for a stability fund that states may use to assist high-risk individuals, promote access to preventative services, or allow for other uses. It also aims to repeal a tax that would otherwise cost insurers $14.3 billion next year.
Illumina, Inc.: In sequence
Shares of this leading manufacturer of DNA sequencing equipment popped near the beginning of the yearafter the company unveiled another cost-reducing technological breakthrough. Its last major step forward put midsized laboratories on an even footing with major research facilities, which caused sales and the stock to soar. Its latest advance makes whole human genome sequencing so cheap, it could spark another exponential rise in demand.
Although the stock's recent bounce has little to do with the administration's healthcare policies, the possibility of sweeping tax reform has provided some lift. Last year, the company reported a profit of about $428 million, after setting aside $133 million for the taxman. The company also has about $750 million in cash stored overseas. If President Trump can deliver on his promises to lower the U.S. corporate-tax rate and allow companies to repatriate their international cash balances without incurring a huge bill from Uncle Sam, it would do wonders for this company's bottom line and the rest of the healthcare sector.
10 stocks we like better than IlluminaWhen investing geniuses David and Tom Gardner have a stock tip, it can pay to listen. After all, the newsletter they have run for over a decade, Motley Fool Stock Advisor, has tripled the market.*
David and Tom just revealed what they believe are the 10 best stocks for investors to buy right now... and Illumina wasn't one of them! That's right -- they think these 10 stocks are even better buys.
Click here to learn about these picks!
*Stock Advisor returns as of February 6, 2017
Cory Renauer has no position in any stocks mentioned. The Motley Fool owns shares of and recommends Illumina. The Motley Fool recommends Anthem. The Motley Fool has a disclosure policy.