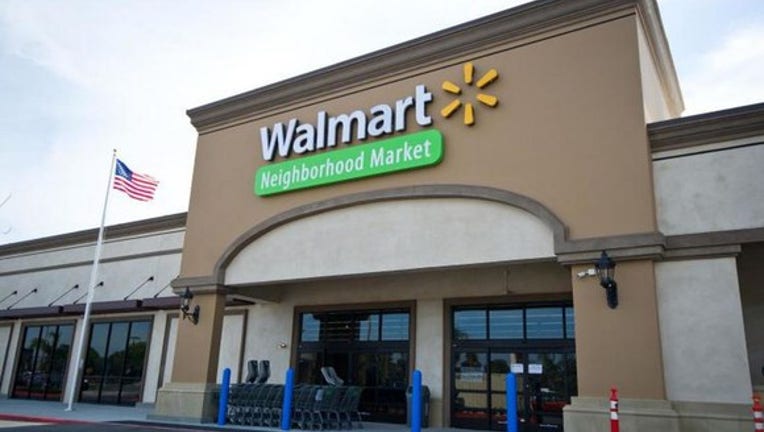 Wal-Mart Stores (NYSE: WMT) has been a staple holding in Warren Buffett's Berkshire Hathaway (NYSE: BRK-B)(NYSE: BRK-A) portfolio for years, but the Oracle of Omaha has soured on Wal-Mart's stock this year, and a new report from the U.S. Census Bureau showing that consumers continue to embrace e-commerce may mean that there's a good chance that Wal-Mart's completely out of Berkshire's portfolio by the end of this year.
IMAGE SOURCE: WAL-MART STORES.
What's up?
Wal-Mart may be a retail store Goliath, but it's far from the biggest online retailer, and that's a big problem for the company's future growth..
Wal-Mart's sales barely budged in the third quarter, increasing by a only a modest 0.5% from the third quarter of 2015. Meanwhile, consumers ongoing shift to online shopping propelled sales at online giantAmazon.com (NASDAQ: AMZN)29% higher when compared to a year ago.
According to the Census Bureau, that trend away from retail stores to online stores isn't losing steam. In Q3,U.S. retail e-commerce sales, adjusted for seasonal variation but not for price changes, grew 4% quarter over quarter to $101.3 billion. That handily outpaced the 0.9% quarter-over-quarter increase in total retail sales in the period, but the gap between the two is even wider when considering the year-over-year change. Compared to Q3 2015, adjusted e-commerce sales grew 15.7% last quarter, while total retail sales only grew 2.2%.
Overall, the rapid growth in online purchases has led toe-commerce sales now accounting for 8.4% of total sales, up from 7.4% of sales a year ago.
Growth in online shopping has been a boon to Wal-Mart competitors, especially Amazon. Online retailers have more inventory and marketing flexibility, and they also have cost advantages that help them compete better for wallet share.Trailing-12-month SG&A as a percentage of sales is more than 1% lower at Amazon than it is at Wal-Mart, and Amazon's gross profit margin is nearly 10% better than Wal-Mart's.
AMZN gross profit margin (TTM) data by YCharts.
Given that it's most likely that more consumer spending will migrate away from traditional stores to the internet, it's little wonder that investors like Buffett might be worrying more about Wal-Mart's future sales and profit headwinds.
A tough competitor
Earlier this year, Buffett praised Amazon founder Jeff Bezos, calling him a "genius." And at Berkshire Hathaway's annual investor event in Omaha, Buffett remarked, "We're not going to out-Bezos Bezos."
In the past, Buffett was slow to embrace the use of the internet to boost sales atBerkshire Hathaway's wholly owned companies. However, that's recently been changing, and as he sees the sales tailwinds at his companies from his online initiatives, it may be factoring into hisincreasing admiration of Bezos, and his declining interest in owning bricks-and-mortar companies like Wal-Mart.
It's probably not lost on Buffett that Amazon has been a much better investment than Wal-Mart over the years, either. Under Bezos' leadership,Amazon's trailing-12-month revenue has surged to $128 billion since 1994, and that's resulted in astonishing returns for long-term investors. Over the past 15 years, Amazon's 34%-per-year average return crushes the average 12.9% return for the specialty retail industry, and it absolutely demolishes Wal-Mart's 3.2% annual return over the period.
Since Bezos doesn't appear ready to quit anytime soon, and e-commerce still represents less than 10% of total retail spending, it seems Wal-Mart's going to have its hands full for a long time if its going to attempt to keep Amazon at bay.
Looking forward
Buffett's sold tens of millions of shares in Wal-Mart this year, but he still has 12.9 million shares left in Berkshire Hathaway's portfolio. With Wal-Mart shares up 19% this year, he appears to see this as a great opportunity to "sell high" a business that could face increasingly more downside profit pressure in the coming years.
Whether Buffett does sell his remaining Wal-Mart shares this year won't be known until early next year, when Berkshire Hathaway files its fourth-quarter 13F report with the Securities and Exchange Commission. But given his admiration for Bezos and his selling of 27.2 million Wal-Mart shares last quarter, I will not be surprised if Wal-Mart disappears from Berkshire's list of holdings.
Forget the 2016 Election: 10 stocks we like better than Amazon.com Donald Trump was just elected president, and volatility is up. But here's why you should ignore the election:
Investing geniuses Tom and David Gardner have spent a long time beating the market no matter who's in the White House. In fact, the newsletter they have run for over a decade, Motley Fool Stock Advisor, has tripled the market.*
David and Tom just revealed what they believe are the ten best stocks for investors to buy right now... and Amazon.com wasn't one of them! That's right -- they think these 10 stocks are even better buys.
Click here to learn about these picks!
*Stock Advisor returns as of November 7, 2016
Todd Campbell has no position in any stocks mentioned.Todd owns E.B. Capital Markets, LLC. E.B. Capital's clients may have positions in the companies mentioned.Like this article? Follow him onTwitter where he goes by the handle@ebcapitalto see more articles like this.
The Motley Fool owns shares of and recommends Amazon.com and Berkshire Hathaway (B shares). Try any of our Foolish newsletter services free for 30 days. We Fools may not all hold the same opinions, but we all believe that considering a diverse range of insights makes us better investors. The Motley Fool has a disclosure policy.