Is This Why Tesla Motors Created "Ludicrous Mode"?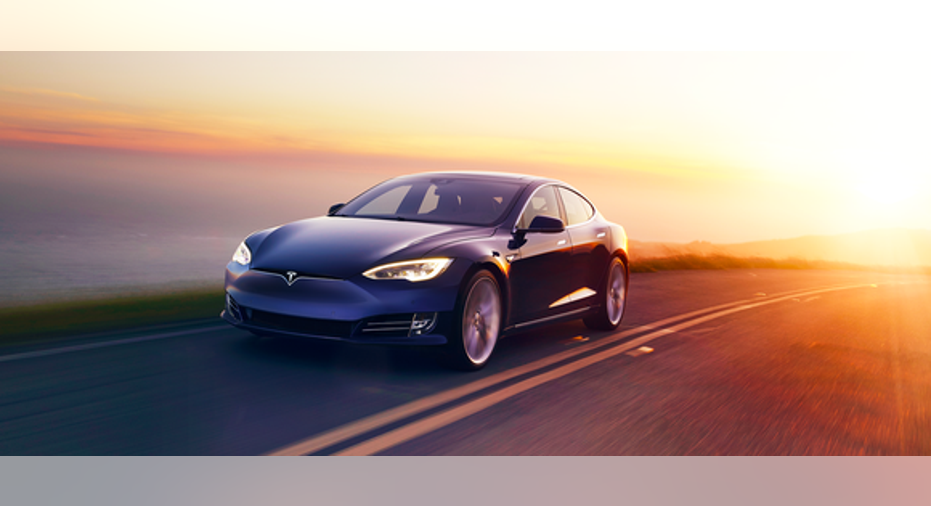 The latest "P100D" version of Tesla's Model S will be able to hit 60 miles per hour in just 2.5 seconds. Image source: Tesla Motors.
Tesla Motors (NASDAQ: TSLA) CEO Elon Musk on Tuesday announced an even quicker version of the already-quick Model S: The company's latest 100 kilowatt-hour battery pack will allow the new "P100D" version of the big electric sedan to accelerate from 0 to 60 miles per hour in just 2.5 seconds.
That's quicker than any currently mass-produced car in the world. (In fact, it's quicker than a lot of high-performance motorcycles.) But some of what Musk said about the new P100D is problematic -- and it's drawing some sharp criticism. Here's why.
Critics let fly at Musk's "fastest car" claim
This will seem like a nitpick, but bear with me: The P100D isn't, as Musk said, "the fastest car in the world." That would require the Tesla to have a top speed of well over 200 miles per hour, but (at least as far as we know) it doesn't: Tesla's software limits the top speed of its vehicles to 155 miles per hour.
That was an unusually imprecise statement by Musk, who typically explains engineering and physics concepts with care. But the larger point is this: Yes, the Teslas (there will be a P100D version of the Model X SUV, too) get to 60 mph really, really quickly. But that's just one aspect of what it means to have a high-performance vehicle -- and it's a limited one.
Critics are already taking aim. Kelley Blue Book analyst Michael Harley called Musk's announcement "nothing more than headline-grabbing showmanship" -- and then he really let fly:
Is that fair?
Tesla's "Ludicrous Mode" serves its larger mission
I think Harley went a little too far. Tesla's "Ludicrous Mode" and emphasis on acceleration is part of its larger mission to show that electric cars can be better than gasoline-powered alternatives. It's fun, it gets attention, it works.
That said, it's true Tesla has a long way to go before it's genuinely competitive with other luxury-performance brands in the other aspects of "high performance" that matter to driving enthusiasts.
Some of thosebrands are gearing up to fight back. Eliciting that reaction might also be part of Tesla's larger mission.
Tesla's moves are provoking rivals -- perhaps deliberately?
Tesla's feats are spurring some of those other brands into action. Consider these comments from an unnamed Porsche executive in the June issue of Automobile Magazine:
The Porsche Mission E is a concept version of a battery-electric sports sedan that will be launched in 2019. The company promises it will perform like a proper Porsche. Image source: Porsche.
Some of that is just trash talk, but the takeaway is clear: When it comes to electric high-performance cars, Porsche is out to show Tesla how it's done.
Porsche isn't alone: We know Mercedes-Benz, Audi, and BMW (NASDAQOTH: BAMXF) are all developing electric vehicles aimed directly at Tesla's offerings.
And there's a very good chance there are others in development that we don't know about. Don't be surprised if a company like General Motors (NYSE: GM) or Nissan surprises us with a very capable electric sports sedan or sports car sometime in the next few months.
It's possible (more than possible, in the case of Porsche) that some of these offerings will embarrass Teslas on the world's racetracks. Even so, we'll have to give Musk props: Provoking some of the world's proudest performance-car makers looks likely to lead to more great electric cars, and that has been Tesla's goal all along.
A secret billion-dollar stock opportunity The world's biggest tech company forgot to show you something, but a few Wall Street analysts and the Fool didn't miss a beat: There's a small company that's powering their brand-new gadgets and the coming revolution in technology. And we think its stock price has nearly unlimited room to run for early, in-the-know investors! To be one of them, just click here.
John Rosevear owns shares of General Motors. The Motley Fool owns shares of and recommends Tesla Motors. The Motley Fool recommends BMW and General Motors. Try any of our Foolish newsletter services free for 30 days. We Fools may not all hold the same opinions, but we all believe that considering a diverse range of insights makes us better investors. The Motley Fool has a disclosure policy.