Is This Why Sarepta Therapeutics Fell 14.5% in November?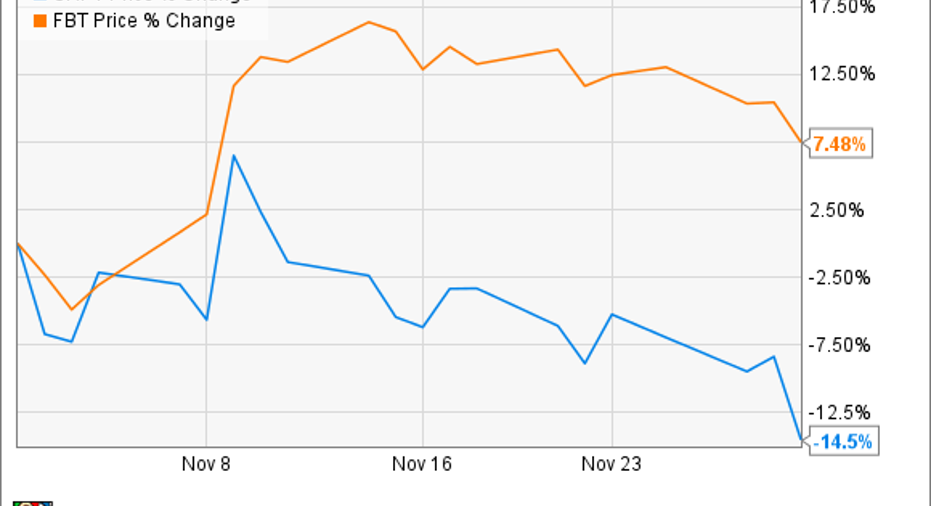 Image source: Getty Images.
What happened?
Shares of Sarepta Therapeutics (NASDAQ: SRPT), a commercial-stage biotech focused on rare diseases, fell 14% in November, according to S&P Global Market Intelligence. That move stands in sharp contrast to the gains showed by the biotech sector in general, as measured by the First Trust NYSE Arca Biotech ETF (NYSEMKT: FBT).
So what?
It was a quiet month for Sarepta on the news front, so investors shouldn't look at the company itself as the source of the decline. There weren't any major upgrades or downgrades to justify the decline, either.
So why did shares fall? My hunch is that traders are still digesting the news about coverage decisions related to Exondys 51, Sarepta's only FDA-approved drug, which treats Duchenne muscular dystrophy (DMD).
For those keeping track at home, major insurers like Aetna, Cigna, Humana, and UnitedHealth Group have all announced their intentions to offer coverage for the drug. However, approval decisions will still likely be made on an individual basis at each company, given the drug's $300,000 annual cost.
On the other hand, Anthem, the second-largest insurer in the U.S., appears to be holding out on offering coverage. The company issued its policy on approving the use of the drug, stating that Exondys 51 was "considered investigational and not medically necessary for all indications, including but not limited to the treatment of Duchenne muscular dystrophy."
Now what?
There's no way of telling how many of the approximately 1,400 patients with DMD who fit Exondys 51's labeling are on each insurer's plan, so I have a hard time getting worked up over any single insurer's coverage policy. In addition, the DMD community has proven itself to be a force to be reckoned with, so I wouldn't be surprised to see any insurer that wants to withhold coverage ultimately caving in response to intense patient and media pressure.
Regardless of the short-term share price decline, the main concern is how well Exondys 51 works in the real world. We don't yet have enough data to make a judgment one way or the other just yet, and it remains possible that the FDA could decide to reverse its approval decision down the road. That backdrop continues to make investing in Sarepta far too risky for my taste, so I, for one, plan on rooting for this company from the sidelines.
10 stocks we like better than Sarepta Therapeutics When investing geniuses David and Tom Gardner have a stock tip, it can pay to listen. After all, the newsletter they have run for over a decade, Motley Fool Stock Advisor, has tripled the market.*
David and Tom just revealed what they believe are the 10 best stocks for investors to buy right now... and Sarepta Therapeutics wasn't one of them! That's right -- they think these 10 stocks are even better buys.
Click here to learn about these picks!
*Stock Advisor returns as of November 7, 2016
Brian Feroldihas no position in any stocks mentioned. Like this article? Follow him on Twitter, where he goes by the handle @Longtermmindset, or connect with him on LinkedIn to see more articles like this.
The Motley Fool recommends Anthem and UnitedHealth Group. Try any of our Foolish newsletter services free for 30 days. We Fools may not all hold the same opinions, but we all believe that considering a diverse range of insights makes us better investors. The Motley Fool has a disclosure policy.