Is This What Finally Saves PotashCorp, Agrium, and Mosaic?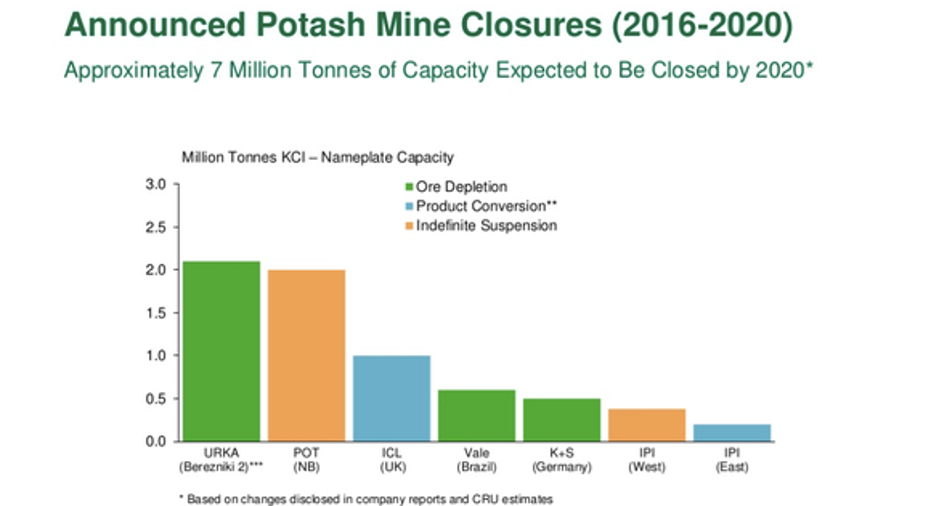 As the leading North American potash producer, PotashCorp has a lot riding on a recovery in crop nutrient prices. Image source: PotashCorp.
The downward spiral of potash pricing just intensified as Belarusian Potash Co. (BPC) announced it had signed a contract with India where it would sell 700,000 tonnes of the plant nutrient at just $227 per tonne, a price a third lower than what was realized last year, and its lowest price in a decade.
While China, as the world's largest consumer of the fertilizer component, has yet to sign a contract for delivery in 2016 (and at this point probably won't), there doesn't appear to be a let-up in sight for the falling prices. Unless, that is, the cartels of Belaruskali and Uralkali join forces again, which just might happen.
Burning the house down
The fertilizer market has been in disarray since 2013, when BPC, which, at the time, consisted of Belaruskali and its Russian counterpart, split because Uralkali wanted to sell all of the potash it produced on the open market in a bid to gain market share. Previously, the cartel, which together had controlled some 43% of the global potash market, withheld some of its production in order to keep prices elevated. The breakup and subsequent flooding of the market with new potash supply caused pricing to go into a tailspin.
Where producers had been getting $400 per tonne prior to the collapse, prices immediately fell to $305 per tonne, and with the market still experiencing a supply glut, analysts anticipate they just might fall to $200 per tonne -- or even lower.
North American potash producers, after all, have all been reporting dramatically lower prices than what they were previously receiving. PotashCorp reported in April that its realized price was just $178 per tonne on a global basis, 37% below the price it had realized in the year-ago period, while Mosaic said it averaged selling prices of $207 per tonne.Agrium reported it got $199 per tonne.
The potash supply glut is forcing miners to take capacity out of the market. Image source: PotashCorp analyst presentation.
While India's contract seemingly sets something of a floor for potash in many markets, China is still the straw that stirs the drink. Because its inventories are elevated and it's still receiving supply on a monthly basis from Russia, it's under no pressure to sign a contract, and it certainly won't do so at such a high threshold. If prices fall to $200 or lower, and stay there for a sustained period, PotashCorp's dividend could be threatened.
This is why the potential for the cartel's resurrection caused potash producer stocks to jump when the possibility became public.
Extending an olive branch
Belorussian President Alexander Lukashenko sounded a conciliatory tone with Uralkali recently, saying its rival shareholders had been coming to him to say they wanted a reunion of the companies. He said he wasn't opposed to the idea, though he did say any revival would have to be on his terms.
That's why potash investors may not want to get their hopes up too high. The same problems that led to the breakup nearly three years ago are not likely to be resolved in order for the two to come back together.
For example, Reuters reported the previous headquarters of BPC was in Minsk, the Belorussian capital, a location that bothered Uralkali, but the Belarusian Telegraph Agency quoted Lukashenko as saying, "We will not relocate Belarusian Potash Company."
In BPC's recent contract negotiations with India, Uralkali wasn't happy with the price its rival agreed on. Russian news agency Interfax reported a Uralkali spokesperson as calling the $227 per tonne price too low, and saying his company wasn't ready to sign a contract with India. No doubt Uralkali hasn't forgotten that its CEO was detained briefly in Belarus following the cartel's dissolution.
Although investors might hope the cartel would get back together to help stabilize prices, the other side of that coin is that higher fertilizer costs will also lead to higher crop prices, raising food costs for everyone. As a result, this doesn't look like the solution that will help PotashCorp, Agrium, or Mosaic -- nor will it do anything for consumers over the long term, either.
The article Is This What Finally Saves PotashCorp, Agrium, and Mosaic? originally appeared on Fool.com.
Rich Duprey has no position in any stocks mentioned. The Motley Fool has no position in any of the stocks mentioned. Try any of our Foolish newsletter services free for 30 days. We Fools may not all hold the same opinions, but we all believe that considering a diverse range of insights makes us better investors. The Motley Fool has a disclosure policy.
Copyright 1995 - 2016 The Motley Fool, LLC. All rights reserved. The Motley Fool has a disclosure policy.